La saison 4 arrive dans Call of Duty: Modern Warfare et Warzone et avec elle vient un tout nouveau passe de combat qui contiendra Price comme opérateur.
La saison 4 est arrivée sur Call of Duty: Modern Warfare et Warzone ! Après un report d'une semaine dû à l'actualité mondiale récente, Infinity Ward a décidé de déployer cette nouvelle mise à jour le 11 juin au matin. Comme à chaque saison les joueurs pourront découvrir des nouveautés comme des cartes, des armes ainsi que des événements pendant les matchs du Battle Royale
Cette nouvelle saison est également l'occasion de découvrir un passe de combat mettant John Price à l'honneur après son rôle central lors de la campagne du jeu.
Que contient le Battle Pass de la saison 4 de Call of Duty: Modern Warfare et Warzone ?
Ce nouveau passe de combat permettra aux joueurs de débloquer des récompenses instantanément à l'achat puis en grimpant les rangs durant la saison. Proposé au prix de 1000 points Call of Duty le passe de combat contiendra, entre autres, les éléments présentés sur l'image ci-dessous.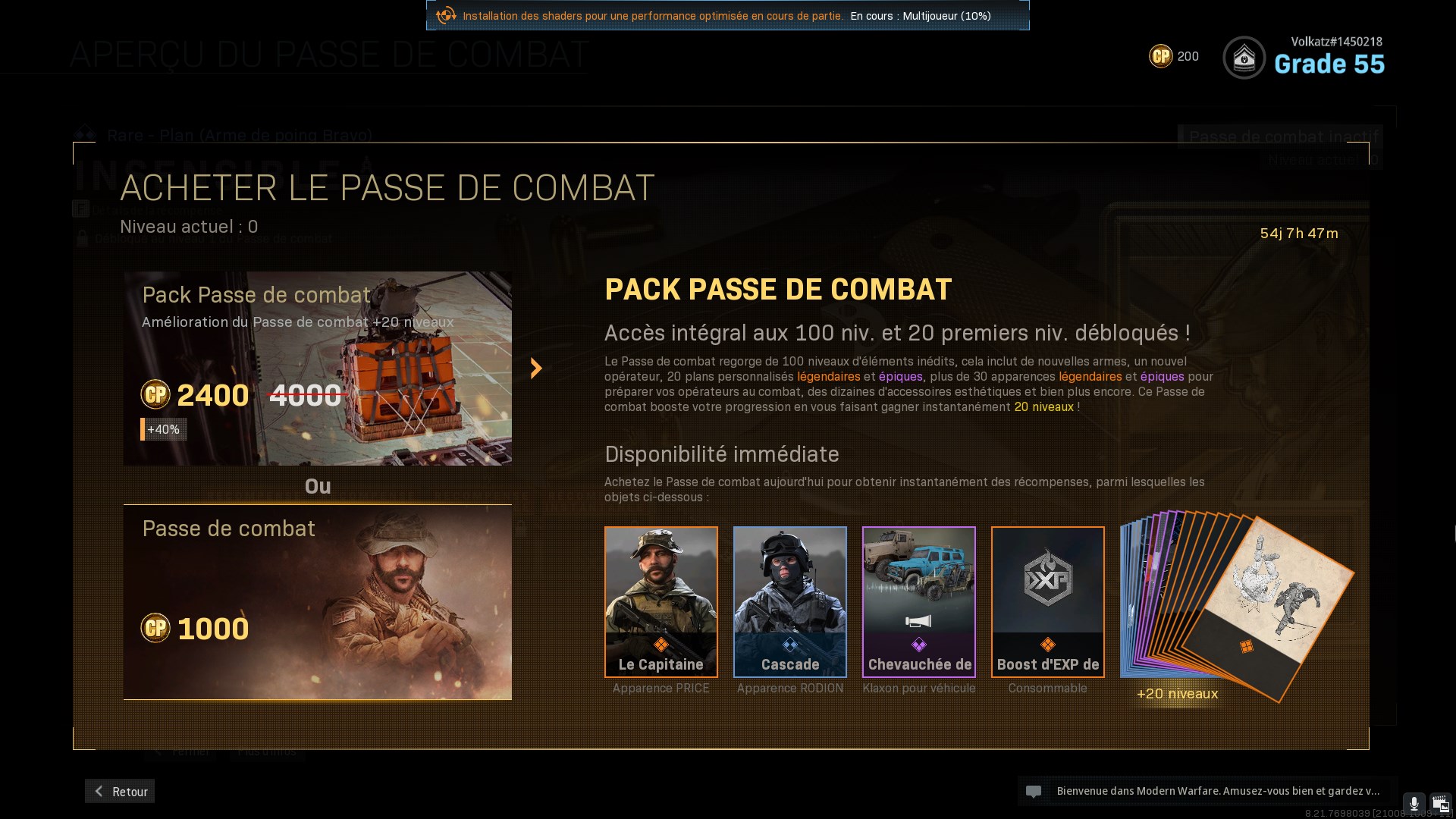 La passe de combat de cette saison 4 permettra ainsi de débloquer :
L'apparence du Capitaine Price
L'aparence Rodion
Un klaxon de la « Chevauchée des Valkyries » pour les véhicules de Warzone
Un boost d'expérience
Un plan d'arme pour l'arme de poing Bravo
À noter qu'il ne s'agit ici que des récompenses disponibles à l'achat du passe de combat. Les joueurs pourront obtenir d'autres récompenses en progressant dans les rangs et au fur et à mesure de cette saison 4 de Call of Duty: Modern Warfare et Warzone.


Toutes les infos sur Call of Duty: Modern Warfare