Riot Games vient d'annoncer son nouvel outil pour améliorer l'expérience des spectateurs de ses compétitions.
Une nouvelle fonctionnalité attendue de longue date va arriver sur League of Legends. Riot Games a annoncé aujourd'hui Pro View, son nouveau programme qui permettra aux spectateurs d'esport d'améliorer leur expérience. Cet outil payant sera lancé avec les Summer Splits 2019 et offrira l'accès aux POV de tous les joueurs, d'avoir jusqu'à 4 streams en simultané ou encore de disposer d'une timeline améliorée pour les matchs.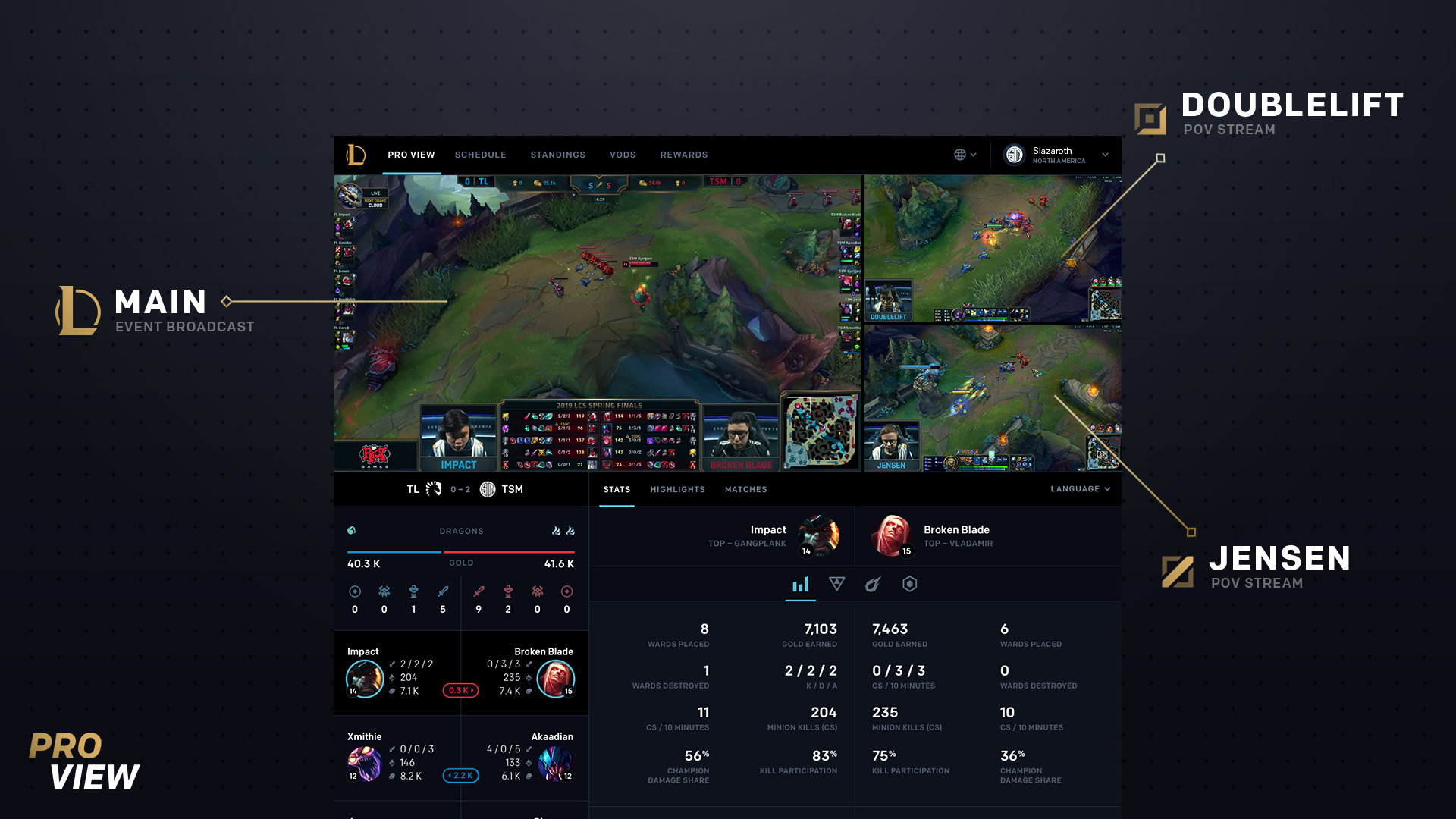 Un exemple de ce qu'apportera Pro View
A son lancement, le service proposera d'accéder seulement à la LEC ou aux LCS, mais Riot travaille déjà pour inclure toutes les autres ligues majeures (LPL, LCK...) le plus vite possible. Dans la même idée, Pro View ne sera disponible qu'en anglais à son lancement, mais les langages supplémentaires devraient être ajoutés avec le temps.
Il faudra débourser 15€ pour utiliser Pro View sur la LEC, ou 20€ sur toutes les ligues gérées par le service. L'abonnement sera actif pendant toute la durée des compétitions. L'argent versé ira directement aux ligues, pour rémunérer leurs infrastructures et les joueurs. Entre ce service et les passes d'équipes et de fans annoncés jeudi, Riot multiplie les pistes pour impliquer ses fans d'esport.
Pro View ne remplacera cependant pas l'expérience classique et gratuite fournie par watch.lolesports.com. Riot propose ce service en supplément, pour offrir une expérience premium tout en garantissant des revenus à ses ligues. Il faut dire que la question de la monétisation des contenus est une vieille problématique de l'esport, qui ne pourra éternellement fournir un stream gratuit pour toutes ses compétitions. Alors en plus de multiplier les sponsors, apporter une solution payante pour faire rentrer de l'argent dans les caisses peut aider à pérenniser l'esport sur League of Legends, à condition bien sûr que la qualité du service soit au rendez-vous.
Tous nos guides de champions sur LoL