Après une première phase de test en octobre, les pré-inscriptions pour la deuxième session de bêta fermée reprennent.
Mise à jour du 8 novembre 2019 : la période d'inscription pour la deuxième phase de bêta fermée qui aura lieu du 14 au 19 novembre a repris. Les joueurs qui avaient déjà accès à la première phase devraient toujours pouvoir jouer sur celle-ci.
---
Legends of Runeterra sera disponible officiellement au début de l'année 2020. Le jeu de cartes virtuel de Riot Games, annoncé ce 16 octobre durant la conférence des 10 ans de League of Legends, est toutefois déjà jouable pour quelques chanceux. En effet, il est déjà possible de se préinscrire et d'essayer LoR.
Pré-inscription et téléchargement de Legends of Runeterra
Les pré-inscriptions pour la bêta fermée sont déjà disponibles sur le site playruneterra.com. Du 16 octobre au 21 octobre, il sera déjà possible pour quelques chanceux d'essayer le jeu. Afin d'augmenter vos chances d'être sélectionnés pour cette première session de tests, vous pouvez lier votre compte Riot Games à vos comptes Twitch et Youtube et regarder des streams du jeu, ce dernier étant déjà disponible à de nombreux influenceurs.
Si vous touchez le jackpot, vous devriez recevoir un mail à l'adresse que vous avez utilisé pour créer votre compte Riot Games. Ensuite, il ne vous restera plus qu'à télécharger le jeu pour l'essayer !
Date de sortie et bêta fermée
Riot Games n'a pas encore fourni de date officielle de sortie, mais le jeu sera disponible officiellement dans le courant de l'année 2020, logiquement durant les premiers mois. Outre la période de test de 5 jours qui est d'ores et déjà disponible, une nouvelle période de test est prévue du 14 au 19 novembre, ce qui vous donnera une autre chance d'essayer Legends of Runeterra.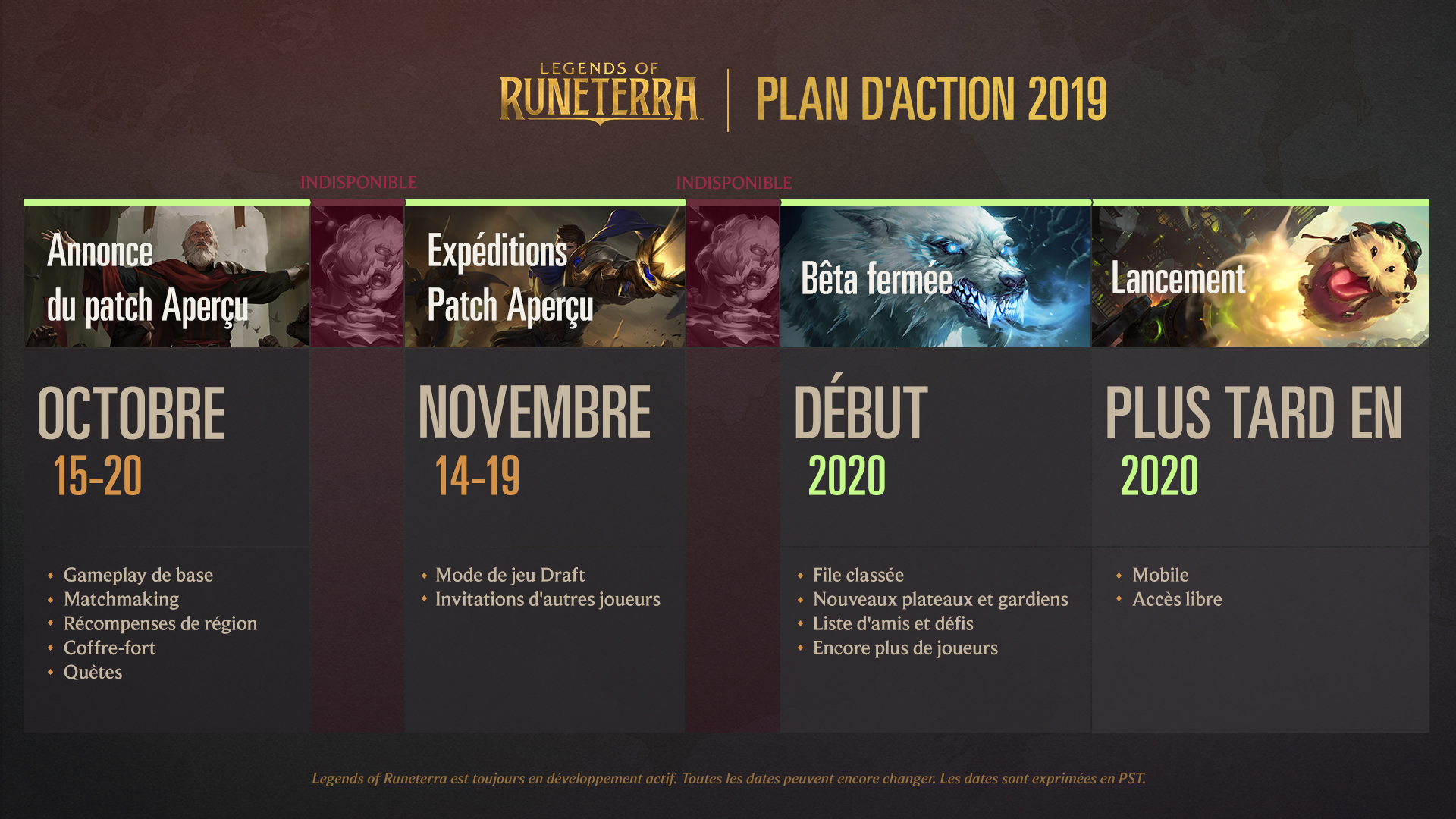 Enfin, la bêta fermée devrait arriver début 2020, avec une sortie officielle plus tard dans l'année. Au fur et à mesure de ces différentes phases, Riot prévoit également d'amener de nouvelles fonctionnalités.