Blizzard lève aujourd'hui le voile sur la boîte Collector de Battle for Azeroth et son contenu.
Alors que Blizzard a annoncé la sortie de Battle for Azeroth pour le 14 août, les créateurs de World of Warcraft ont également dévoilé le contenu de quelque chose attendu par de nombreux joueurs : l'édition collector physique.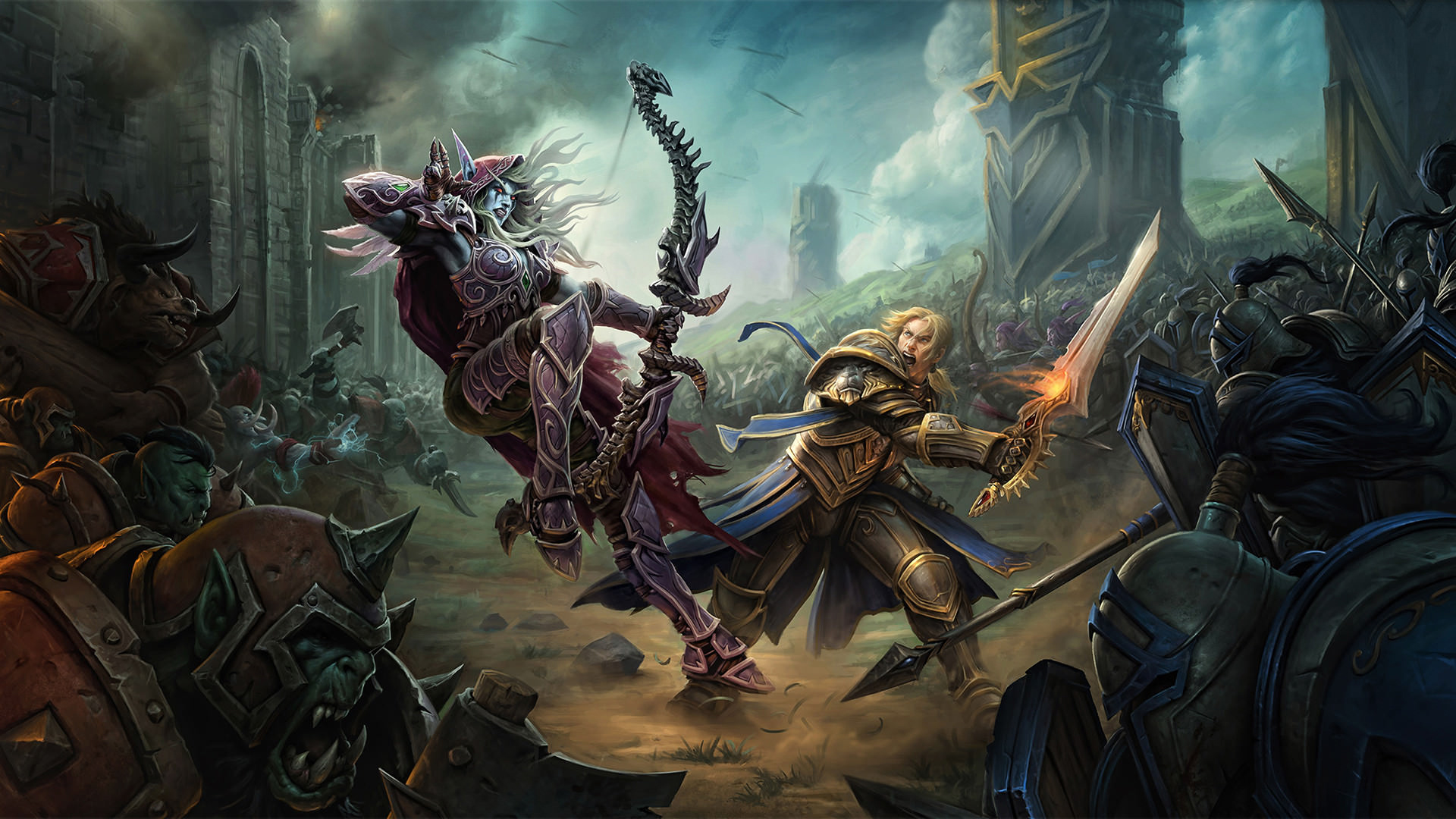 >>> Précommandez l'extension digitale ici <<<
>>> Précommandez l'édition physique ici <<<
Le contenu de la boite
Cette édition collector comprendra donc un roman à deux histoires, une marque d'allégeance, la bande originale et une clé pour le jeu. Le roman sera composé de l'histoire de la destruction de Teldrassil avec une partie sur le point de vue de l'Alliance (Élégie) et une vue par la Horde (Une guerre honnorable). Chaque histoire comprendra des illustrations exclusives à l'édition collector. Ce roman sera disponible pour tout le monde plus tard dans l'année mais seule l'édition collector permettra d'acquérir la version reliée et illustrée. La marque d'allégeance sera à deux faces et permettra aux joueurs d'afficher leurs convictions avec le support fourni. La bande originale et le jeu seront quant à eux sous forme digitale.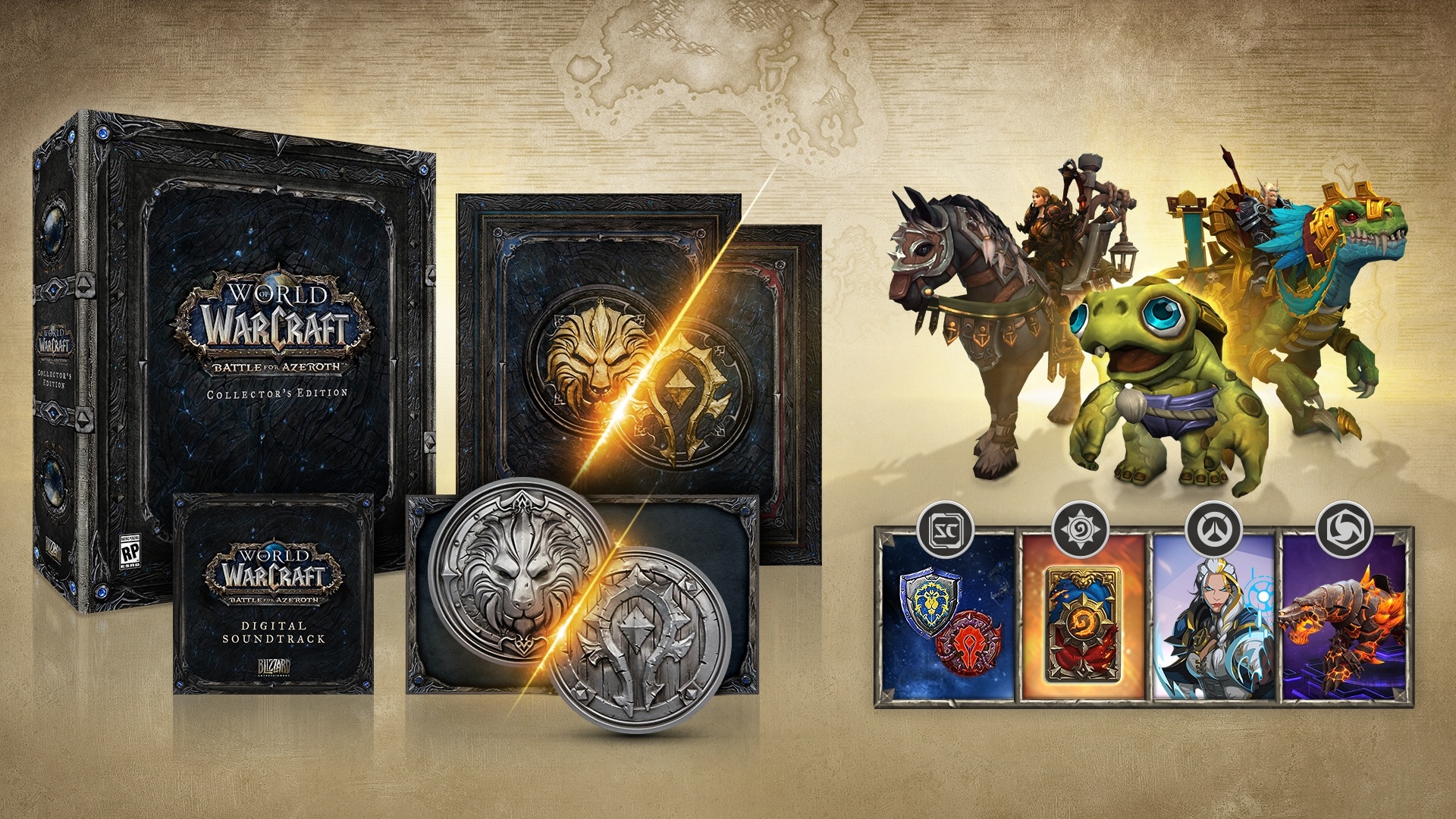 Le contenu de l'édition collector de Battle for Azeroth (source : Wowhead)
Détails de la marque d'allégeance (source : Wowhead)
Sur les autres jeux Blizzard
Comme à son habitude Blizzard accordera des récompenses sur ses autres licences pour les joueurs possédant l'édition collector de Battle for Azeroth.
Montures :
Ravasaure doré (Horde) et
Étalon Crin-de-Mer (Alliance)
Mascotte :
Tortois
Overwatch :
Fanion et icône de joueur
Hearthstone : Dos de carte
« Azeroth brûle »
Heroes of the Storm :
Sabre de feu primordial
Starcraft II :
tags Horde et Alliance
Overwatch
Emotes bannière de l'Alliance et bannière de la Horde pour Tracer ;
Emotes « Pour la Horde ! » et « Pour l'Alliance ! » pour Torbjörn ;
Icônes Zandalar et Kul'Tiras ;
Tags Anduin, Jaina, Sylvanas et Varok.
Pour les joueurs ayant déjà pré-commandé
Blizzard n'oublie pas les joueurs les plus impatients ayant déjà pré-commandé le jeu en version digitale, mais qui souhaite finalement acquérir l'édition Collector physique. Il est donc possible d'obtenir un remboursement de la version achetée sur le porte-monnaie Blizzard en saisissant le code de l'édition collector avant le 31 décembre 2018 à minuit. Toutefois si vous avez acheté l'édition standard puis amélioré pour obtenir la version deluxe, le montant remboursé sera celui de l'édition standard. La somme remboursée sera toujours celle du premier achat.
Ne tardez plus, de nouvelles histoires passionnantes sont à découvrir aux quatre coins d'Azeroth et de son univers !