Quels accessoires ajouter pour une classe équipant l'AUG dans le mode Warzone de Call of Duty: Modern Warfare ? On vous dévoile ici les équipements à privilégier.
Bien que Call of Duty Warzone soit un Battle Royale, ce qui signifie que l'on est jamais sûr de l'arme avec laquelle on va devoir se battre, Infinity Ward a mis en place un système de stations de ravitaillement, permettant notamment d'accéder à des classes pré-définies par le joueur. Disponible pour 6000$ récoltés durant la partie ces largages donnent un avantage non négligeable.
Cependant quelle classe choisir pour le mode Battle Royale de Modern Warfare ? On vous présente ici une classe avec l'AUG.
Quels accessoires et équipements avec l'AUG sur Call of Duty Warzone ?
Cette classe basée autour de l'utilisation de l'AUG est principalement utile pour sa mobilité et son efficacité en combat à distance. La lunette thermique lui permet en effet d'être redoutable lorsque la visibilité est réduite.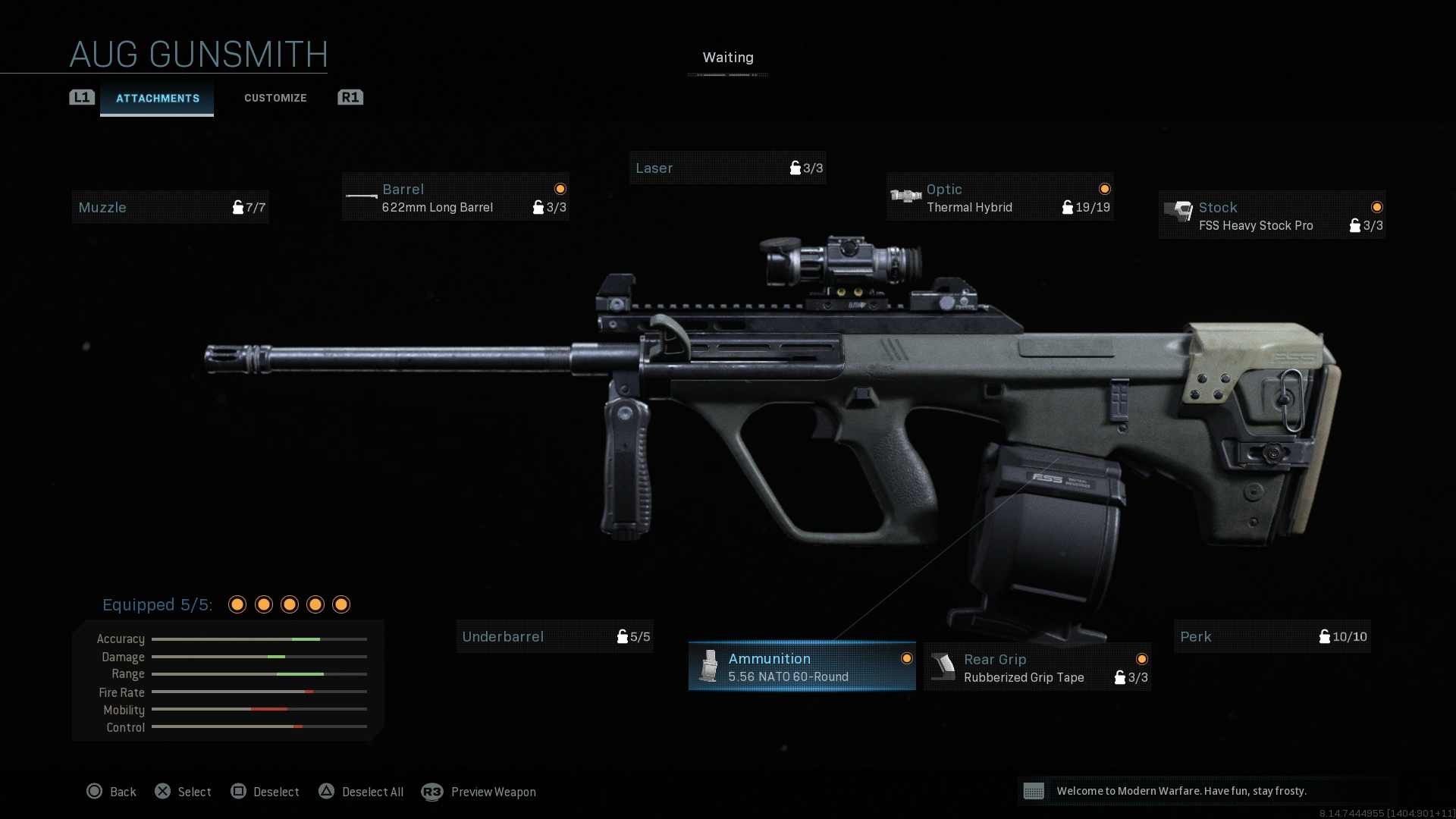 Aperçu de l'AUG et de ses accessoires pour Call of Duty Warzone (source : gfinityesports.com)
Retrouvez ci-dessous la liste des cinq accesoires à équiper sur cette arme.
622mm Long Barrel (Canon)
Thermal Hybrid (Lunette)
FFS Heavy Stock Pro (Crosse)
Rubberized Grip Tape (Poignée arrière)
5.56 NATO 60-Round Mags (Chargeur)
Cependant une classe ne comporte pas qu'une seule arme. Il est ainsi conseillé d'équiper le pistolet M19. L'arme devra également porter les équipements suivants :
Compensator (Bouche)
XRK V Extended (Canon)
Stippled Grip Tape (Poignée arrière)
32-Round Mag (Chargeur)
Match Grade Trigger (Gâchette)
Pour terminer l'équipement sera également composé des grenades et atouts suivants pour optimiser la classe.
| | |
| --- | --- |
| Grenades | Atouts |
| Thermite (Mortel) | Pas de course |
| Grenade fumigène (Tactique) | Alerte maximale |
| | Endurci au combat |