Des joueurs ont réussi à s'introduire dans différents bunkers répartis sur la carte de Call of Duty: Warzone. On vous explique ici comment les ouvrir sur le Battle Royale de Modern Warfare.
Il y a quelques jours Infinty Ward a déployer une nouvelle mise à jour de taille pour Call of Duty: Modern Warfare et Warzone. Celle-ci a ainsi introduit la carte Hardhat et un nouveau pack sans oublier de nombreuses corrections de bugs sur le mode multijoueur et le Battle Royale du jeu de tir.
Pourtant aujourd'hui c'est le mode Warzone qui retient l'attention des joueurs. En effet il est désormais possible d'accéder aux différents bunkers répartis aux quatre coins de la carte. On vous explique ici comment les ouvrir et ce qu'on peut y trouver.
Comment ouvrir un bunker sur Call of Duty: Warzone ?
La marche à suivre pour ouvrir un bunker sur Warzone est assez simple. Il faut tout d'abord se procurer une carte d'accès rouge que l'on peu trouver dans des coffres. Une fois la carte d'accès récupérer il faudra se rendre à l'entrée d'un bunker et s'approcher du digicode qui se trouve près de la porte. Si le joueur est en possession d'une carte d'accès rouge la porte commencera lentement à s'ouvrir en intéragissant avec le digicode. Une fois à l'intérieur les joueurs pourront trouver quelques easter eggs ainsi que de nombreuses armes de qualité. Comme le précise aussi gamesradar.com, il existe des cartes d'accès bleues et vertes dont l'utilité n'a pas encore été trouvée, mais il est possible que ces dernières donnent l'accès à différents niveaux à l'intérieur du bunker.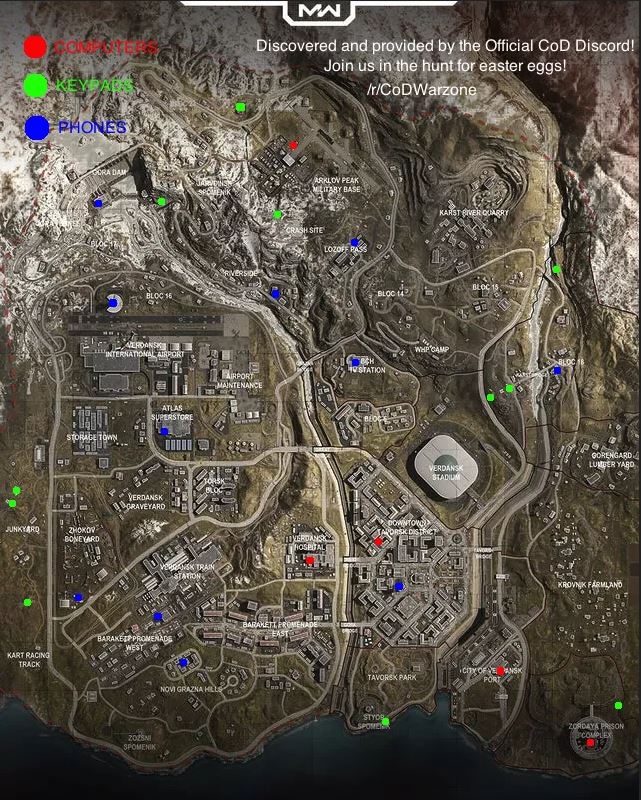 Les bunkers de Warzone sont indiqués en vert par la mention « Keypads »
(crédits image : Activision/COD Reddit Discord)
De mystérieux téléphones et ordinateurs portables ont également été découverts un peu partout sur la carte. Leur fonction est encore assez floue puisque les utiliser fait entendre un message en russe. Ces messages sont assez difficiles à décrypter mais celui partagé par un utilisateur Reddit permet d'entendre la phrase suivante : « Maintenant... 6-2-3 » (сейчас... шесть-два-три). S'agit-il d'un simple message d'ambiance ou a-t-il une véritable signification ? Seul le temps nous le dira.


Toutes les infos sur Call of Duty: Modern Warfare