On vous indique où télécharger Call of Duty Modern Warfare si vous souhaitez accéder à Warzone, le Battle Royale du jeu.
Si comme beaucoup vous souhaitez essayer le nouveau Battle Royale de Call of Duty, vous allez devoir patienter jusqu'à la date fatidique du mardi 10 mars 2020. Car avant, même si vous lisez que c'est possible, cela ne l'est pas. Activision a annoncé que Warzone (le BR) sortirait officiellement à cette date et il est fort possible que cela soit aux alentours de 16 h, en témoigne un compte à rebours dans le jeu.
Il sera possible de jouer au jeu sur différentes plateformes : PC, PS4 et Xbox One. Le jeu devrait être crossplateforme, ce qui signifie que si vous avez un ami sur PS4 et que vous êtes sur PC, cela ne posera pas problème. Dans le COD actuel, il suffit tout simplement de cocher ou décocher une option.
Une autre information qui a son importance : Warzone sera totalement gratuit. C'est-à-dire que si vous n'avez pas acheté Call of Duty Modern Warfare, cela n'aura pas d'incidence.
Comment jouer à Warzone sur PC ?
Tant qu'il n'est pas 16h (mardi 10 mars), vous ne pouvez pas accéder à Warzone. Les joueurs ne possédant pas le jeu devront quant à eux attendre 20h (mardi 10 mars).
Mise à jour 20 h : Tout le monde n'a pas le bouton pour télécharger COD MW gratuitement, il va sûrement falloir patienter quelques minutes
Actuellement, pour accéder à Call of Duty sur PC, vous devez le faire depuis Battle.net, l'application utilisée par Blizzard et Activision pour ses jeux. Etant donné que Warzone est annoncé comme gratuit, on imagine que le téléchargement de COD Modern Warfare sera ouvert à tous et que seul le mode Warzone sera accessible.
Afin de télécharger Battle.net, il faut :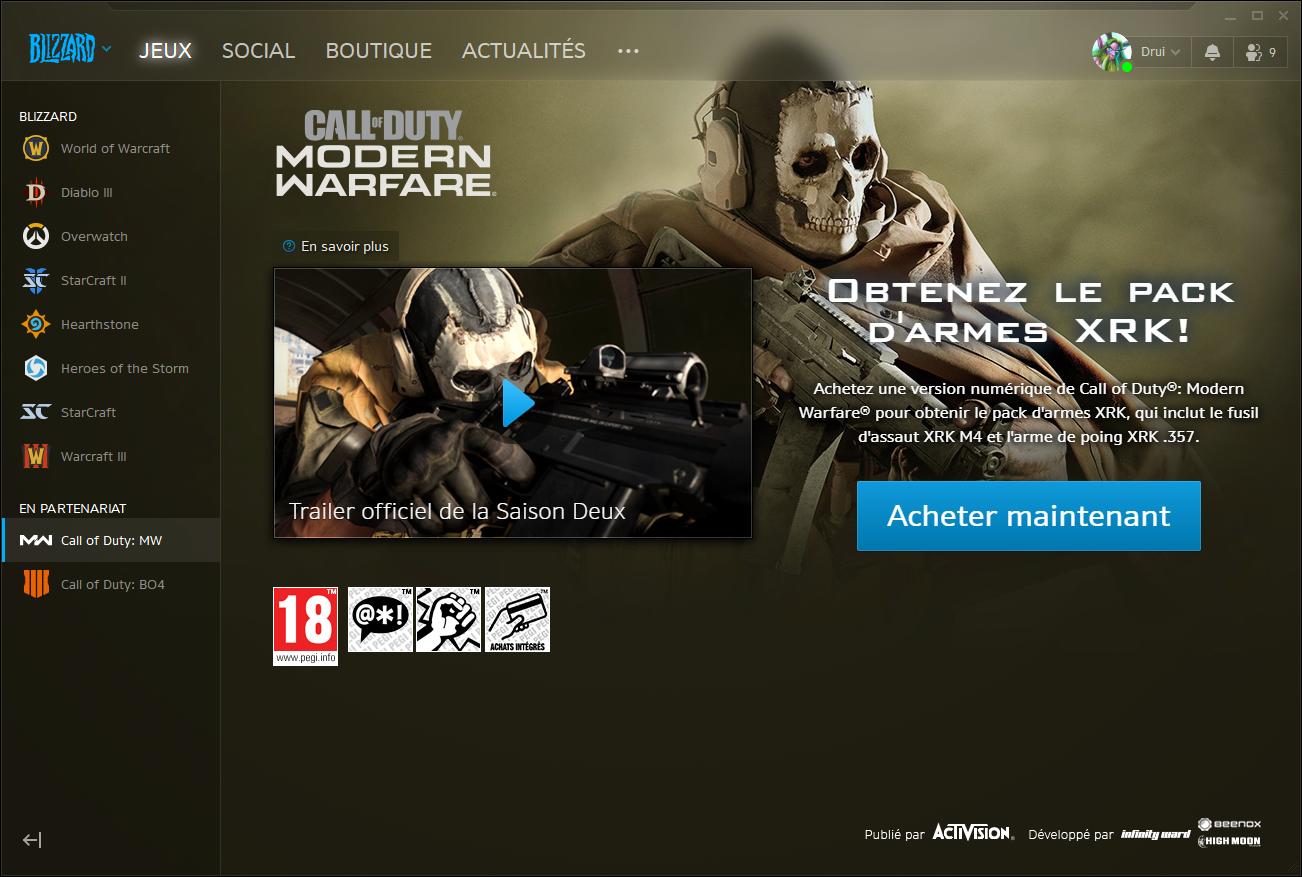 Comment télécharger Warzone sur PS4 et Xbox One ?
Sur Playstation ou Xbox, la manipulation est bien plus simple. Vous allez devoir aller dans le store de votre plateforme et télécharger Call of Duty Modern Warfare. Car oui, Warzone est issu du jeu COD MW, sans le téléchargement du jeu principal, impossible d'accéder au mode gratuit !
Pour accéder au jeu sur votre store, voici les liens :
Rappelons tout de même que pour tous les joueurs une mise à jour devra être téléchargée et installée.