Quels accessoires ajouter pour une classe équipant la M4A1 dans le mode Warzone de Call of Duty: Modern Warfare ? On vous dévoile ici les équipements à privilégier.
Bien que Call of Duty Warzone soit un Battle Royale, ce qui signifie que l'on est jamais sûr de l'arme avec laquelle on va devoir se battre, Infinity Ward a mis en place un système de stations de ravitaillement, permettant notamment d'accéder à des classes pré-définies par le joueur. Disponible pour 6000$ récoltés durant la partie ces largages donnent un avantage non négligeable.
Cependant quelle classe choisir pour le mode Battle Royale de Modern Warfare ? On vous présente ici une classe avec la M4A1.
Quels accessoires et équipements avec la M4A1 sur Call of Duty Warzone ?
La M4A1 est un fusil d'assaut assez polyvalent, permettant ainsi d'être efficace sur de courtes distances comme sur des tirs de précision.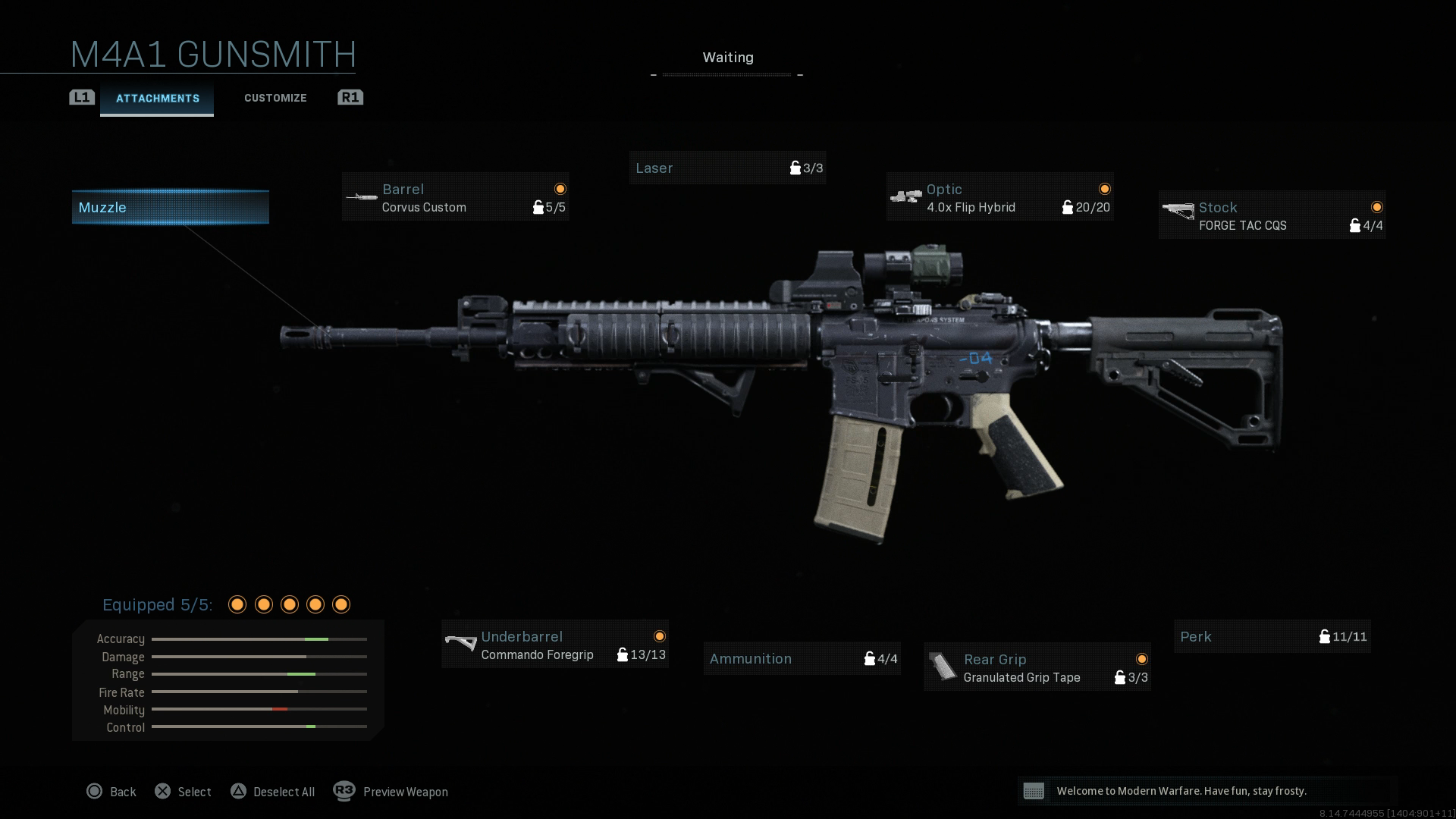 Aperçu de la M4A1 et de ses accessoires pour Call of Duty Warzone (source : gfinityesports.com)
Retrouvez ci-dessous la liste des cinq accesoires à équiper sur cette arme.
Corvus Custom Marksman (Canon)
Hybride Flip x4,0 (Lunette)
Forge TAC CQS (Chargeur)
Granulated Grip Tape (Poignée arrière)
Poignée avant de commando (Accessoire canon)
Cependant une classe ne comporte pas qu'une seule arme. Il est ainsi conseillé d'équiper le fusil à pompe R9-0 en arme secondaire, ce qui permettra notamment d'être redoutable dans les combats rapprochés. L'arme devra également porter les équipements suivants :
Forge TAC Gemini (Canon)
5mW Laser (Laser)
FSS R9-0 Bulldog (Pump)
Granulated Grip Tape (Poignée arrière)
Poignée avant de ranger (Accessoire canon)
Pour terminer l'équipement sera également composé des grenades et atouts suivants pour optimiser la classe.
| | |
| --- | --- |
| Grenades | Atouts |
| Grenade frag (Mortel) | Démineur |
| Grenade fumigène (Tactique) | Surarmement |
| | Traqueur |