Quels accessoires ajouter pour une classe équipant la FiNN LMG dans le mode Warzone de Call of Duty: Modern Warfare ? On vous dévoile ici les équipements à privilégier.
Bien que Call of Duty Warzone soit un Battle Royale, ce qui signifie que l'on est jamais sûr de l'arme avec laquelle on va devoir se battre, Infinity Ward a mis en place un système de stations de ravitaillement, permettant notamment d'accéder à des classes pré-définies par le joueur. Disponible pour 6 000$ récoltés durant la partie ces largages donnent un avantage non négligeable.
Cependant quelle classe choisir pour le mode Battle Royale de Modern Warfare ? On vous présente ici une classe avec la FiNN LMG, une nouvelle arme de la saison 5.
Quels accessoires et équipements avec la FiNN LMG sur Call of Duty Warzone ?
La FiNN LMG est une mitrailleuse, son chargeur et son calibre imposants permettent d'infliger de lourds dégâts sans avoir besoin de recharger après chaque élimination mais rend le joueur particulièrement vulnérable lorsque le besoin de changer le chargeur arrive. Cette classe permet ainsi de rester efficace en ayant beaucoup de stabilité même accroupi ou allongé et possède également l'avantage d'être silencieuse.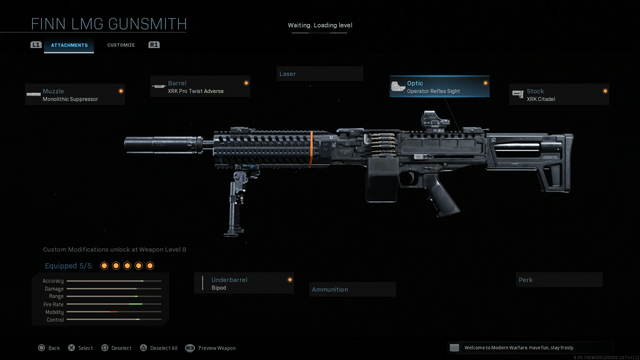 Aperçu de la FiNN LMG et de ses accessoires pour Call of Duty Warzone
(source : gfinityesports.com)
Retrouvez ci-dessous la liste des cinq accesoires à équiper sur cette arme.
Monolithic Suppressor (Bouche)
XRK Pro Twist – Adverse (Canon)
Operator Reflex Sight (Lunette)
XRK Citadel (Crosse)
Bipod (Poignée avant)
Pour terminer l'équipement sera également composé des grenades et atouts suivants pour optimiser la classe.
| | |
| --- | --- |
| Grenades | Atouts |
| C4 (Mortel) | Double Time |
| Grenade fumigène (Tactique) | Fantôme |
| | Traqueur |