La nouvelle mécanique qui remplacera les Galaxies lors du Set 4 est Élu : elle permettra à l'un de vos champions d'être bien plus puissant et de débloquer des traits de synergie supplémentaire.
L'arrivée du Set 4 de TFT est imminente, puisqu'elle est prévue pour le patch 10.19. Outre les nombreux nouveaux champions et traits, une mécanique inédite fait son arrivée pour remplacer les Galaxies du Set 3 : Élu. Nous vous détaillons toutes les informations sur cette nouveauté.
Champion Élu dans le Set 4 de TFT
Occasionnellement dans votre boutique, vous verrez apparaître un champion Élu. Celui-ci est déjà niveau 2 d'étoile, et coûte donc le prix qui va avec (un champion tier 1 coûte donc 3 PO, un champion tier 3 coûte 9 PO...).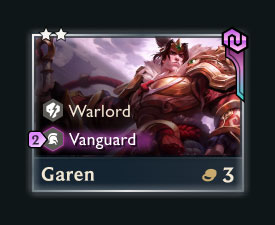 Celui-ci dispose de différents bonus :
L'un de ses traits (origine ou classe) est « Élu », et compte donc deux fois pour le bonus de synergie.
Le champion Élu dispose également de stats bonus : il a toujours +200 PV, et dispose en prime d'un bonus unique parmi les trois suivants : 500 PV, 35 % de puissance magique, 50 dégâts d'attaque ou 25 % de réduction de coût en mana. Ce bonus est défini en fonction du champion.
Les stats de chaque champion élu ont été exposées par Riot Mortdog.
Common FAQ #3: Is it random which stat my chosen get? Can Jhin roll Mana? Etc? - No, the bonus stat given to each champ is pre-determined and is ALWAYS the same. There is no randomness here. pic.twitter.com/7sbPms1FdZ

— Riot Mort (@Mortdog) August 31, 2020
Dans le cas du Garen ci-dessus, il sera donc immédiatement niveau 2, disposera de 200 + 500 PV supplémentaires, et comptera comme deux Initiateurs pour le bonus de synergie.
Attention toutefois, vous ne pourrez avoir qu'un seul Élu dans votre équipe. Dès lors que vous en aurez acheté un, les autres champions Élus n'apparaîtront plus dans votre boutique tant que vous l'avez. Dès que vous le vendez, ils pourront recommencer à apparaître normalement. Il faudra donc choisir entre prendre un Élu rapidement, ou prier pour un champion bien plus puissant à 3, 4 voire 5 PO.