Lors de sa conférence sur la suite de Diablo Blizzard a donné de nouvelles informations sur le contenu de Diablo 4.
Après l'annonce tant attendue de Diablo 4, Blizzard se devait de donner des précisions supplémentaires sur ce que va contenir ce nouvel opus. Bien que le jeu n'ait pas encore de date de sortie les créateurs de Diablo ont donné quelques informations concernant les donjons, les objets ainsi que d'autres éléments de Diablo 4.
Les donjons dans Diablo 4
Dans le prochain opus de la série Diablo les donjons garderont toujours la même ambiance que dans les précédents épisodes mais présenteront tout de même quelques différences. Les donjons, intérieurs comme extérieurs, seront ainsi générés aléatoirement et posséderont des objectifs propre à chacun. Ces donjons seront faisables soit en solo soit en groupe. Autre nouveauté appréciable, l'absence de temps de chargement entre les différents niveaux ou parties des donjons rendant ainsi l'exploration plus fluide.
Quelques images des donjons dans Diablo 4 (cliquez pour agrandir)
Blizzard a également dévoilé une nouveauté inspiré directement des donjons mythique + de World of Warcraft. En effet il sera possible d'ajouter une sorte de clé qui modifiera le donjon en mettant en place une difficulté supplémentaire.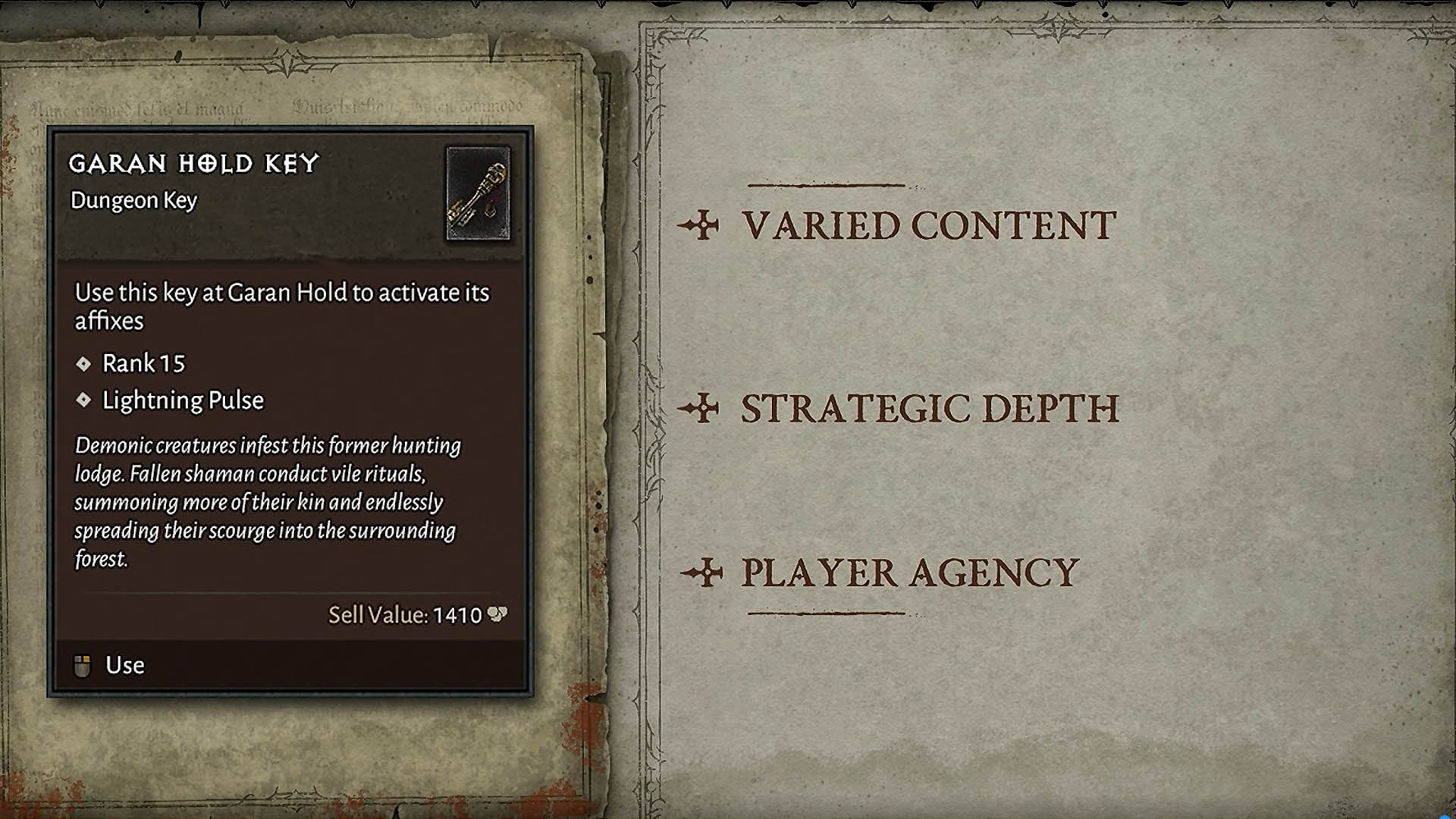 Les affixes sont inspirés du système de donjons de World of Warcraft
Les objets dans Diablo 4
Avec ce nouvel épisode Blizzard a prévu de revoir les niveaux de rareté des objets. Bien qu'assez similaires à ce que l'on connaît certaines différences sont néanmoins présentes. Ainsi trois niveaux de difficultés « inférieurs » seront toujours présents. La véritable différence se fera au niveau des objets légendaires et d'ensembles. Les deux se situeront au même niveau de rareté ce qui permettra selon Blizzard de faire varier les builds au lieu d'avoir des builds basés principalement autour des objets d'ensembles. Une rareté supérieure, les objets « mythiques », viendra s'ajouter aux niveaux de rareté déjà existants.
Des runes seront aussi disponbiles. Combiner deux types des runes différents permet à votre équipement d'avoir des modificateurs de gameplay plus profond. Les runes fonctionne en couple : une rune de condition (exemple : "lorsque vous gelez un ennemis, déclenche la rune effet) et une rune d'effet (augmente vos dégâts de givre de 15%). Il existe une grand diversité de runes condition et de runes effets.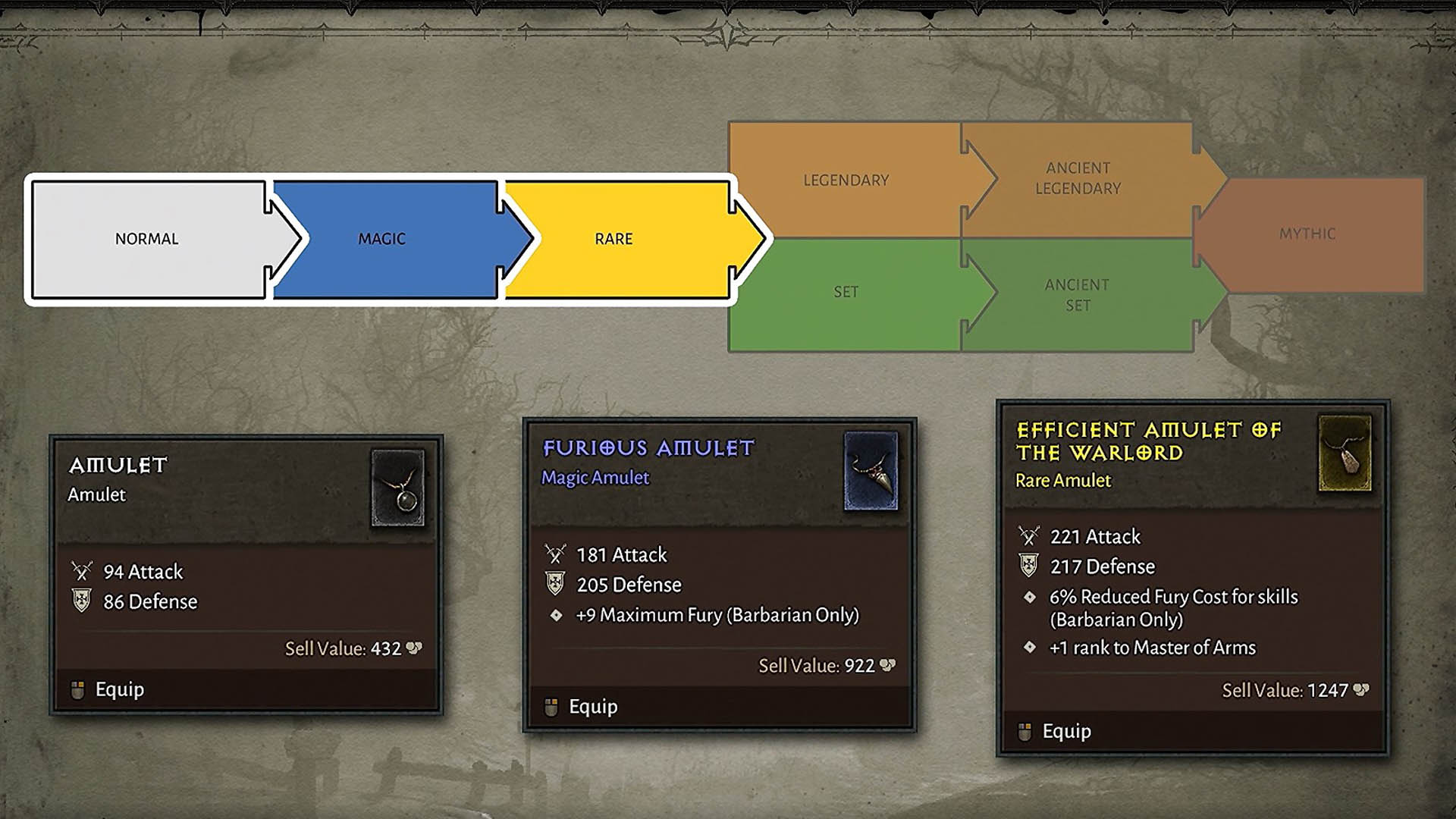 La progression de la rareté des objets dans Diablo 4
Modèle économique et autres informations sur D4
Comme la date de sortie le modèle économique de Diablo 4 reste incertain. Blizzard a toutefois confirmé que des extensions verront le jour par la suite et que le jeu est aussi prévu sur consoles, probablement la PS5 et la Scarlett. Il est à noté que Blizzard ne prévoit pas de vendre des améliorations de puissance.
L'échange sera permit mais avec des limitations. Plus les objets seront forts ou rares moins il sera possible de les échanger. Certains objets très puissants ne seront pas échangeables.