Lors de l'annonce de la saison 2 de Fall Guys à la Gamescom 2020, Mediatonic a également dévoilé la date de sortie de cette saison médiévale.
Cette Gamescom a été chargée en annonce sur de nombreux jeux, notamment Fall Guys, le party-game le plus populaire du moment. Après son lancement plus que réussi Mediatonic, le studio en charge du développement, entend bien continuer sur cette voie et a ainsi dévoilé la saison 2 du jeu.
Mais quand sortira cette saison 2 de Fall Guys sur PS4 et PC ? On fait ici le point sur l'annonce de la Gamescom.
Quand sortira la saison 2 de Fall Guys sur PS4 et PC ?
Mise à jour 02.10.2020 :
Fall Guys saison 2 débutera le 8 octobre 2020 !
BEAN SPILLING POST

Announcing dates always feels like you're cursing things, but it's Halloween month, so let's get cursed!

? Season 2 launches on Thursday 8th October ?

Season 1 will now end as Season 2 begins and we're going to DOUBLE fame points during this time! ? pic.twitter.com/J9TFIZ1BDd

— Fall Guys ? (@FallGuysGame) October 2, 2020
____________
Avec pour thème le Moyen-Âge, la saison 2 de Fall Guys marquera l'arrivée de nouvelles cartes, de nouvelles emotes mais aussi de nouveaux costumes et bien plus encore. Bien que la date de sortie précise n'ait pas encore été annoncée par Mediatonic ou Devolver Digital, l'éditeur du jeu, on sait d'ores et déjà que cette saison 2 le jour durant le mois d'octobre 2020.
Néanmoins, en se rendant dans la page du passe de combat de Fall Guys, on aperçoit un décompte affiche en haut à gauche. Ce décompte indique « Fin dans 39 jours » (au 28/08/20). On peut donc estimer que la saison 2 de Fall Guys débutera le 06 octobre 2020 !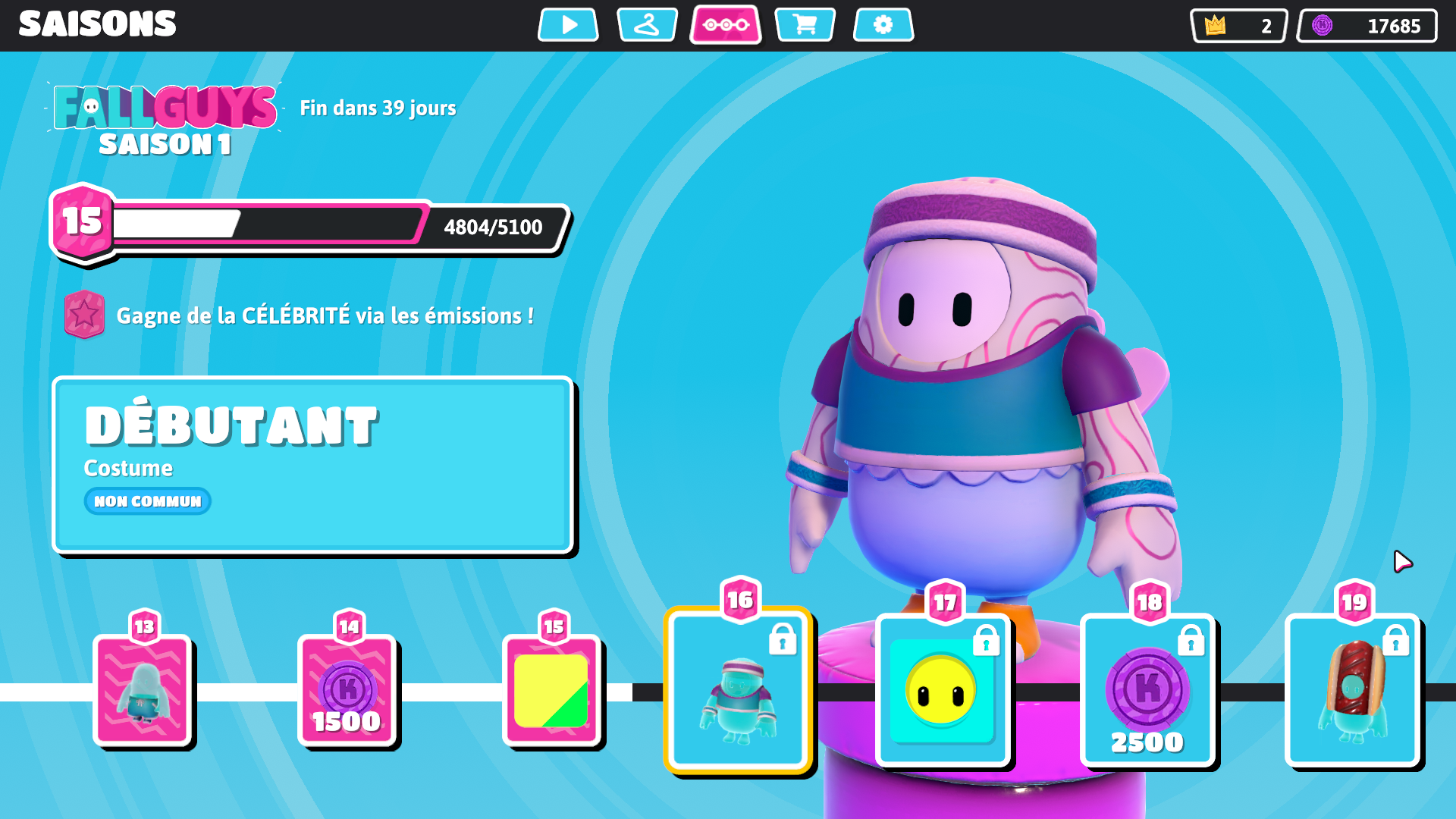 Un premier aperçu de la saison 2 de Fall Guys sur PS4 et PC
Nous ne manquerons évidemment pas de vous tenir informés lorsque les responsables de Fall Guys annonceront la date de sortie officielle de la saison 2. En attendant n'oubliez pas de consulter notre portail dédié au jeu pour ne rien rater de l'actualité !