Des skins Batman et Catwoman ainsi qu'un pack de cosmétiques sont à retrouver dans Fortnite, grâce à la collaboration avec Batman !
Ce samedi, Epic Games a mis en ligne une bande-annonce, dévoilant la collaboration Fortnite x Batman. Cette collaboration avait beaucoup fuité ces derniers jours, et nous vous avions déjà présenté différents changements qu'elle allait opérer dans le jeu, comme la transformation de Tilted Town en Gotham City, la ville de Batman.
Dans cette bande-annonce, Epic Games nous présente rapidement différents skins et cosmétiques, ainsi que des armes faisant partie de la collaboration. Ceux-ci sont déjà disponibles dans le jeu, et nous vous proposons de les découvrir !
Des skins Batman et Catwoman dans Fortnite
Les deux éléments les plus importants de cette collaboration sont bien évidemment les skins Batman et Catwoman, de quoi ravir tous les fans du super-héros. Vous pouvez désormais revêtir la tenue des héros de DC, et sauver Gotham City !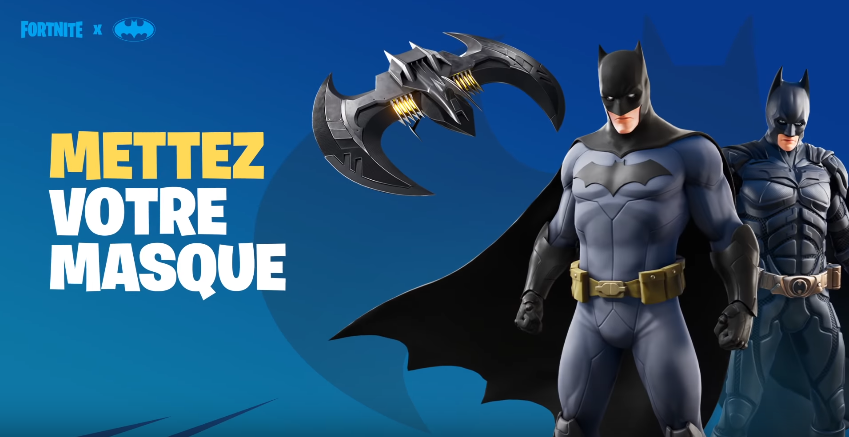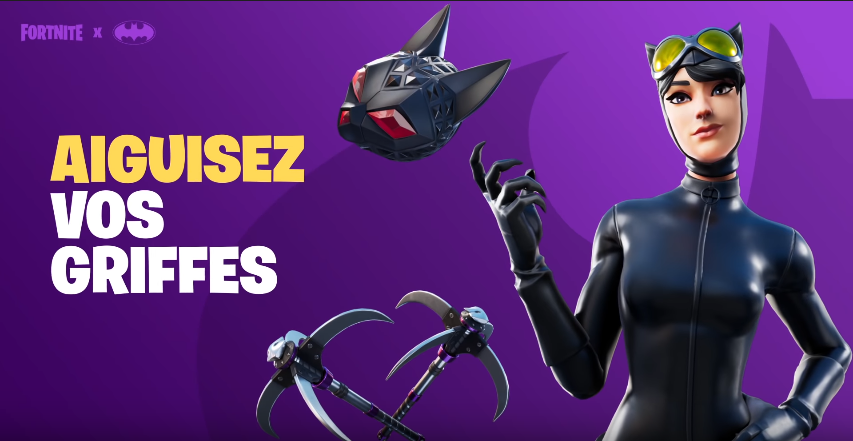 Le pack de cosmétiques Batman x Fortnite
Un pack de cosmétiques Le croisé en cape est également disponible dans le jeu, pour la somme de 19,99€. Celui-ci contient six éléments :
La tenue Batman du comic
L'accessoire de dos Bat-cape du comic
La tenue Batman du film The Dark Knight
L'accessoire de dos Bat-voile du film The Dark Knight
La pioche de Batman
Le planeur Batwing
Ces éléments sont à acheter, mais si vous ne pouvez pas payer, vous pouvez remporter des récompenses gratuites grâce aux défis Fortnite x Batman.
À noter qu'en plus des différents cosmétiques et skins, deux nouvelles armes sont également disponibles dans le jeu, le lance-grappin et le batarang explosif. Vous pouvez également remporter le planeur Catwing en réalisant tous les défis gratuits Bienvenue à Gotham City !