Genshin Impact est un jeu en monde ouvert, ce qui signifie que l'on peut facilement se perdre ! Pour vous aider, une map interactive du jeu est disponible en ligne, indiquant au passage où trouver de nombreuses ressources...
Genshin Impact est un gatcha en open world sorti ce lundi 28 septembre. Le jeu est très similaire à Zelda Breath of The Wild, et vous plonge dans une grande aventure, le tout totalement gratuitement et sur différentes plateformes : PS4, PC, iOS et Android. L'univers du jeu étant très grand, il peut être facile de s'y perdre ou de ne pas trouver ce dont vous avez besoin.
Pour vous aider à vous repérer plus facilement, une carte interactive est disponible en ligne, indiquant de nombreuses ressources et permettant de se repérer plus facilement dans le jeu.
Carte interactive de Genshin Impact
Vous vous sentez un peu perdu dans Genshin Impact ? Vous ne trouvez pas les ressources dont vous avez besoin, ou le chemin nécessaire pour votre quête ? Une carte interactive en ligne est disponible, détaillant tous les endroits du jeu et ce qu'on peut y trouver.
> La carte est disponible sur ce lien <
Sur cette carte, vous trouverez notamment :
L'emplacement des coffres
L'emplacement des minéraux
L'emplacement des plantes
L'emplacement des êtres vivants
L'emplacement des téléporteurs
Et bien plus encore ! La carte est pour l'instant en version Beta, et est régulièrement mise à jour. Si vous avez des remarques à faire au sujet de cette map, une section commentaires est également disponible sur le site.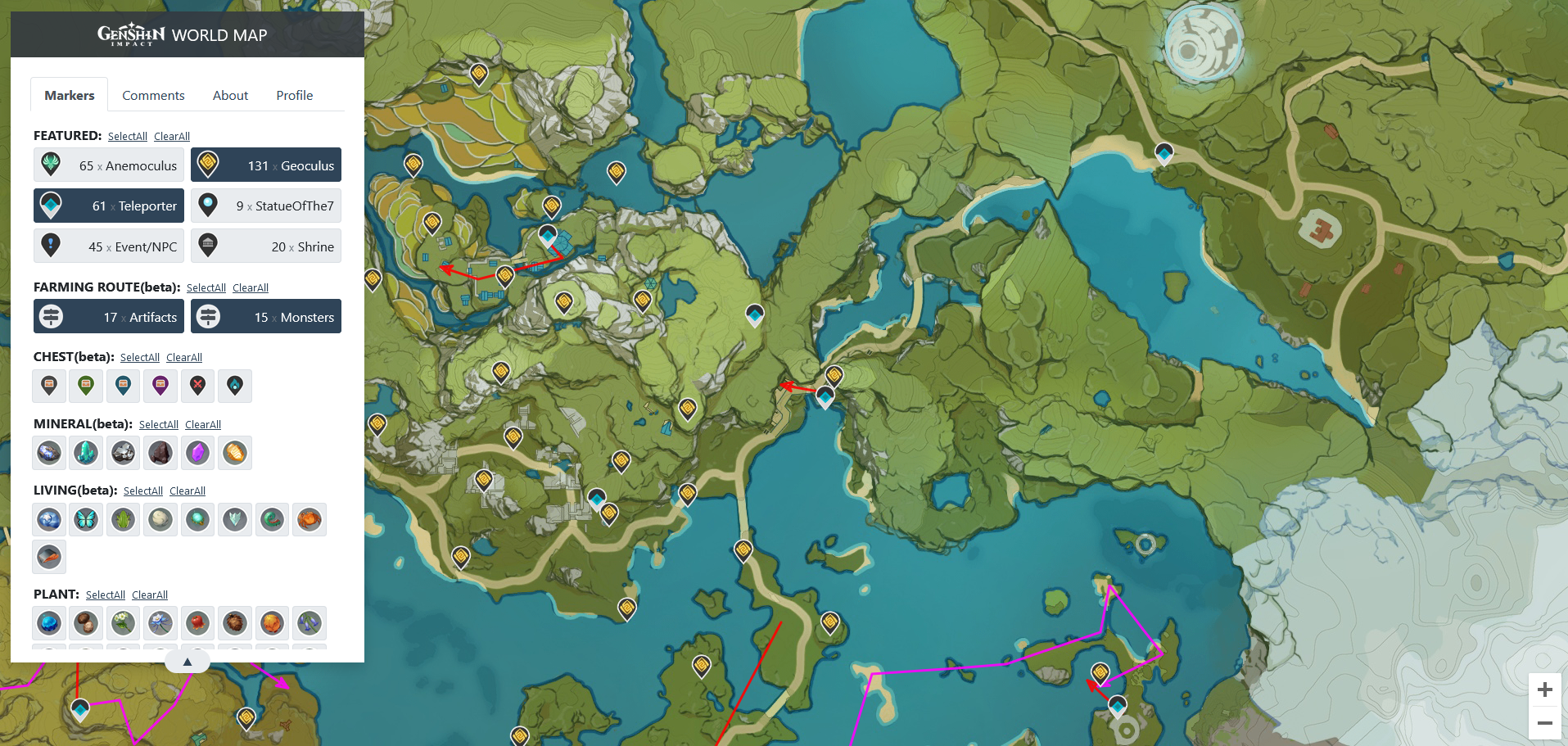 Vous pouvez également vous créer un profil, qui servira à sauvegarder des endroits que vous avez déjà, ainsi que commenter et voter pour les différentes localisations.