L'énergie est la ressource vous permettant de jouer à Harry Potter Wizards Unite. Le problème ? Elle s'épuise vite... Comment l'optimiser et comment en avoir ?
Si vous avez joué à Harry Potter Wizards Unite, vous avez dû voir que l'énergie est le nerf de la guerre. À l'image du dernier jeu mobile Hogwarts Mystery, sans énergie, vous ne pouvez pas jouer ! Il faut donc trouver des endroits où l'on peut obtenir cette ressource.
De l'énergie dans les Auberges de Wizards Unite
Le premier endroit où vous aller recharger à coup sûr votre énergie, ce sont les auberges. Elles sont disséminées un peu partout, vous ne devriez donc pas avoir trop de mal à les trouver.
- Chaque auberge vous donnera entre 1 et 10 points d'énergie par visite
- Le nombre d'énergie dépend de la nourriture proposée dans l'auberge (varie à chaque visite)
- Vous pouvez visiter une auberge toutes les 5 minutes
Listes de la nourriture trouvable dans les auberges avec l'énergie qu'elle donne


Pumkin Juice (3)

Tomato Soup (3)

Afternoon Tea (3)

Bertie Botts Beans (3)

Bangers and Mash (5)

Honey Dukes Bar (6)

Fish and Chips (6)

Butterbeer (7)

Turkey Dinner (10)
Les serres peuvent donner de l'énergie dans Wizards Unite
De temps en temps, lorsque vous visiterez des serres, vous aurez la chance de gagner de l'énergie. Toutefois, il ne faut pas s'y fier car le gain est minime puisqu'il peut aller jusqu'à 4 points. Il s'agit toutefois d'un petit plus qu'il est sympa à connaître !
Les missions quotidiennes de Wizards Unite pour avoir de l'énergie
Chaque jour, le jeu vous propose de nouvelles missions. Dans Wizards Unite, vous pouvez les retrouver sous le nom de missions quotidiennes. Parmi ces missions, certaines vont vous permettre d'avoir de l'énergie gratuitement, alors ne les ratez pas !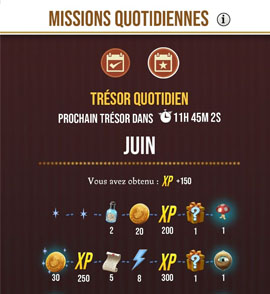 De plus, lors de vos connexions quotidiennes, vous êtes également susceptibles d'en gagner !
Acheter de l'énergie dans Wizards Unite
Enfin, si vous êtes trop impatients et que vous souhaitez avancer vite dans le jeu (bien que cela ne soit pas vraiment obligatoire), vous pouvez aussi dépenser vos pièces d'or pour acheter de l'énergie depuis la boutique du jeu.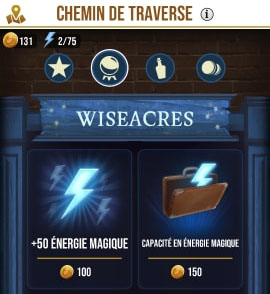 Quelques conseils pour ne pas gaspiller votre énergie dans Wizards Unite
- Privilégiez les retournables avec une menace élevée
- Rappelez vous des retournables que vous avez déjà rencontré car ils ne vous serviront à rien
- Concentre-vous lorsque vous lancer un sort. Cela peut paraître anecdotique mais si vous bougez, vous avez de grandes chances de rater et de devoir dépenser un point d'énergie supplémentaire
- Plus vous lancez un sort rapidement, moins il y a de chance pour que vous le ratiez ; attention à toutefois être précis
- N'oubliez pas vos potions lorsque vous affrontez un retournable difficile
- Pensez à augmenter votre capacité en énergie magique dans la boutique (150 pièces d'or)