Découvrez tout ce qu'il faut savoir sur TT Isle of Man 2, le second volet de la série des jeu de courses développé par Kylotonn.
Après un volet qui semblait prometteur, TT Isle of Man revient dans un deuxième opus. Ce jeu de course de moto développé par le studio français Kylotonn essaye de sortir de ce qui se fait chez la concurrence, en mettant de côté les courses et compétions mondiale pour se focaliser sur le tracé de l'ile du Man, course très connue des amateurs de deux roues.
Des graphismes assez limités

Avant d'aborder la partie gameplay de ce nouvel opus, une première chose nous saute aux yeux dès les premières secondes du jeu, les graphismes. Bien que la palette de couleur soit particulièrement agréable pour les yeux, la qualité est assez faibles. Des visages des spectateurs en passant par les arbres, l'horizon ou encore les effets d'ombres, toutes ces choses semblent bien lissés et simplifiés dans leur conception.
Bien que par rapport au premier volet celui-ci corrige certains défauts, il n'en reste pas moins très en dessous des autres jeux du même genre et des standards actuel. La modélisation et certains rendus de la carte sont très peu convaincant et manquent de peaufinage pour un résultat assez moyen.
Peu de carte, peu d'environnement et peu de choix
Un des gros points noirs du jeu, c'est sans aucun doute son nombre très faible de cartes, de biomes et d'environnements disponibles. Le jeu manque de diversité tant dans son choix de motos que dans ses environnements. Après quelques heures de jeu le joueur aura rapidement fait le tour et n'aucun mal à connaître exactement chaque carte ce qui peut parfois être problématique en terme de rejouabilité. Mais pour passer quelques heures, c'est parfait !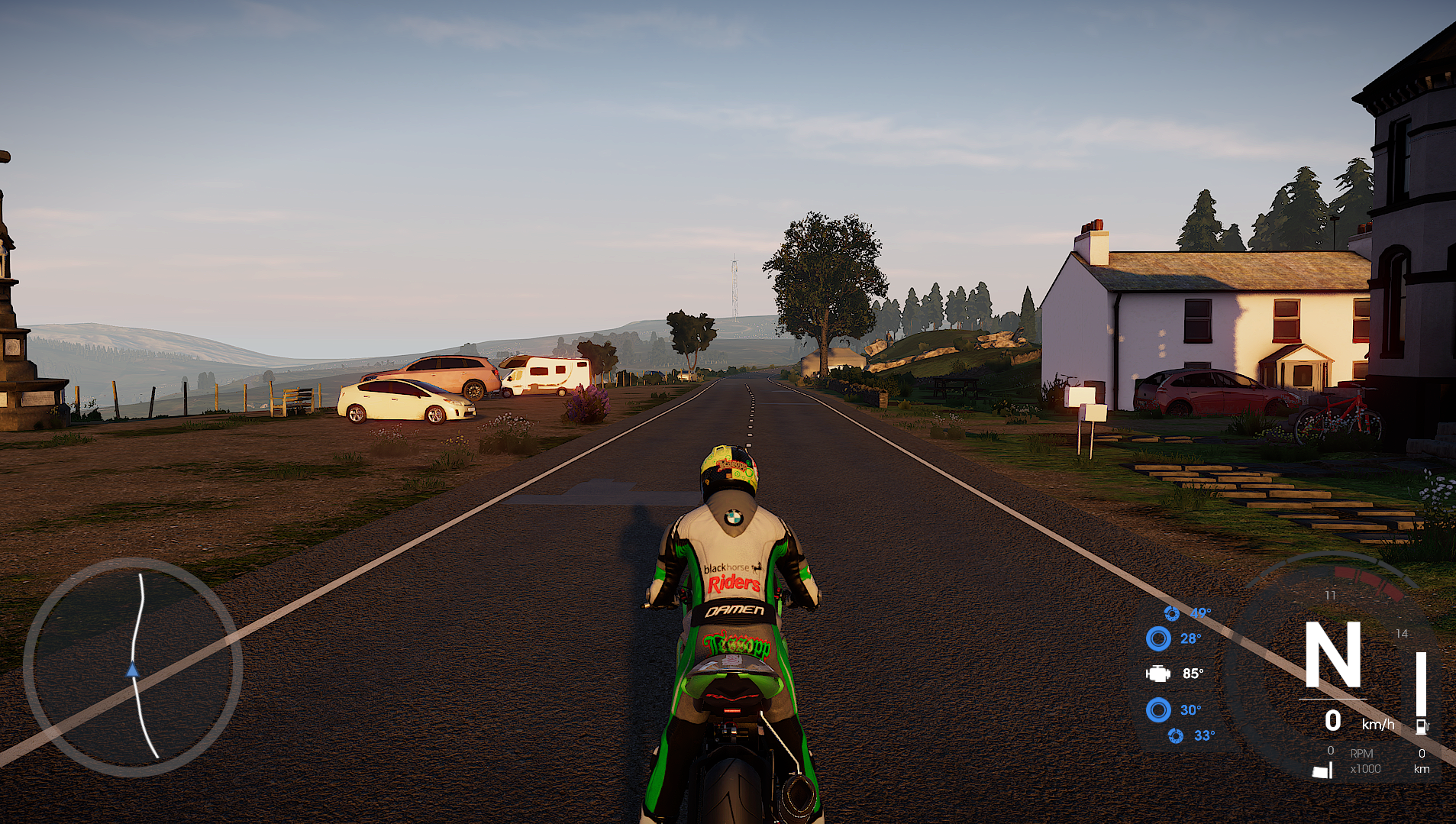 Le gameplay est plus adapté à la manette
Avec un gameplay plutôt exigeant et très inconfortable pour un joueur PC, TT Isle of Man 2 s'adresse dans un premier temps aux fans du premier volet sur console.
Dès les premières secondes de jeu, il nous semble évident que l'interface est pensé pour les joueurs console avant tout. Le jeu est au premier abord très peu intuitif pour un joueur PC mais vous pourrez modifier l'assignation des touches directement dans le jeu. Il est recommandé de jouer au jeu avec une manette afin de profiter d'un confort de jeu non négligeable.
Très inspiré du premier opus, TT Isle of Man 2 apporte quelques modifications à son gameplay renforçant son côté exigeant tout en essayant d'apporter un peu plus de réalismes. Le poids, la vitesse, ou encore la route sont autant de facteurs qui influeront sur votre véhicule lors de vos différentes courses et vous demanderont un minimum d'anticipation.
Le jeu se veut particulièrement exigeant et punitif ainsi il vous faudra sans aucun doute plusieurs heures de jeu avant de pouvoir maîtriser votre véhicule sous peine de prendre du retard parfois impossible à combler.
Quels sont les modes de jeu ?
Vous aurez à votre disposition 5 modes de jeu :
Carrière : Le mode histoire du jeu, assez bien conçu ;
Course rapide : Un mode de jeu pour vous entraîner ;
Course contre la montre : Un mode pour vous entraîner et améliorer votre temps ;
Conduite libre : Ce mode est fait pour vous aider à vous familiariser avec le gameplay ;
Multijoueur : le mode multi du jeu.
Présentation du mode carrière
Conclusion du test de Isle of Man 2
Il ne faut pas oublier que Isle of Man 2 est développé par un petit studio français et que bien qu'il n'égale pas encore les standards actuels en terme de jeux de course, le jeu reste toutefois appréciable surtout pour les fans de la licence. Si vous souhaitez cependant vous lancer sur ce type de jeu vous ne serez certainement pas comblés, notamment à cause des graphismes. Il est recommandé pour un nouveau joueur de se faire la main sur d'autres jeux du même genre avant de venir sur celui-ci. Le jeu possède toutefois quelques bonnes idées comme son gameplay exigeant et son mode carrière plutôt intéréssant qui sauront plaire à son public !