Après l'énorme succès de POP/STARS, le plus célèbre groupe de l'univers de League of Legends fait son grand retour. K/DA dévoile aujourd'hui son nouveau single : THE BADDEST.
Deux ans après l'énorme hit « POP/STARS », les fans de K/DA voient enfin leur attente récompensée.
Ahri, Kai'Sa, Evelynn et Akali font leur comeback avec une nouvelle chanson intitulée « THE BADDEST » !
Nouveau single « THE BADDEST »
Durant les Worlds 2018, League of Legends offrait à ses fans une expérience inédite avec un show démesurée. Pour la première fois dans l'histoire du jeu, les champions du jeu Ahri, Kai'Sa, Evelynn et Akali étaient apparus en Réalité Augmentée et avaient pu interpréter POP/STARS en live.
Aujourd'hui K/DA est de retour avec un nouveau single inédit : « THE BADDEST ». Comme pour POP/STARS, SOYEON et MIYEON du groupe (G)I-DLE viennent reprendre les casquettes d'Akali et d'Ahri, ce qui promet de ravir les amateurs de Kpop. D'autre part, de nouvelles artistes incarnent Kai'Sa et Evelynn pour cette chanson : Bea Miller et Wolftyla.
Bientôt un EP
Bonne nouvelle, ce n'est que le début d'un nouveau chapitre puisqu'un EP complet produit par Riot Games Music et avec plusieurs titres est déjà prévu pour la fin de l'année.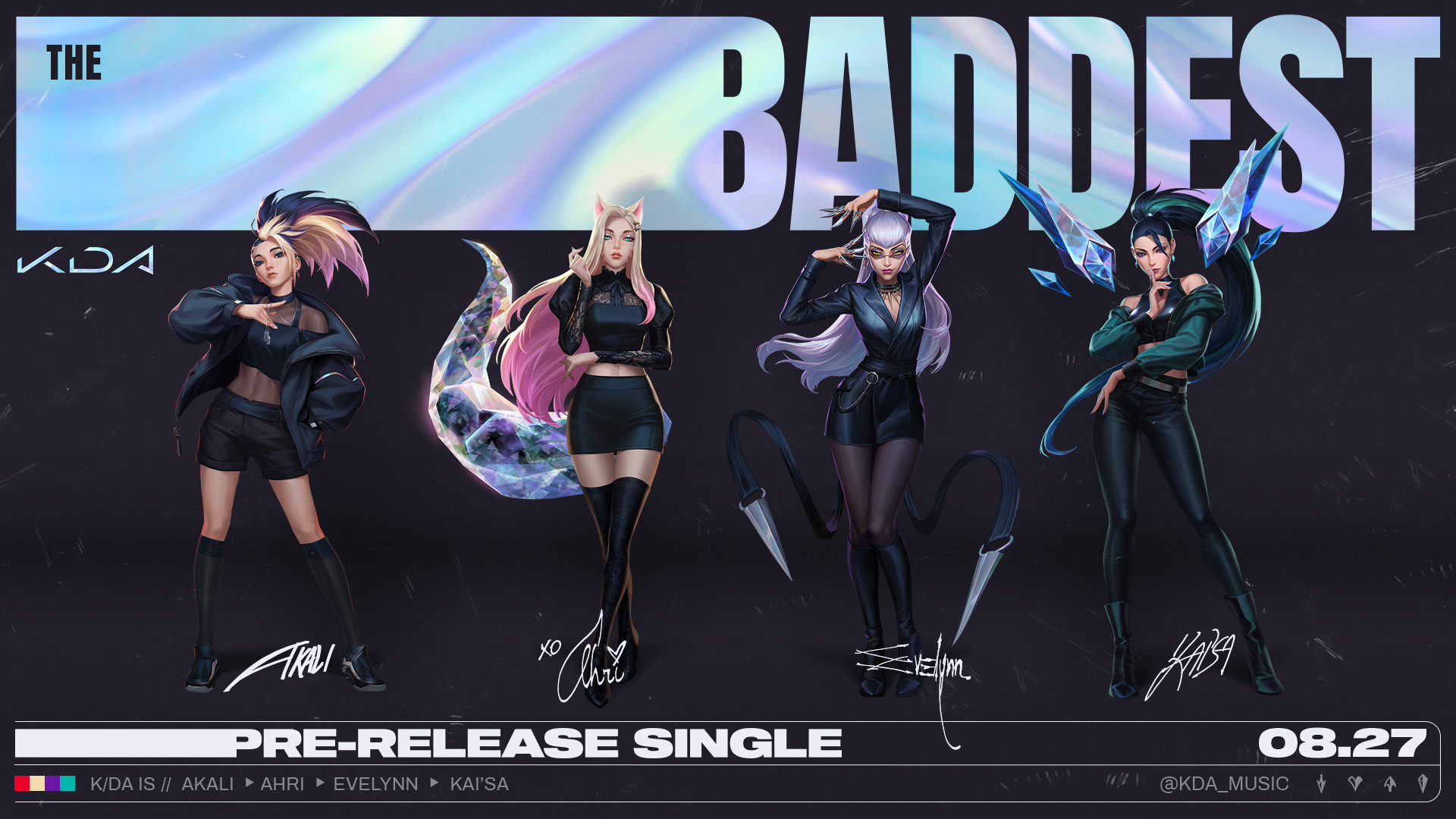 Cet EP sera le fruit d'une collaboration avec de nombreux artistes. Les interprètes des champions pourraient donc varier en fonction des différentes chansons proposées.
De plus, Riot Games promet d'offrir de nouvelles expérience en terme de spectacle visuel au même titre que celles de DJ Sona, True Damage ou encore Pentakill. Si vous aimez les performances musicales, gardez donc un œil sur les Worlds 2020 de League of Legends qui proposeront très certainement des surprises de ce côté !