Riot Games présente la Division 2, un projet qui a pour but d'encadrer les équipes prometteuses de la scène esport française.
Alors que League of Legends vient de couronner son nouveau champion du monde avec FunPlus Phoenix, Riot Games présente aujourd'hui la Division 2, un nouveau projet qui a pour but d'aider au développement de la scène esport LoL en France.
Qu'est-ce que la Division 2 ?
La Division 2 est tout simplement une nouvelle ligue française régulière organisée par Riot Games en partenariat avec L'Équipe. Cette compétition se déroulera tous les dimanches après-midi en parallèle de la LFL et débutera le 26 janvier 2020. Elle aura pour but de déceler les nouveaux talents de la scène League of Legends française en permettant aux joueurs de progresser et leur donnera l'opportunité d'accéder à la LFL via des matchs de promotion à la fin de la saison.
Le format de la compétition
Le format exclusivement en ligne et le dimanche après-midi permettra aux joueurs qui exercent une activité durant la semaine de participer à la Division 2. La compétition possédera également son propre format qui se déroulera comme présenté ci-dessous :
La compétition se déroulera sans interruption du 26 janvier à fin août soit 18 jours sur l'année.
Les équipes s'affronteront en matchs aller-retour en une manche gagnante.
Les deux meilleures équipes de la Division 2, hors équipe secondaire d'une équipe LFL, participeront aux matchs de promotion pour tenter de gagner une place en LFL. Celles-ci renconteront les deux dernières équipes de LFL et les affronteront lors de rencontres aller-retour en BO3. Les deux permières équipes de ces rencontres accéderont à la LFL tandis que les deux autres iront jouer en Division 2.
Les deux dernières équipes au classement prendront part aux matchs de barrage avec l'Open Tour France. À l'instar du format de passage Division 2/LFL ces deux équipes rencontreront les deux premières équipes de l'Open Tour pour jouer leur place en Division 2.
Si une (ou deux) équipe de Division 2 est promue en LFL, celle-ci aura jusqu'à mi-novembre pour être en conformités avec les demandes de la LFL. Si cela n'est pas le cas à la date butoire elle perdra sa place au profit de la première équipe de LFL reléguée lors des matchs de barrage.
Les équipes participantes
Au total ce sont dix équipes qui participeront à la Division 2, parmi ces équipes on retrouvera ainsi des équipes B comme Lunary (Solary), Tony Parker Adequat Academy (Team-LDLC), M'AZING (MCES) et Gamers Origin Academy (Gamers Origin). D'autres noms plus connus feront également leur apparition comme le FC Nantes et Bastille Legacy. Parmi les autres équipes les spectateurs pourront voir jouer Oplon, TrainHard, Unfazed Esport, et Zephyr Esport.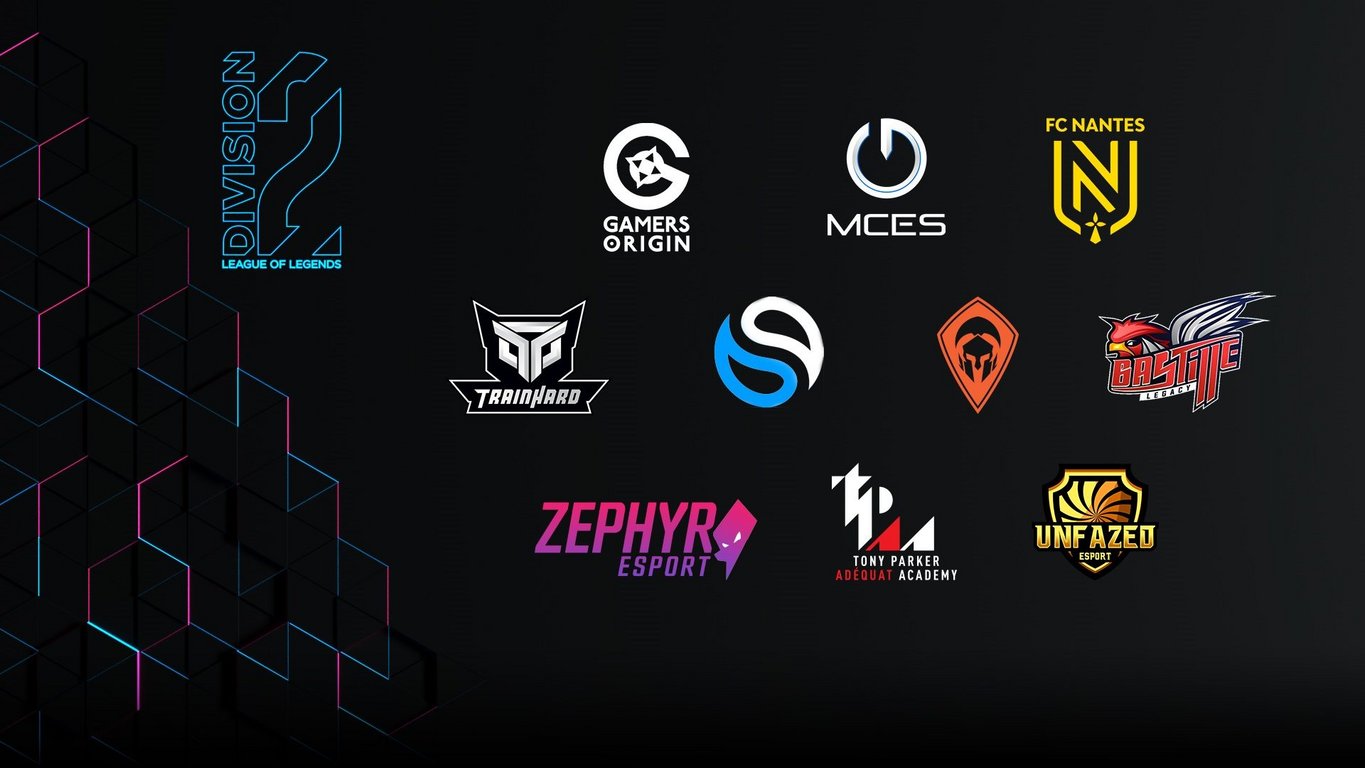 Les équipes qui participeront à la Division 2 (source : lolesports.com)