Après seulement une année passée chez TSM, le coach Zikz quitte l'organisation et rejoint 100 Thieves.
Zikz rejoint officiellement 100 Thieves. Depuis que PapaSmithy, ancien commentateur de la LCK, a rejoint l'organisation en tant que Game Manager, il semblerait que 100 Thieves souhaite absolument créer une équipe très compétitive en 2020. L'acquisition de Zikz en head coach est de ce fait un excellent choix, puisqu'il s'est à nombreuses reprises illustré comme l'un des meilleurs à son rôle en LCS.
Welcome @Zikzlol, our new League of Legends Head Coach!

Zikz is one of the most well-respected coaches in the scene, earning 2x LCS Championship titles & a 2nd place at MSI. We're so excited to bring his experience to 100 Thieves & look forward to building 2020 with him! #100T pic.twitter.com/680SPxF5Wu

— 100 Thieves (@100Thieves) November 11, 2019
Il était notamment connu pour ses excellents résultats lorsqu'il évoluait aux côtés de Counter Logic Gaming de 2015 à 2018, puis avait rejoint Team SoloMid pour l'année 2019. Alors que quelques mois plus tôt il avait tenu des propos négatifs vis-à-vis de l'organisation multiple champion des LCS (qui avaient fuités sur le stream d'aphromoo), il a finalement coaché l'équipe en 2019. Néanmoins, les choses ne se sont clairement pas passées comme prévu pour TSM, qui malgré une finale au spring split, n'a même pas réussi à se qualifier en playoffs au summer et s'est ainsi retrouvée disqualifiée des Worlds.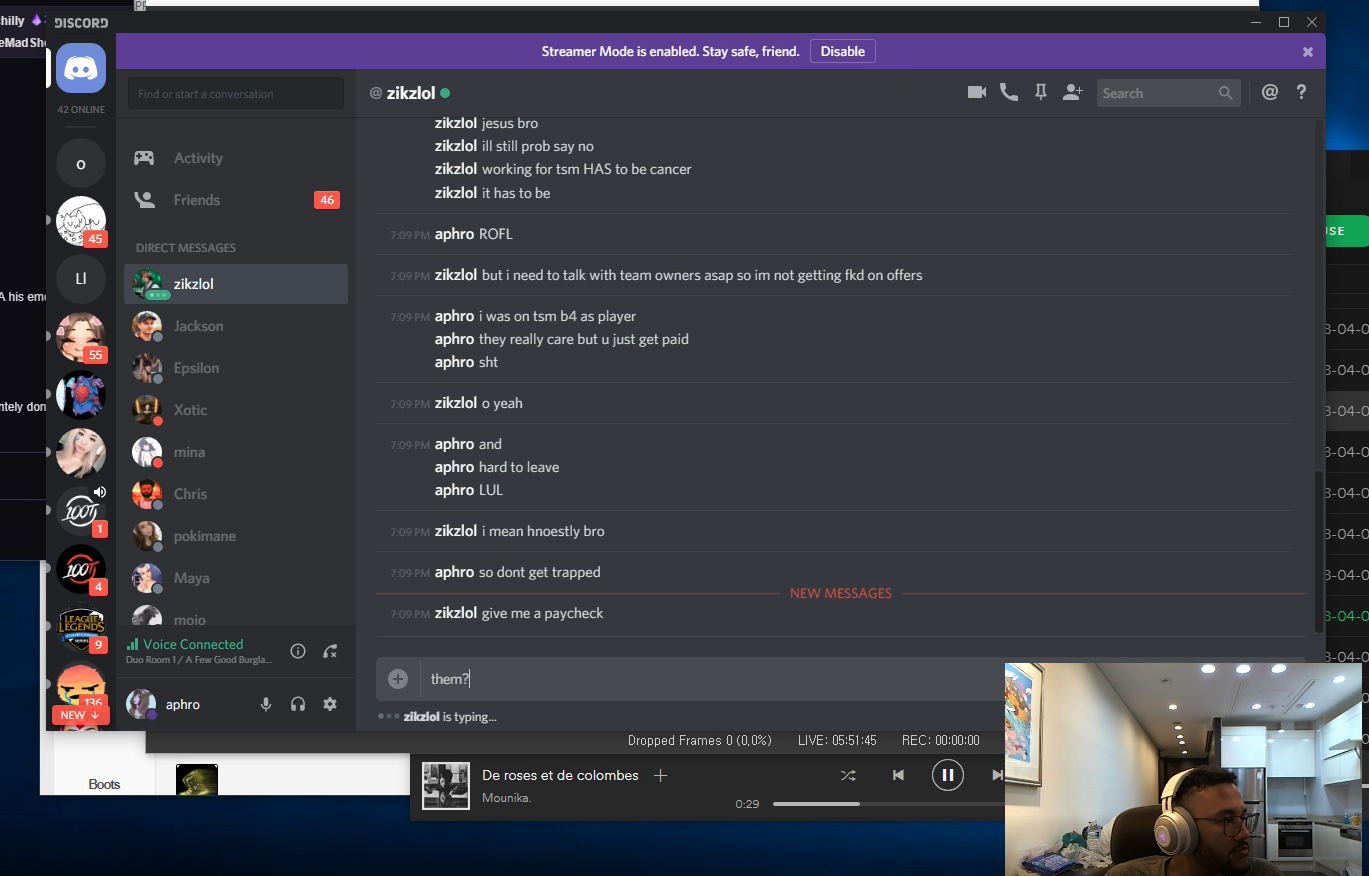 « Travailler chez TSM doit être cancer. » Il semblerait que Zikz ait frappé dans le mille, et ne souhaite pas continuer au sein de cette équipe.
Le reste du roster de 100 Thieves est encore inconnu, mais il semblerait que l'organisation de Nadeshot souhaite mettre les bouchées doubles en 2020, après une année 2019 très décevante. Pr0lly est de ce fait autorisé à chercher une nouvelle organisation. Retrouvez toutes les informations du mercato sur notre article dédié.