Le nouveau champion de League of Legends s'appelle Neeko ! Elle peut prendre l'apparence d'un allié et devrait être disponible prochainement.
C'est désormais officiel ! Neeko sera le nouveau champion de League of Legends, son lore ayant été posté par Riot Games. Il s'agit d'une mage que l'on pourra aussi bien jouer midlane que support !
| | |
| --- | --- |
| | Passif - Mirage inné |
| | Neeko peut prendre l'apparence d'un champion allié. Si elle blesse un champion ennemi, si elle est blessée par un champion ennemi ou si elle lance Explosion florale ou Spirale épineuse, l'illusion est interrompue et le délai de récupération augmente. |
| | |
| --- | --- |
| | A - Explosion florale |
| | Neeko lance une graine dans une zone ciblée. La graine éclot et blesse les ennemis. Si l'éclosion tue un ennemi ou blesse un champion ou un grand monstre, l'éclosion se répète jusqu'à deux fois de plus. |
Z - Métaclonage

Passive : toutes les trois attaques de base, Neeko tire un projectile chargé d'énergie spirituelle, infligeant des dégâts magiques supplémentaires et augmentant brièvement sa vitesse de déplacement.

Active : Neeko devient brièvement invisible, ce qui lui permet d'augmenter sa vitesse de déplacement et d'envoyer dans la direction ciblée un clone temporaire de sa forme actuelle.
E - Spirale épineuse

Neeko lance une spirale magique dans une direction, blessant et immobilisant brièvement les ennemis traversés. Le dernier champion touché est immobilisé plus longtemps.

Si Spirale épineuse touche au moins deux ennemis, elle augmente sa taille, sa vitesse et la durée de son immobilisation.
R - Floraison renversante

Neeko commence à se charger en essence spirituelle. Peu après, elle bondit dans les airs, s'entoure d'un bouclier et ralentit les ennemis proches. À l'atterrissage, elle libère de l'énergie qui inflige d'importants dégâts et étourdit les ennemis dans la zone.

Quand Neeko est déguisée avec Mirage inné, les ennemis ne voient pas la charge initiale.
Splashart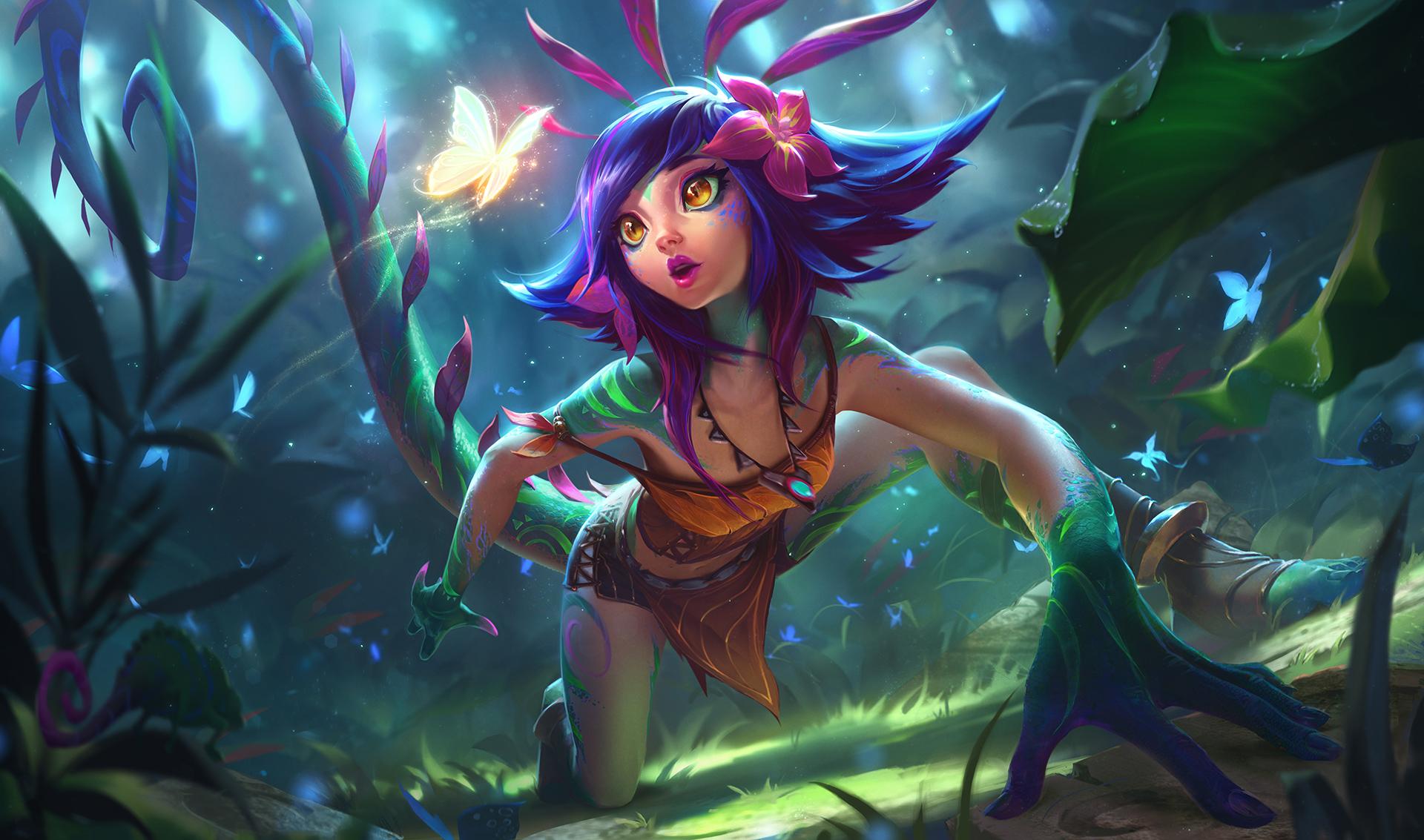 • Leak du lundi 19 novembre
Riot Games a annoncé il y a quelques jours sur le client de League of Legends qu'un nouveau champion serait dévoilé lundi 19 novembre. Depuis, une video a été publiée par l'éditeur sur ses réseaux sociaux, sans vraiment donner d'infos supplémentaires. Aujourd'hui, les détectives de Reddit ont mené l'enquête, et il semblerait que l'identité du champion ait fuité...
Son nom ? Neeko ! On devrait en savoir plus dans les prochaines heures, notamment entre 17h et 20h. Patience !