Retrouvez toutes les informations sur le rework de Volibear, notamment la description de ses différents sorts.
Après de longues années, le rework de Volibear approche à grand pas dans League of Legends ! Annoncé depuis déjà plusieurs mois par Riot Games, en parallèle du rework de Fiddlesticks, l'ours de la tempête s'est finalement dévoilé dans une vidéo de gameplay diffusée par l'éditeur ce samedi 9 mai. Il ne fait aucun doute que ce rework devrait être disponible sur le PBE ce mercredi 13 mai.
Les sorts du rework de Volibear
Le kit du nouveau Volibear a déjà été dévoilé (source en anglais).
The Relentless Storm (Passif)

Les attaques et sorts de Volibear lui octroient de la vitesse d'attaque. Après 5 attaques ou sorts, les auto-attaques de Volibear infligent des dégâts magiques supplémentaires aux ennemis à proximité.
Thundering Smash (A)

Volibear gagne de la vitesse de déplacement quand il se dirige vers des champions ennemis. Sa première attaque sur un champion adverse inflige des dégâts supplémentaire et un étourdissement.
Frenzied Maul (Z)

Volibear mord un ennemi, lui appliquant les effets on-hit et une marque. Relancer ce sort sur la même cible augmente ses dégâts et soigne Volibear.
Sky Splitter (E)

Volibear invoque un éclair infligeant des dégâts et ralentissant les ennemis, tout en accordant un bouclier à Volibear s'il est dans la zone de l'attaque.
Stormbringer (R)

Volibear bondit à l'endroit ciblé, ralentissant et infligeant des dégâts aux ennemis dans la zone de l'impact. Les tourelles ennemis proche de cette zone sont temporairements désactivées.
Même si Volibear garde quelques similtudes avec son ancien kit (A et Z notamment), les joueurs pourront découvrir le Dieu de la foudre dans une version plus mobile et plus incisive. Son ultime offre d'ailleurs une nouvelle mécanique : la désactivation de tours. Bien exploité, l'ultime de Volibear se révèlera dévastateur !
Mise à jour des splash-arts de Volibear
Volibear

Capitaine Volibear

Volibear El Rayo

Volibear Nordique

Volibear Runique

Fulguro Volibear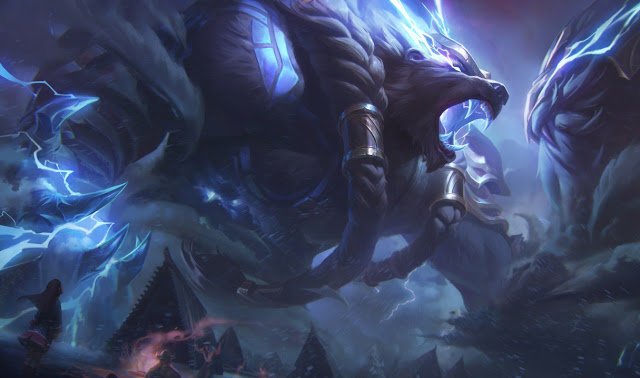 Thousand Pierced Volibear

Ce skin sera offert gratuitement à tous les joueurs ayant acheté Volibear avant la sortie du rework !
Pour rappel, une fois la refonte de Volibear terminée, le prochain champion sur la liste des refontes devrait à nouveau être sélectionné via un nouveau sondage auprès de la communauté, comme pour Fiddlesticks et Volibear.