Yone, le nouveau champion de League of Legends, vient de sortir. Découvrez les conseils de la rédaction pour jouer l'Inoublié sur la toplane !
Yone devrait sortir aux alentours du mercredi 5 août lors du patch 10.16 de League of Legends. Voici notre guide pour le jouer au mieux sur la toplane.
Quelles sont les forces et les faiblesses de Yone top ?
Forces
Très mobile
Gros potentiel d'outplay
Champion initiateur
Efficace en escarmouche
Hypercarry en puissance
Faiblesses
Peut se faire lane bully
Matchups parfois très compliqués
Fragile
Haut skillcap
Quels sorts d'invocateur prendre Avec Yone top ?
| | |
| --- | --- |
| | Saut éclair : Le Saut éclair permet tout autant d'engager un combat que de sortir d'une situation dangereuse. |
| | Téléportation : Durant le début de la partie ce sort d'invocateur vous permet de revenir rapidement sur votre voie toutes les 5 minutes puis une fois la phase de lane terminée il vous permet de rejoindre vos alliés à tout moment. |
| | Embrasement : Idéal pour un début de partie agressif et pour empêcher la régénération de vie de vos adversaires. |
Runes et objets sur Yone top

Runes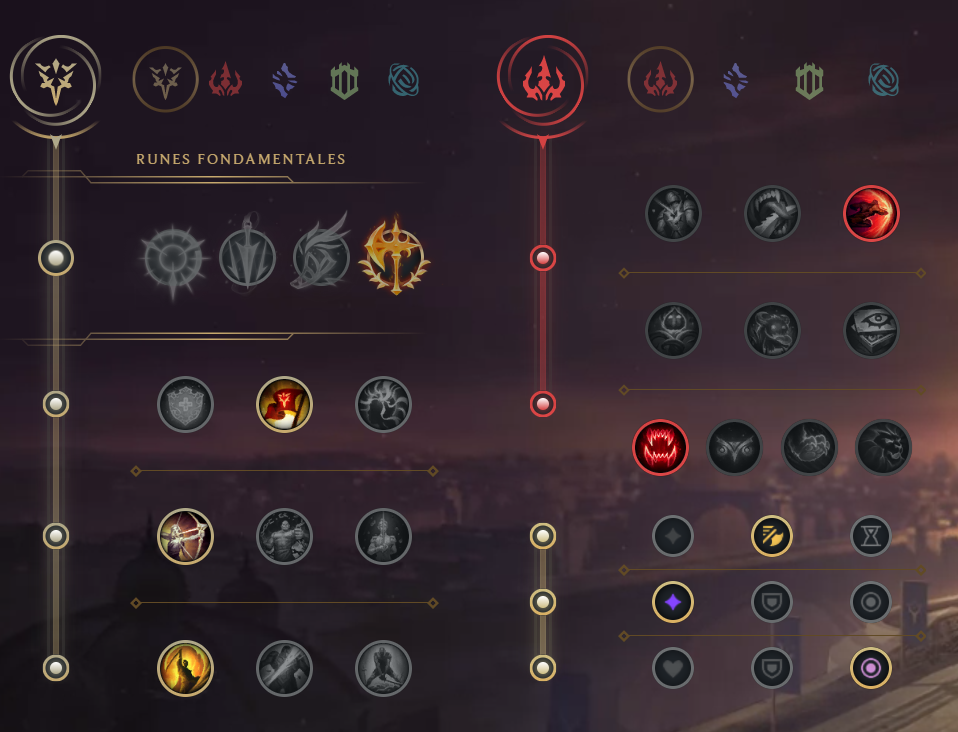 La runes fondamentales Conquérant est sans aucun doute le meilleur choix possible synergise parfaitement avec le kit et le gameplay de Yone. La vitesse d'attaque octroyée par Légende : Alacrité permet de réduire le CD d'Acier mortel (A) et Fendoir spirituel (Z). En secondaire, Goût du sang peut remplacer Ruée offensive selon vos besoins de même pour Chasseur ultime à la place de Chasseur vorace.
Objets





Dans un premier temps la priorité sera donné à la vitesse d'attaque sur Yone pour réduire au maximum le CD de son A ainsi que de son Z puis au coup critique afin de profiter au maximum de son passif. Le Danseur fantôme est donc le premier item idéal car il allie ces 2 statistiques. La Lame d'infini permet d'atteindre les 100% de chance de coup critique et de renforcer leurs efficacités offrant ainsi un gros pic de puissance à l'Inoublié. Le reste du stuff est plus orienté vers la survie afin de tenir face au focus et de rester efficace en late game.
Derniers items possibles



Le Cimeterre Mercuriel est indispensable face à des champions tels que Leona ou Malzahar. Le Gage de Sterak permet de tenir face au burst et au focus. Le Maillet gelé est un bon compromis entre dommage et survie, de plus le passif de l'objet est utile contre les champions mobiles.
Sorts : A > E > Z
Acier mortel (A) est le sort le plus important du kit de Yone, il lui sert à contrôler les vagues de sbires, à poke ou encore à engager son vis à vis, montez le premier afin d'augmenter ses dégâts. Montez par la suite Libération spirituelle (E) pour réduire son CD et augmenter le pourcentage de dégâts répétés.
Comment jouer Yone top ?

La phase de lane sera souvent difficile sur la toplane. La majorité des champions les plus populaires du moment sur la voie du haut sont trop dominants et punitifs en lane pour Yone : il lui sera très compliqué voire impossible de tenir tête à un Darius ou un Renekton. Au top il faudra donc savoir concéder des ressources et faire preuve de patience votre survie en dépend.
L'appui de votre jungler sera nécessaire en début de partie afin de rendre votre phase de lane plus aisée et lancer votre montée en puissance. Afin de faciliter l'intervention de votre jungler et par la même occasion rendre plus compliquée celle du jungler adverse utilisez Acier mortel et Fendoir spirituel pour contrôler les vagues de sbires puis servez-vous de Libération spirituelle pour engager votre vis-à-vis.
Une fois niveau 6 l'Inoublié devient très efficace en escarmouche. Avec Destin Scellé (R) Yone peut all-in instantanément de loin ce qui lui permet de créer rapidement des opportunités de kills à partir des mauvais placements ennemis.
Une fois la phase de lane achevée, Yone est un électron libre capable d'initier ou de rejoindre le combat en quelques secondes avec son importante mobilité. Ses capacité de playmaker font de lui un hyper carry de choix. S'il n'arrive pas à trouver d'ouverture en combat car l'équipe en face possède par exemple trop de contrôles le frère de Yasuo peut aller splitpush et aisément créer un trou sur une sidelane si l'équipe adverse ne rotate pas assez vite.