Sett , le nouveau champion de League of Legends, vient de sortir. Découvrez les conseils de la rédaction pour jouer le Patron dans la Jungle !
Sett devrait sortir aux alentours du 8 janvier 2020 lors du patch 10.1 de League of Legends. Juggernaut spécialiste de l'affrontement au corps à corps, voici notre guide pour le jouer au mieux dans la jungle

| Lire aussi : Toutes les infos sur le kit de Sett.
Quelles sont les forces et les faiblesses de Sett en Jungle ?
Bien qu'il prenne un peu de temps à faire sa jungle dans les premiers niveaux car il manque de dégâts multi cible, Sett s'en sort bien face aux monstres neutres. Il ne perd pas trop de vie et la régénération de son passif Cœur d'homme-bête lui permet de facilement enchainer les camps.
Le Patron peut jouer le rôle de première ligne à lui tout seul en milieu et fin de partie, Le clou du spectacle (R) est un bon sort d'initiation pouvant impacter un teamfights entier s'il est bien utilisé. Sa régénération passive le rend endurant, et Coup cathartique (Z) lui permet de temporiser face au burst adverse.
Le Ionien à besoin d'être au corps à corps de son adversaire pour exprimer son plein potentiel, les contrôles de foule seront son pire ennemi face aux équipes riches en contrôles la ténacité sera obligatoire.

Avant le niveau 6, il peut être difficile pour le Ionien de gank, surtout si son équipier n'a pas de capacité d'initiation car Casse-tête (E) requiert d'être relativement proche de sa cible.


Quels sorts d'invocateur prendre sur Sett en Jungle ?
| | |
| --- | --- |
| | Saut éclair : Le Saut éclair permet tout autant d'engager un combat que de sortir d'une situation dangereuse. |
| | Châtiment : Sort d'invocateur indispensable à tout jungler pour faciliter son début de partie dans la jungle et sécuriser les buffs et objectifs neutres de la partie. |

Runes et objets sur Sett en Jungle

Runes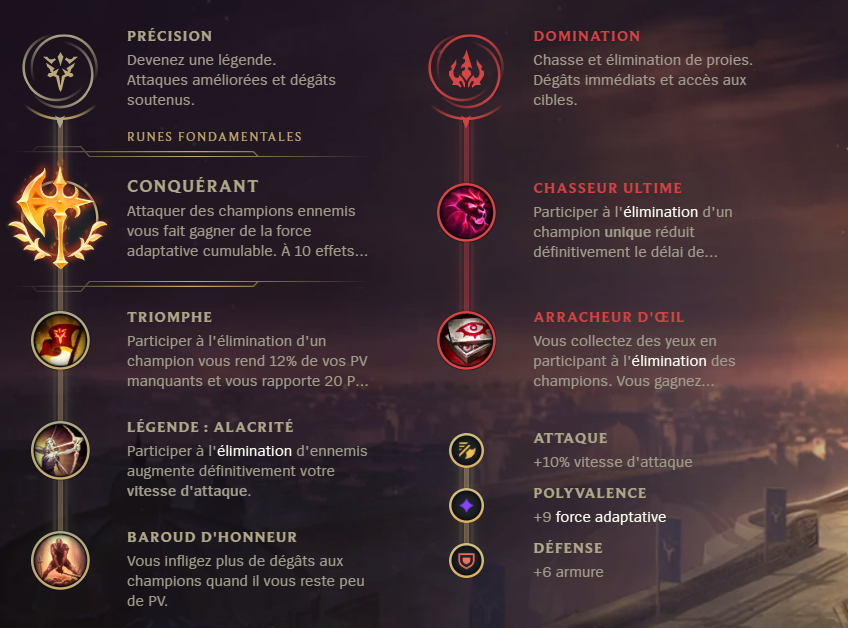 À l'image d'Olaf, Sett peut rapidement cumuler 10 effets de Conquérant avec ses attaques automatiques et ses sorts et ainsi donc profiter facilement de la régénération de santé de la runes. De plus le système d'agressivité favorise les longs combats ce qui va de pair avec la rune fondamentale Conquérant.


Attaque soutenue peut être également choisi pour burst les adversaires fragiles. Rogne (A) et le Tiamat réinitialisent les animations d'attaques automatiques permettant ainsi d'activer rapidement la rune.
Face à des équipes qui ont de nombreux contrôles, Légende : Alacrité peut être remplacée par Légende : Ténacité.

Objets






Un build très proche de celui de Warwick. Tout comme sur la Fureur déchaînée de Zaun, il est possible de commencer par un collier rafraîchissant à la place des potions afin de réduire le coût du Tiamat.
L'Enchantement : Guerrier est préféré car la réduction des délais de récupération est très utile à Sett mais il est tout de même possible de se tourner vers l'Enchantement : Titan cendré dans des games compliquées dans lesquelles le Patron est seul en première ligne par exemple.
Le visage spirituel synergise bien avec le passif de Sett et le rend très résistant.


Sorts : Z > A > E
Montez Coup cathartique (Z) en priorité pour réduire son temps de rechargement et augmenter ses dégâts et le bouclier pour faire la jungle plus facilement et prendre l'avantage lors d'affrontements en début de partie (pour le carapateur ou lors d'invade par exemple).
Ensuite maxez le Rogne (A) pour gagner un peu de mobilité supplémentaire pour initier vos adversaires avec Le Clou du spectacle (R).

Comment jouer Sett en Jungle ?

Le manque de dégât de zone de Sett en début de partie ne pose pas vraiment problème, le Ionien se débrouille plutôt bien dans la jungle et réussit sans trop de difficultés son premier clear. Il est tout de même préférable de retourner à la base dès que possible pour acheter le Tiamat (ou Cendres de Bami si vous partez sur l'Enchantement : Titan cendré) dans le but d'accélérer la vitesse de clean afin d'arriver niveau 6 plus rapidement.
Comme Nocturne, Le Patron ne possède pas une grande pression de gank avant qu'il débloque son ultime. En début de partie, essayez de vous concentrer sur les lanes qui peuvent engager le combat pour vous.
Une fois Le Clou du spectacle (R) débloqué, Sett peut aisément initier un combat. En teamfights, n'hésitez pas à utiliser votre ultime sur un tank en première ligne afin d'infliger d'importants dégâts de zone au reste de l'équipe.