À quoi ressemble la région Demacia dans Legends of Runeterra ? On fait le point sur le nouveau jeu de cartes par Riot Games !
Dans Legends of Runeterra, il existe 6 régions : Demacia, Freljord, Îles obscures, Ionia, Noxus et Piltover & Zaun. Chaque région a ses spécificités, ses cartes et 4 champions distincts, ce qui oblige les joueurs à tout connaître sur le bout des doigts. Quoi de mieux qu'un article pour vous présenter toutes les régions du jeu de cartes de Riot Games ?
Cet article va vous présenter la région Demacia, avec ses champions Fiora, Garen, Lucian et Lux, sans oublier sa devise : Un pour tous, et tous pour un.
« Les Champions de Demacia sont entièrement dévoués au respect de leurs traditions et réputés pour leur loyauté sans faille. Parviendront-ils à utiliser la magie pour surmonter les écueils de leur histoire récente dans cette époque en constante évolution ? »
Riot Games
Les champions de Demacia
Pour le moment, seuls quatre champions de Demacia sont disponibles dans le jeu.
Les cartes de Demacia
La région Demacia compte 53 cartes sur 318 au total (dont 4 Champions).
Les screens ci-dessous proviennent du site Mobalytics.gg.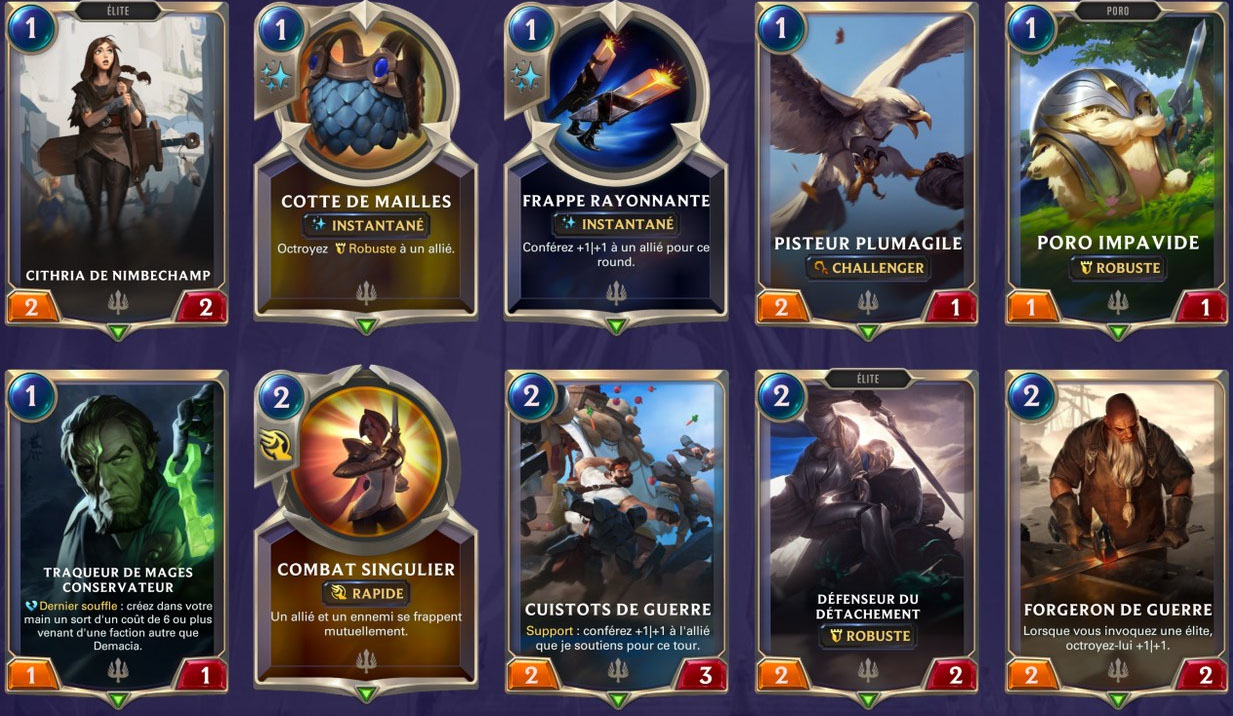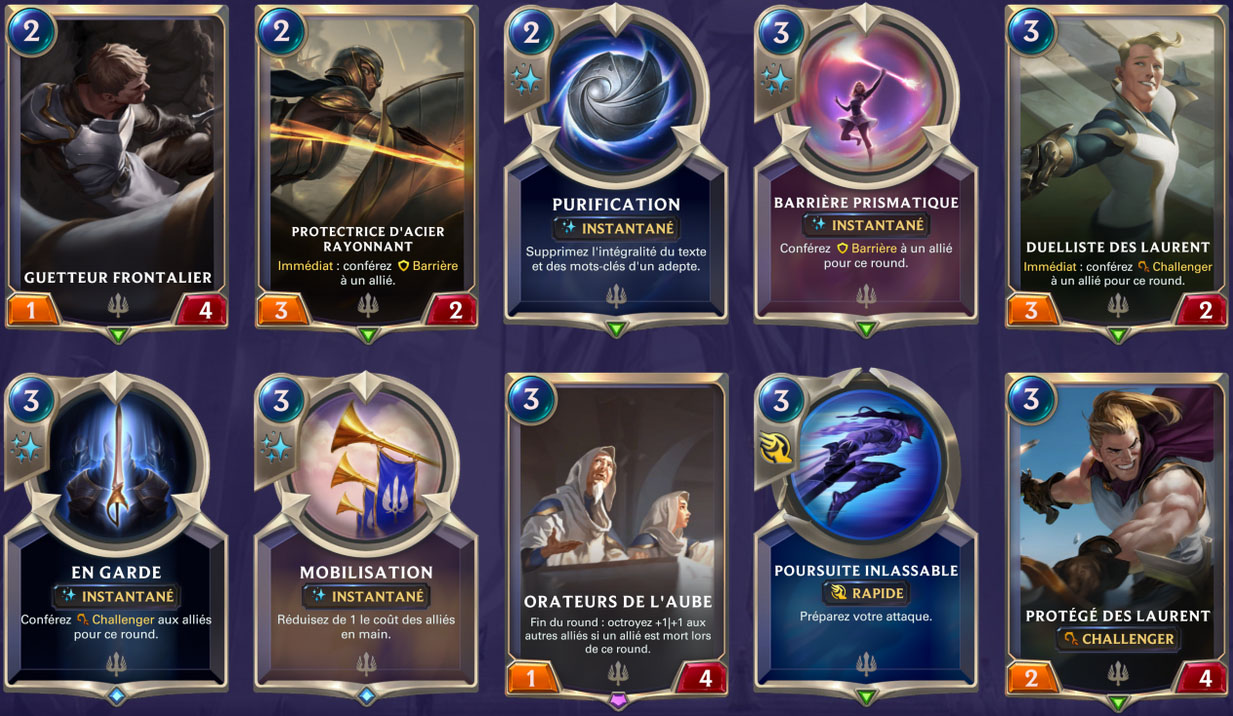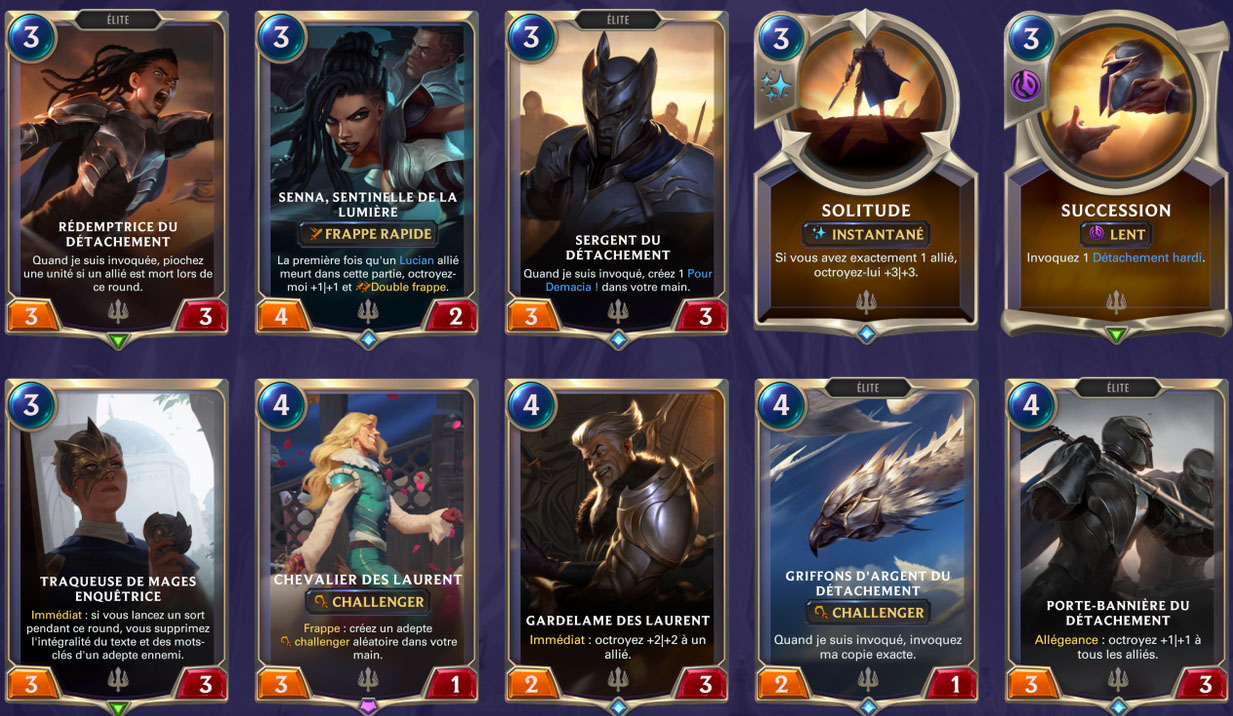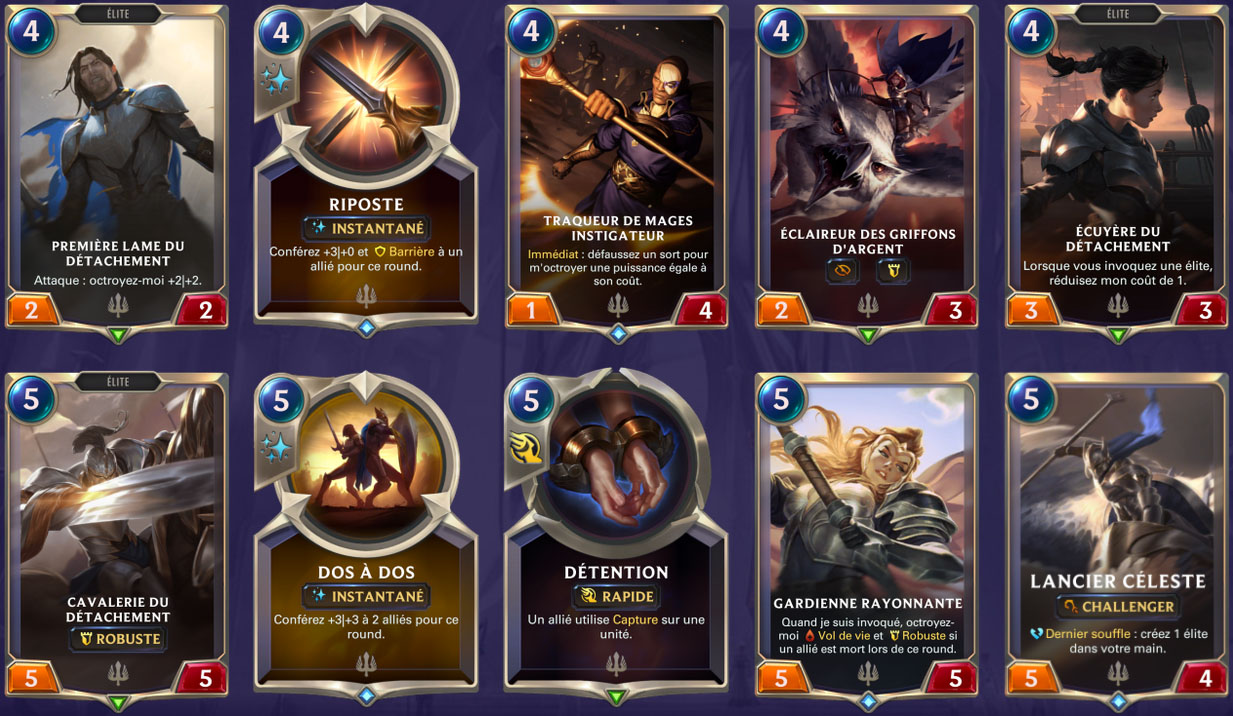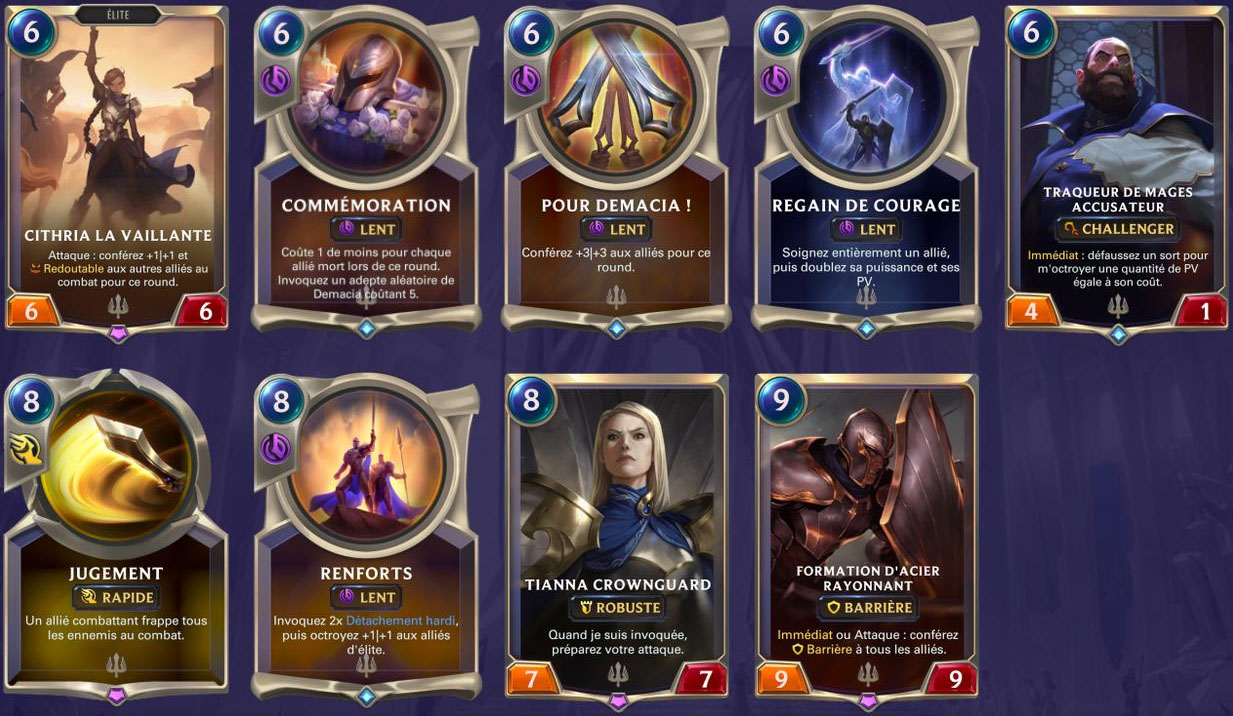 Les synergies de Demacia avec les autres régions
Nous mettrons très prochainement à jour cette partie de l'article, une fois la beta commencée. En attendant, voilà ce que dit Riot Games des synergies.
| | |
| --- | --- |
| | Demacia x Freljord : Au nord de Demacia, par-delà les hauts plateaux rocailleux, les citoyens de Freljord ont toujours été une menace pour les soldats de Demacia. Est-ce qu'une paix négociée avec les envahisseurs venus du froid pourrait vous permettre de triompher ? |
| | Demacia x Îles obscures : La différence entre les Îles obscures et Demacia est aussi vaste que l'océan qui les sépare, mais personne sur les Îles obscures ne rechigne jamais à faire tout ce qu'il faut pour arracher la victoire. |
| | Demacia x Ionia : Demacia s'est toujours méfié des forces magiques, mais la maîtrise des arts mystiques qui prévaut à Ionia pourrait permettre à cette association de triompher. |
| | Demacia x Noxus : Lorsque Noxus et Demacia unissent leurs forces, la raison du plus fort est largement en mesure de triompher. Voyons si vous avez les épaules pour commander deux des armées les plus puissantes de Runeterra. |
| | Demacia x Piltover & Zaun : Trois villes, un seul objectif : la victoire. En associant la puissance de Demacia et le savoir-faire technologique de Piltover et Zaun, personne n'osera se dresser sur votre route. |
Les decks avec Demacia dans LoR
À venir...