À quoi ressemble la région Ionia dans Legends of Runeterra ? On fait le point sur le nouveau jeu de cartes par Riot Games !
Dans Legends of Runeterra, il existe 6 régions : Demacia, Freljord, Îles obscures, Ionia, Noxus et Piltover & Zaun. Chaque région a ses spécificités, ses cartes et 4 champions distincts, ce qui oblige les joueurs à tout connaître sur le bout des doigts. Quoi de mieux qu'un article pour vous présenter toutes les régions du jeu de cartes de Riot Games ?
Cet article va vous présenter la région Ionia, avec ses champions Karma, Shen, Yasuo et Zed, sans oublier sa devise : Vitesse et détermination.
« Les champions de Ionia sont aussi différents que leur pays natal. Alors que certains aspirent à la paix en tirant un trait sur le passé, d'autres ne vivent que pour assouvir leur soif de vengeance. Les Terres premières peuvent-elles vraiment prospérer face à une telle dévastation ? Une chose est sûre : la paix ne pourra être obtenue qu'en passant par la victoire. »
Riot Games
Les champions de Ionia
Pour le moment, seuls quatre champions de Ionia sont disponibles dans le jeu.
Les cartes de Ionia
La région Ionia compte 53 cartes sur 318 au total (dont 4 Champions).
Les screens ci-dessous proviennent du site Mobalytics.gg.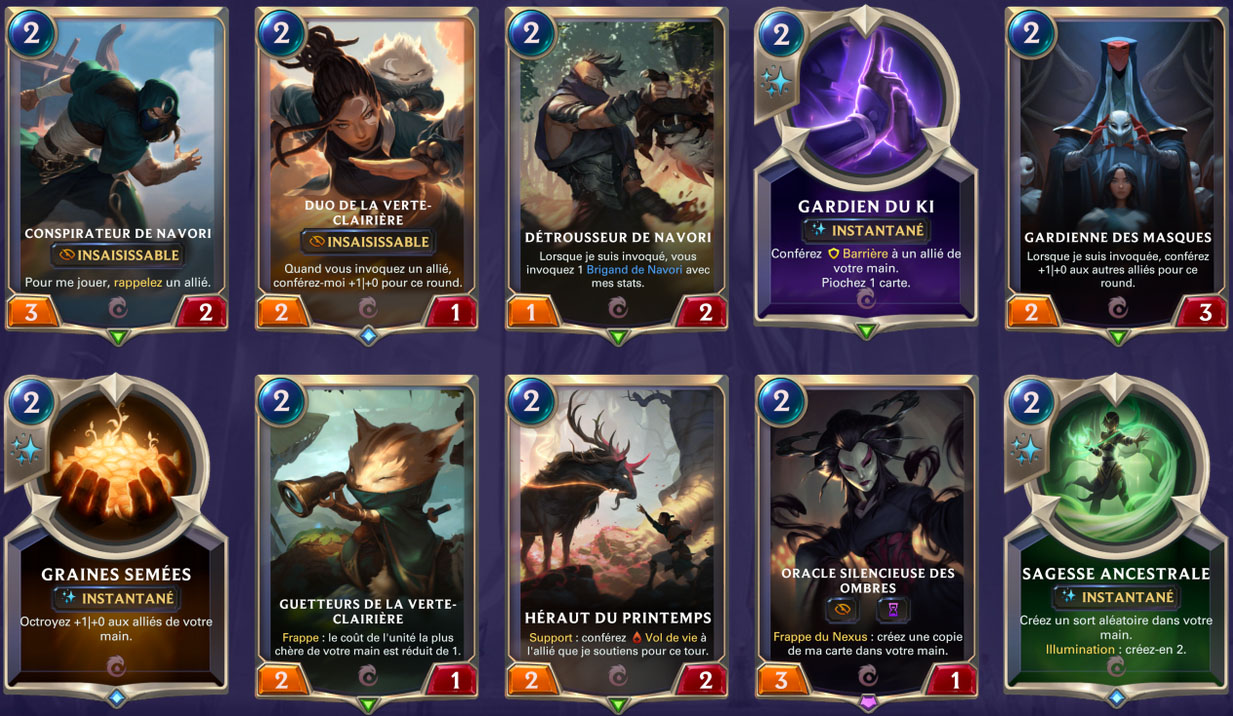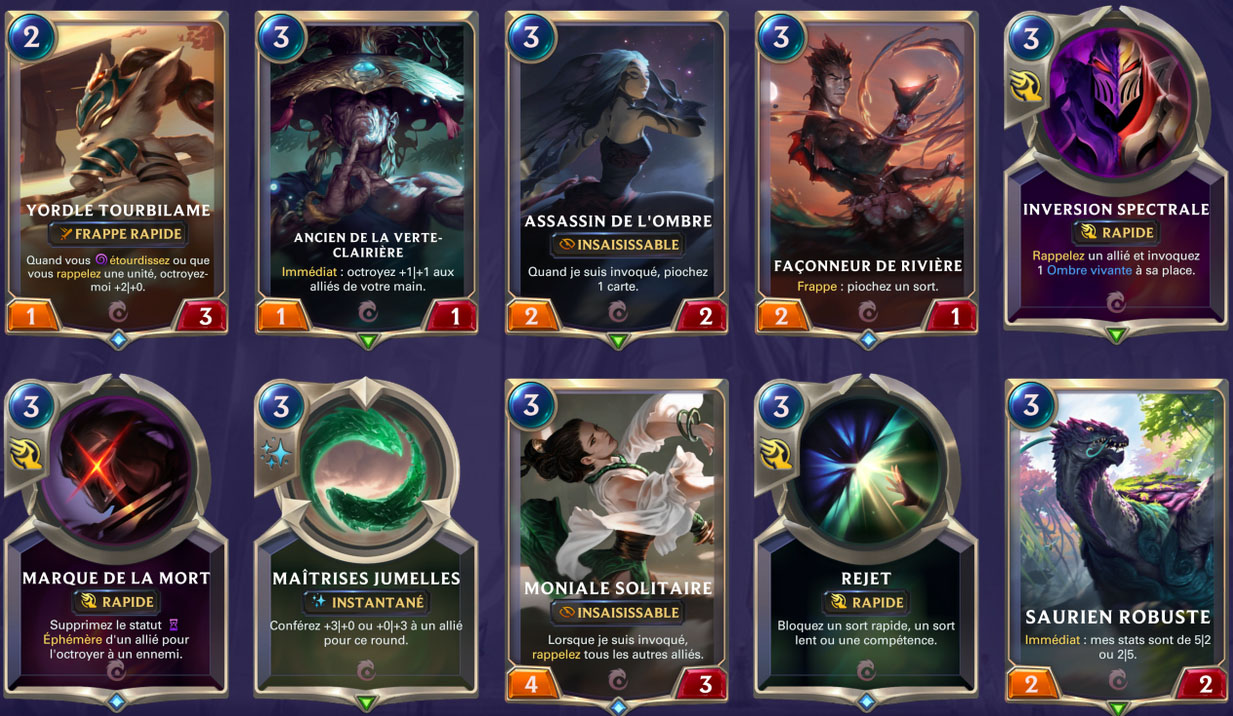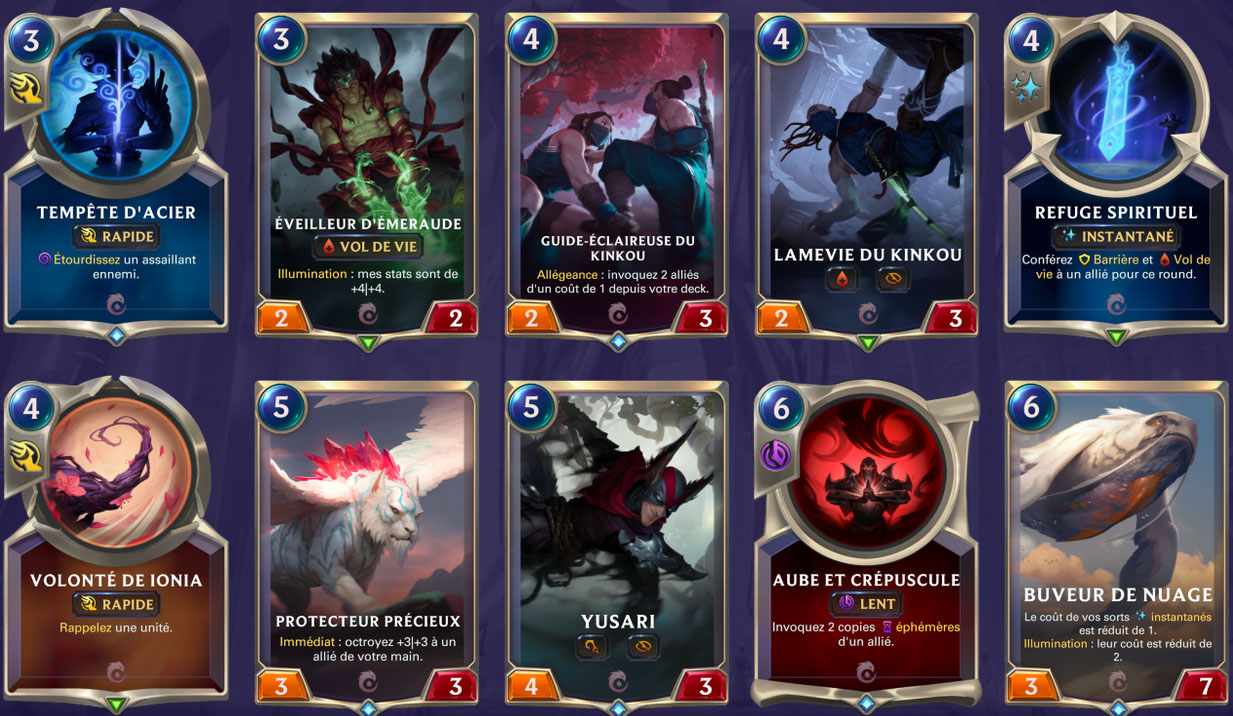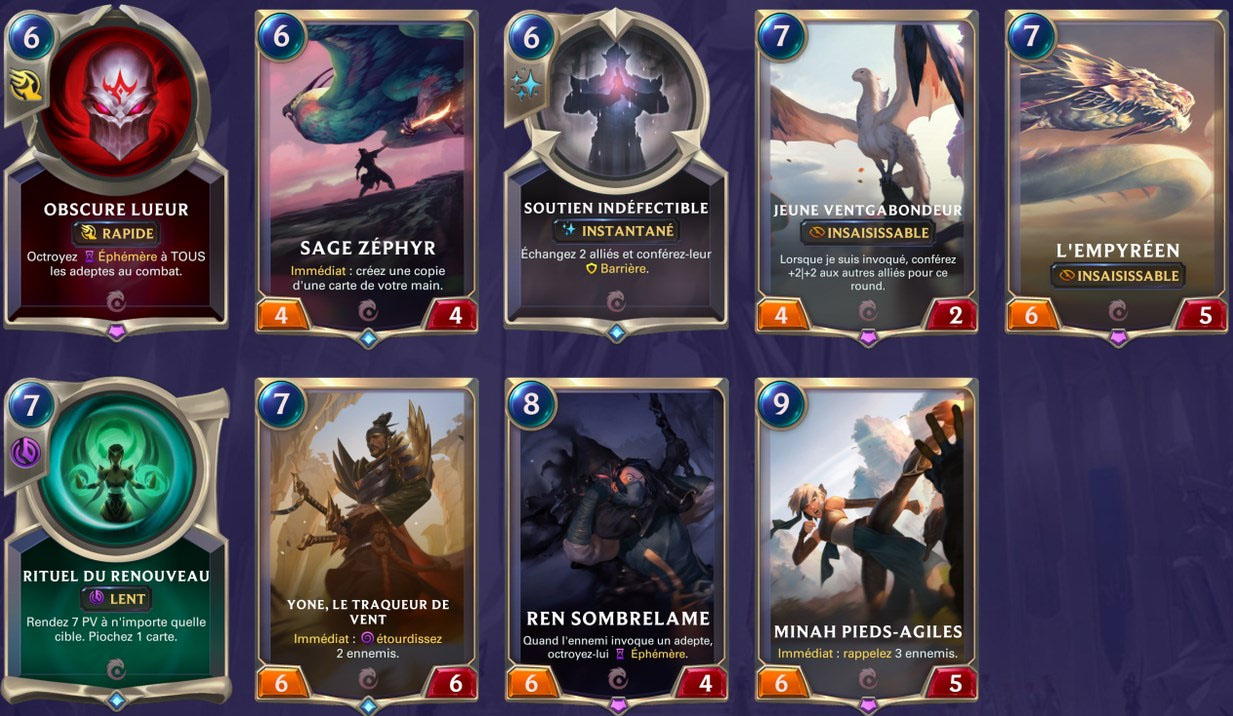 Les synergies de Ionia avec les autres régions
Nous mettrons très prochainement à jour cette partie de l'article, une fois la beta commencée. En attendant, voilà ce que dit Riot Games des synergies.
| | |
| --- | --- |
| | Ionia x Demacia : Demacia méprise la magie utilisée par Ionia, mais sa force de caractère est admirable. Est-ce que ses armées peuvent faire pencher la balance en faveur de Ionia ? |
| | Ionia x Freljord : Freljord respecte le même type de magie sauvage qui prospère dans les forêts de Ionia. Peut-être que les deux régions ont plus de similitudes qu'il n'y paraît de prime abord ? |
| | Ionia x Îles obscures : Les Îles obscures représentent un funeste présage de ce qui pourrait arriver à Ionia si ses habitants n'arrivent pas à tourner la page d'une guerre qui a failli les détruire. Existent-ils d'autres similarités entre ces deux archipels ? |
| | Ionia x Noxus : Noxus a semé la violence et la souffrance sur les rivages de Ionia, et pourtant leur puissance ne peut pas être niée. Est-ce qu'un ennemi aussi honni pourrait détenir la clé de la paix ? |
| | Ionia x Piltover & Zaun : Piltover et Zaun entretiennent une harmonie bien différente de celle à laquelle aspire Ionia. Les machinations fomentées par les deux cités jumelles peuvent-elles illuminer les sensibilités ioniennes ? |
Les decks avec Ionia dans LoR
À venir...