Dans Legends of Runeterra, les essences constituent la monnaie que vous pourrez gagner en jeu. Elle permettra notamment d'acheter des cartes et ouvrir les expéditions. On vous explique comment en gagner rapidement.
Dans Legends of Runeterra, les essences, c'est le nerf de la guerre. La monnaie « in game » est, en effet, nécessaire pour vous permettre d'acheter rapidement des cartes, constituer votre deck et déverrouiller les expéditions chaque semaine.
Surtout, le jeu ne proposant pas d'achat de boosters via de l'argent réel, ce sera votre seule possibilité, avec les récompenses hebdomadaires et de région, de rapidement vous constituer un deck suffisamment viable pour le mode ranked. En effet, ces essences pourront servir à créer des cartes spécifiques.
Vous souhaitez obtenir un bon matelas d'essences rapidement ? Suivez le guide !
Déverrouillez vos coffres hebdomadaires
Chaque semaine, vous débloquerez un coffre spécifique en fonction du nombre de points d'expérience acquis la semaine précédente. Ces coffres seront disponibles chaque lundi et il existe 13 paliers différents de récompenses, vous octroyant plus ou moins d'essences à l'intérieur ainsi que des cartes (et un champion à partir du niveau 10)
D'après Riot, un joueur qui terminerait assidûment ses quêtes journalières dans la semaine devrait pouvoir atteindre les environs du palier 10. Un peu de farming supplémentaire sera nécessaire donc pour atteindre le niveau maximum.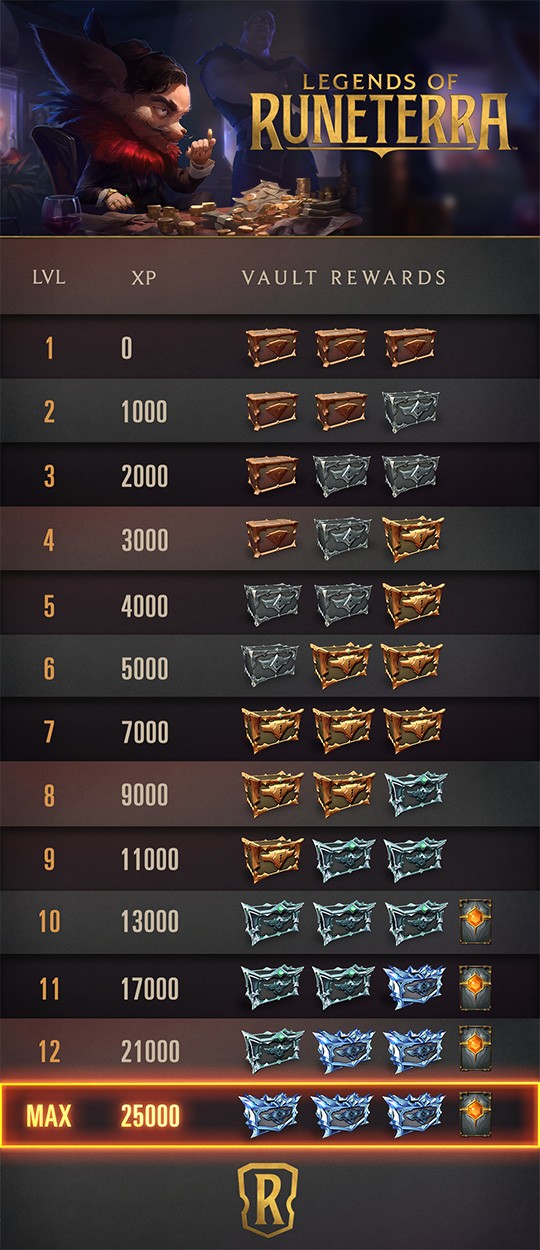 Récompenses du coffre hebdomadaires
Participez aux expéditions
Les expéditions sont le nom donné au mode « draft » ou « arène » de Legends of Runeterra. A l'instar d'autres TCG, ce mode de jeu vous proposera de constituer un deck spécial à partir de cartes proposées et d'affronter d'autres joueurs pour cumuler un maximum de victoires. Plus vous gagnerez de matchs, plus vos récompenses seront élevées (le maximum étant pour 7 victoires). Attention cependant, deux défaites d'affilé dans ce mode et vous êtes éliminé ! Vous recevrez alors des récompenses en fonction de votre nombre de victoires.
Une petite particularité dans ce mode, vous devez payer une certaine somme d'essences afin de pouvoir rentrer (possible également d'utiliser des pièces, achetables avec de l'argent réel). Dès lors, les expéditions sont une sorte de pari où vous misez un droit d'entrée en espérant aligner suffisamment de victoires pour obtenir des récompenses dont la valeur est supérieure au nombre d'essences payés.
Dans la dernière version bêta de novembre, le prix d'entrée dans une expédition était fixé à 4000 essences.
Dans Legends of Runeterra, vous pouvez participer au maximum à 3 sessions d'expédition par semaine. Il est impossible donc, comme d'autres TCG, d'utiliser ce mode afin de farmer intensivement les cartes. Cependant, les récompenses sont très alléchantes et il est nécessaire de faire vos 3 runs par semaine si vous souhaitez optimiser au maximum votre progression.
Augmentez vos niveaux de régions
L'une des mécaniques propres à Legends of Runeterra est son système de progression des différentes régions en jeu. Vous pouvez en effet sélectionner une région de votre choix afin de gagner des points d'expériences qui vous serviront à monter en niveau. Pour chaque niveaux passés, vous obtiendrez des récompenses dont des coffres qui donnent des essences. De plus, votre progression pourra vous permettre d'acquérir des champions desdites régions. Vous ne pouvez choisir de monter qu'une seule région à la fois mais il est tout à fait possible de choisir une autre contrée à tout moment. La dernière récompense de chaque région vous débloquera des champions.
Recyclez des cartes
Autre méthode pour gagner des essences, le recyclage de carte vous permettra de faire quelque peu le ménage dans votre collection et de l'enrichir. Pour composer un deck sur LoR, vous ne pouvez aligner que 3 fois la même carte dans votre pile. Dès lors si vous disposez de 4 fois la même carte, la dernière se transformera automatiquement en essence si elle est « commune » ou « rare ». Pour une carte basique comptez 25 essences et 75 si sa rareté est supérieure.

Pour une carte épique ou plus, cette dernière se transformera automatiquement en une autre carte de la même rareté dont vous ne disposez pas déjà en 3 exemplaires.