Nous vous présentons différentes astuces pour bien choisir la région à monter de niveau rapidement et comment optimiser ses récompenses pour débloquer un maximum de cartes rapidement.
Legends of Runeterra vient tout juste de sortir en bêta ouverte, et s'il est d'ores et déjà possible de jouer des decks F2P plutôt efficaces, il est important de débloquer un maximum de cartes pour pouvoir essayer de nouveaux decks. Dans cette optique, Riot Games propose un système de niveaux de régions, qui permet de débloquer des récompenses (des cartes de la région choisie, des jokers...) en gagnant de l'expérience.
Nous vous présentons quelques astuces pour bien choisir les régions à monter de niveau en priorité, ainsi que pour optimiser votre temps de jeu pour débloquer un maximum de récompenses en un temps record.
Choisir ses récompenses de région sur Legends of Runeterra
Pour choisir la région que vous voulez monter, rendez-vous dans l'onglet Récompenses à gauche du menu, puis cliquez en haut à gauche sur l'icône Changer région.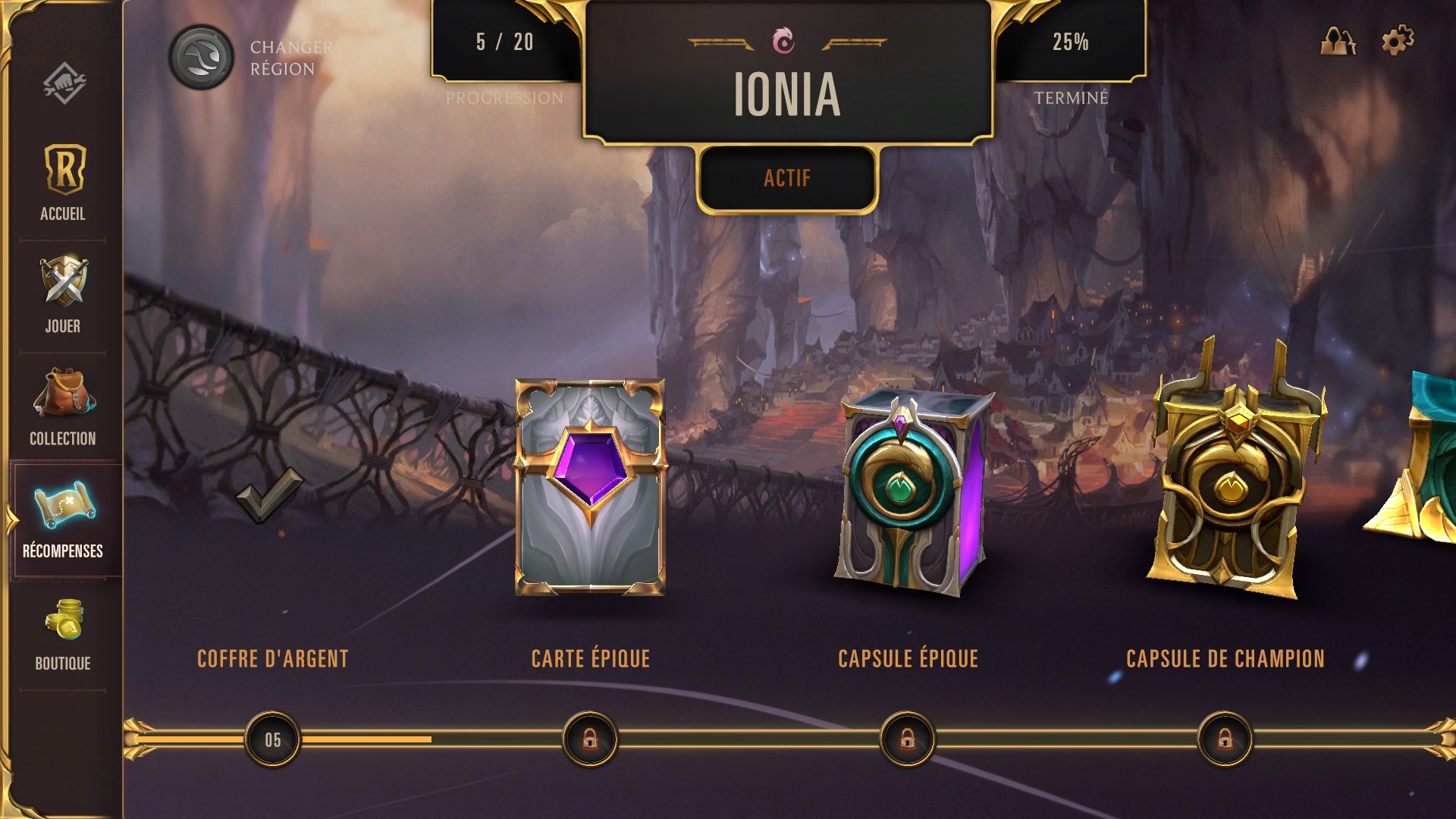 Vous pourrez alors sélectionner la région de votre choix. Les récompenses seront des cartes Jokers, des essences, mais également des cartes de la région en question, c'est pourquoi le choix est important.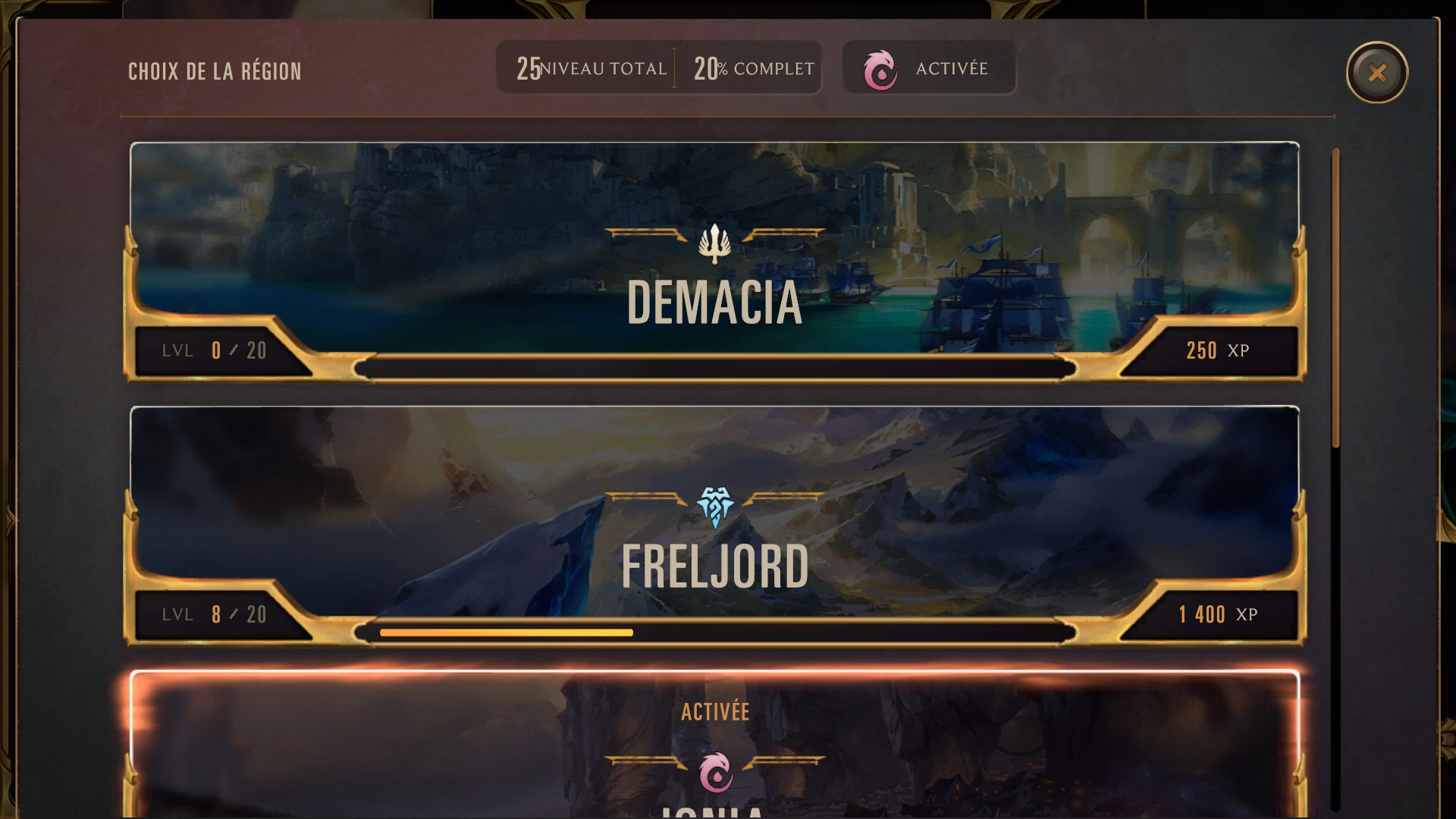 Globalement, vous pouvez choisir la région que vous voulez la plus jouer afin d'obtenir des cartes intéressantes. Nous vous renvoyons vers notre guide des différentes régions afin de vous faire une idée de celle qui fera votre bonheur. En revanche, si vous souhaitez être compétitifs, certaines régions sont plus utiles à monter rapidement car elles sont plus polyvalentes ou utilisées dans de nombreux decks forts.
La région la plus intéressante à monter à l'heure actuelle est sans doute Ionia, suivie par Freljord et les Îles obscures. Ionia est actuellement la région la plus prisée dans la majorité des decks, notamment pour ses cartes Insaisissables et des cartes très utiles comme Rejet. Elle est également très polyvalente, avec des outils de contrôle mais également des cartes intéressantes en aggro.
Freljord est généralement la région la plus intéressante pour les decks contrôle, avec des AOE, des effets de Gel et des créatures défensives. Enfin, les Îles obscures sont très polyvalentes, utilisées aussi bien pour les decks aggro (avec les araignées par exemple) et contrôle (avec Vengeance, La Ruine...). Demacia et Noxus sont également intéressantes mais bien plus limitées dans leur utilisation, tandis que Piltover & Zaun est probablement la plus situationnelle.
Monter les niveaux de récompenses des régions 4 par 4
Le meilleur moyen d'obtenir de nombreuses cartes est cependant de monter jusqu'au niveau 4 avec chacune des régions, puis de monter niveau 8 avec chacune des régions etc. En effet, la plupart des récompenses les plus intéressantes s'obtiennent tous les 4 niveaux, et les premiers niveaux demandent considérablement moins d'XP que les suivants pour débloquer les récompenses.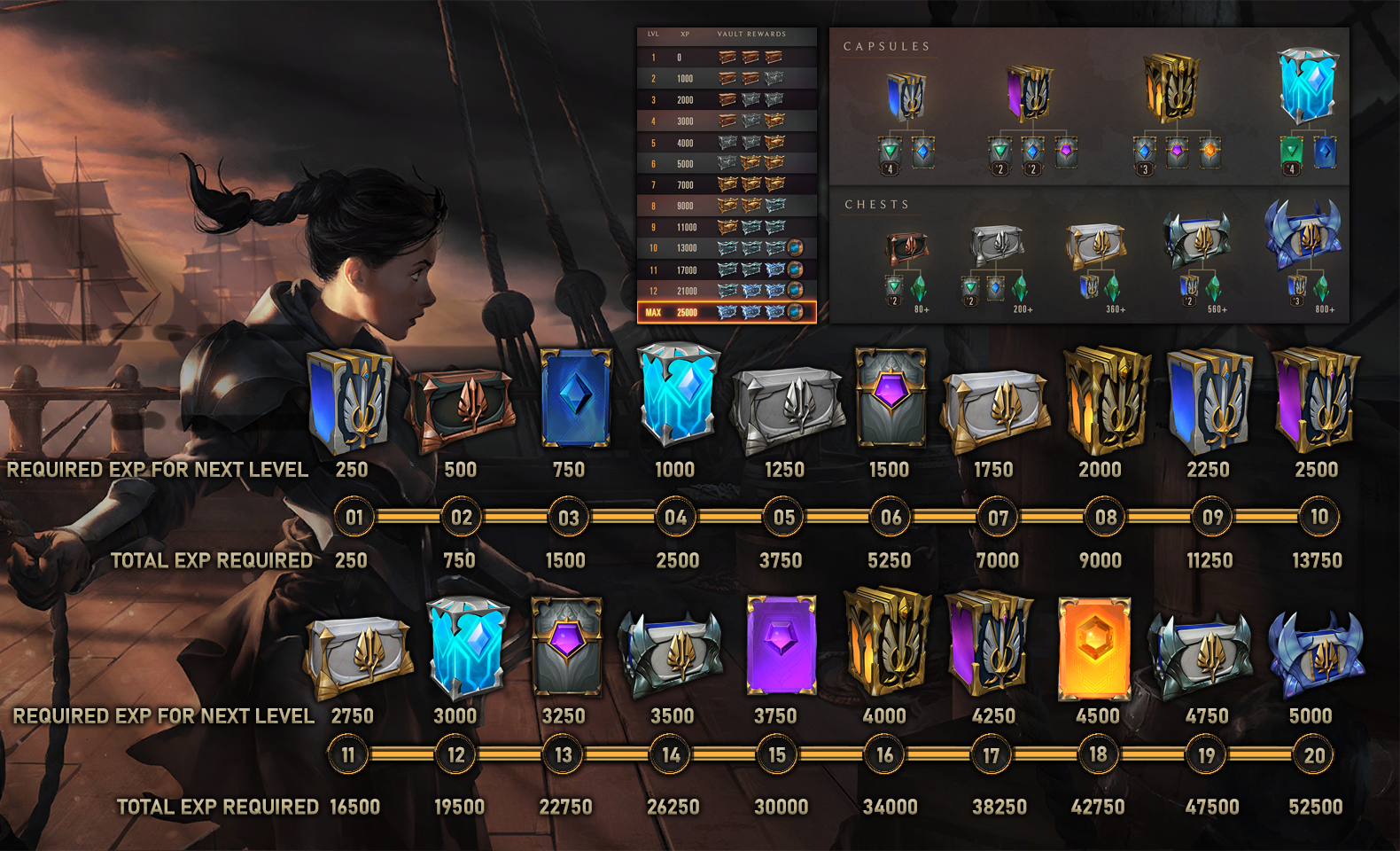 Un membre de Reddit a compilé toutes les récompenses et l'XP nécessaire. (Source : Reddit)
Au niveau 4, et pour seulement 2500 XP, vous débloquerez une Capsule Joker, qui donne 4 Jokers communs et 1 Joker rare. Si vous obtenez les 6 régions au niveau 4, pour seulement 15000 XP vous aurez énormément de cartes communes et rares avec les autres récompenses disponibles.
Par la suite, essayez de les passer niveau 8 chacune leur tour, en prenant en priorité celle dont vous voulez les champions. En effet, au niveau 8 vous obtiendrez toujours au moins 1 champion et 1 carte épique. Par la suite, continuez la même manipulation jusqu'au niveau 12, puis au niveau 16... Cette méthode est vraiment la façon optimale de débloquer un maximum de cartes en peu de temps.
Si vous jouez suffisamment pour débloquer votre coffre hebdomadaire au niveau maximum chaque semaine, vous devriez débloquer toutes les récompenses de régions en environ 13 semaines. Cela dit, il ne vous faudra qu'un peu plus de 2 semaines pour avoir toutes les régions au niveau 8, ce qui vous donnera énormément de cartes, d'essences, de jokers et de champions.
Si vous suivez tous nos conseils, vous devriez pouvoir remplir votre collection relativement rapidement. A la différence d'un jeu comme Hearthstone, Legends of Runeterra est très généreux sur le nombre de cartes qu'il donne si vous jouez un peu quotidiennement. En quelques semaines, vous devriez être capables de jouer la plupart des decks que vous souhaitez.