Vous souhaitez récupérer le code de votre deck pour le partager ou en importer un dans votre liste de deck afin de le tester ? On vous explique comment faire.
Vous pensez avoir trouvé LE deck ultime de Legends of Runeterra et vous souhaitez le partager à vos amis ? Ou au contraire vous souhaitez utiliser un deck que vous avez trouvé, peut-être dans nos colonnes ? Sachez que vous pourrez le faire facilement grâce aux codes de decks !
Ces codes peuvent se trouver facilement en jeu. Ils se présentent sous la forme d'une longue combinaison de chiffres et de lettres que vous ne pourrez que difficilement retenir à moins de les noter quelque part. Très utile pour retrouver les decks sur différents sites internet, ils permettent aussi de copier directement le deck dans votre collection. Un gain de temps non négligeable !
Créer et trouver un code de deck sur Legends of Runeterra
Créer un code de deck sur LoR
Pour créer un code, rien de très compliqué. Éditez un deck dans votre collection et une fois terminé, revenez à votre liste de decks. Cliquez sur le deck que vous souhaitez transmettre puis cliquez sur « partager ». Une fenêtre va alors s'ouvrir et vous allez pouvoir copier le code de votre deck !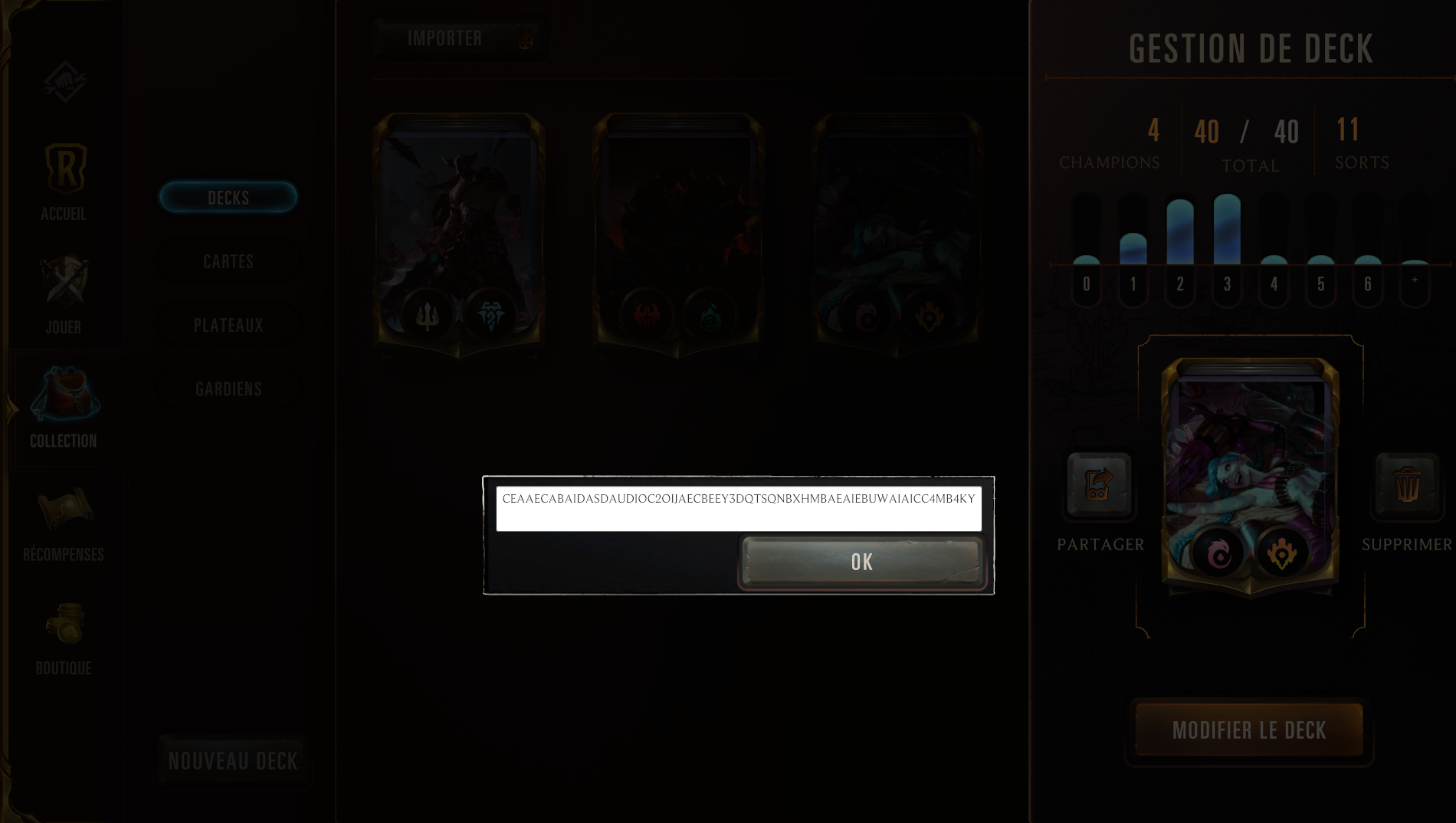 Un exemple de code avec un deck de base
Trouver un code de deck sur Mobalytics
Mobalytics est une base de données où vous pourrez trouver certains decks crées par la communauté. Si vous en voyez un qui vous fait de l'oeil il sera très facile de récupérer le code. Une fois que vous êtes sur la page du deck en question, cliquez sur le bouton « export deck » en haut à droite de la page. Le code apparaîtra alors et vous pourrez le copier facilement.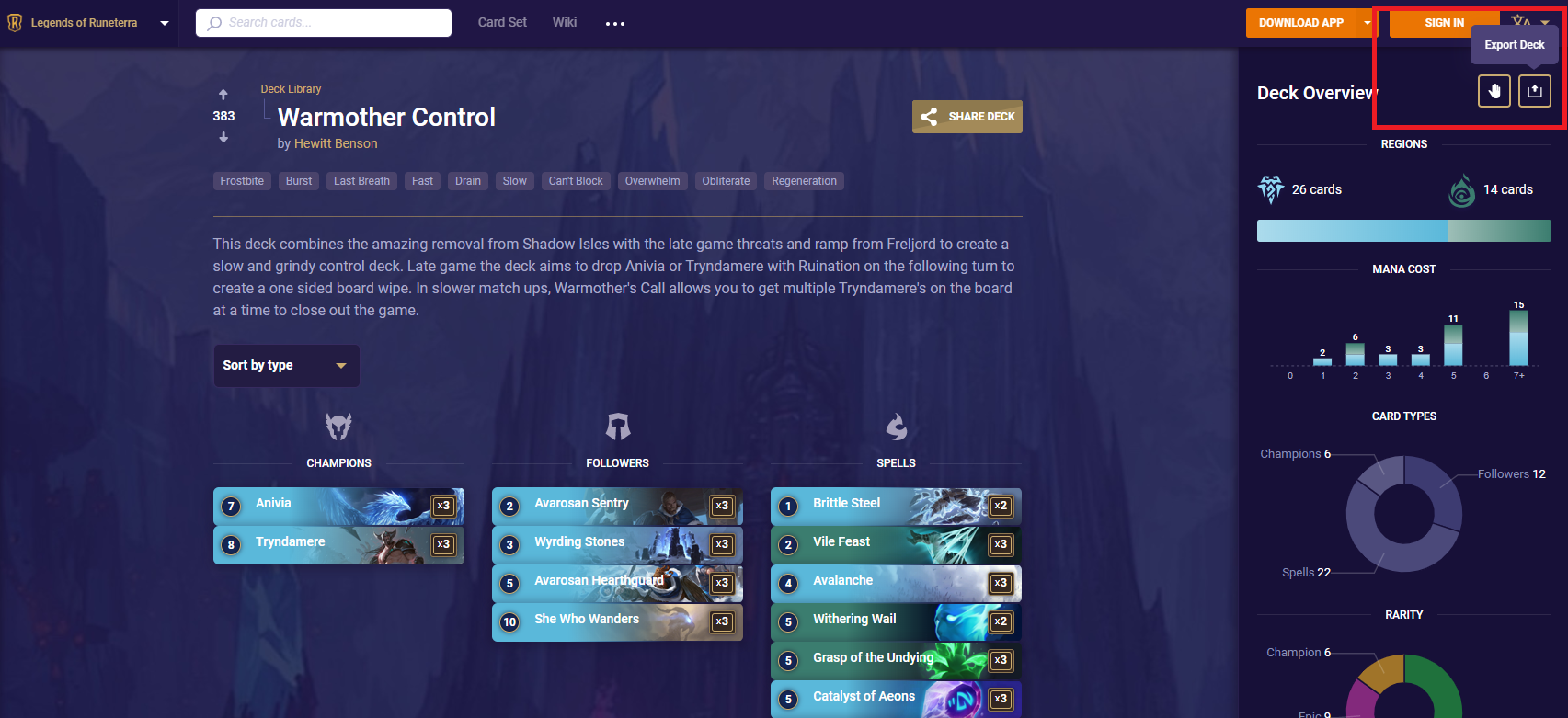 En haut à gauche, le bouton avec la flèche vous permettre d'exporter le deck
Importer un deck sur LoR grâce au code
Une fois le code en votre possession, vous allez pouvoir importer directement le deck dans votre collection. Pour se faire, allez dans votre liste de decks et cliquez en haut sur « importer ». Entrez le code et sélectionnez « importer le deck ». Le deck sera alors copié et sera disponible sous le nom de « deck importé ».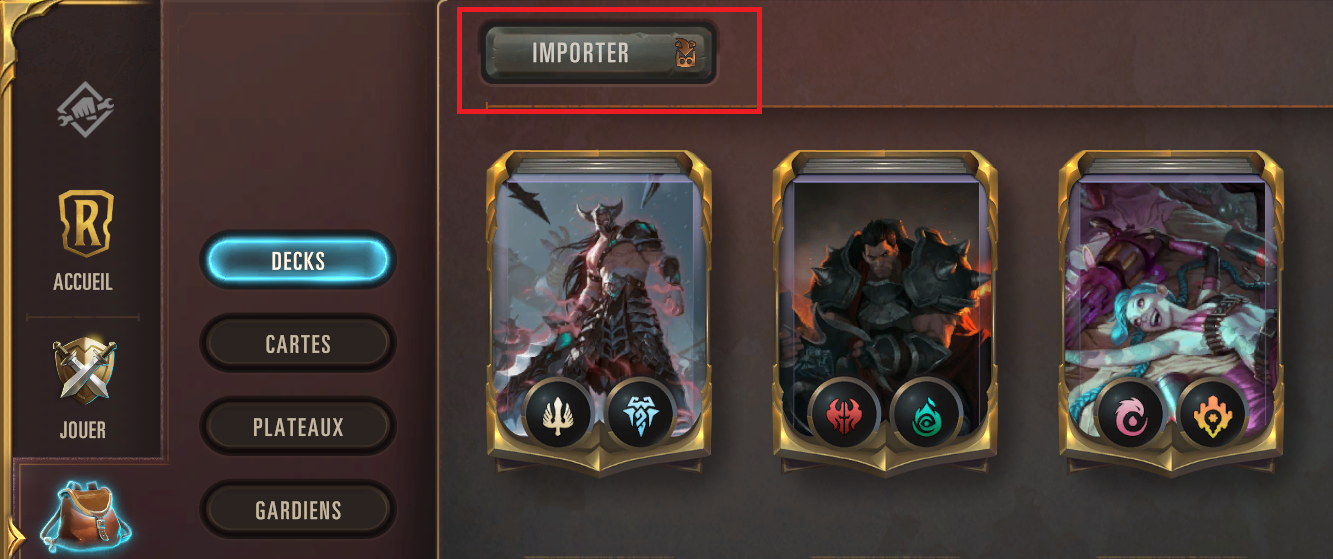 Il suffit de cliquer sur ce bouton puis entrer le code
Attention, une fois le deck importé, toutes les cartes du deck seront indiqués mais il est possible que vous ne les ayiez pas toutes en votre possession.
Ouvrez la liste des cartes et vous verrez que pour certaines, le nombre d'occurences de la carte sera en rouge. Cela signifie que vous n'avez pas assez d'exemplaires de la carte et que vous ne pourrez donc pas jouer cette configuration. Repérez ces cartes en rouge puis crée-en suffisamment afin de remplir le nombre d'exemplaires adéquat. Vous pouvez aussi choisir de changer de carte ou même attendre et espérer en récupérer dans vos récompenses de coffres !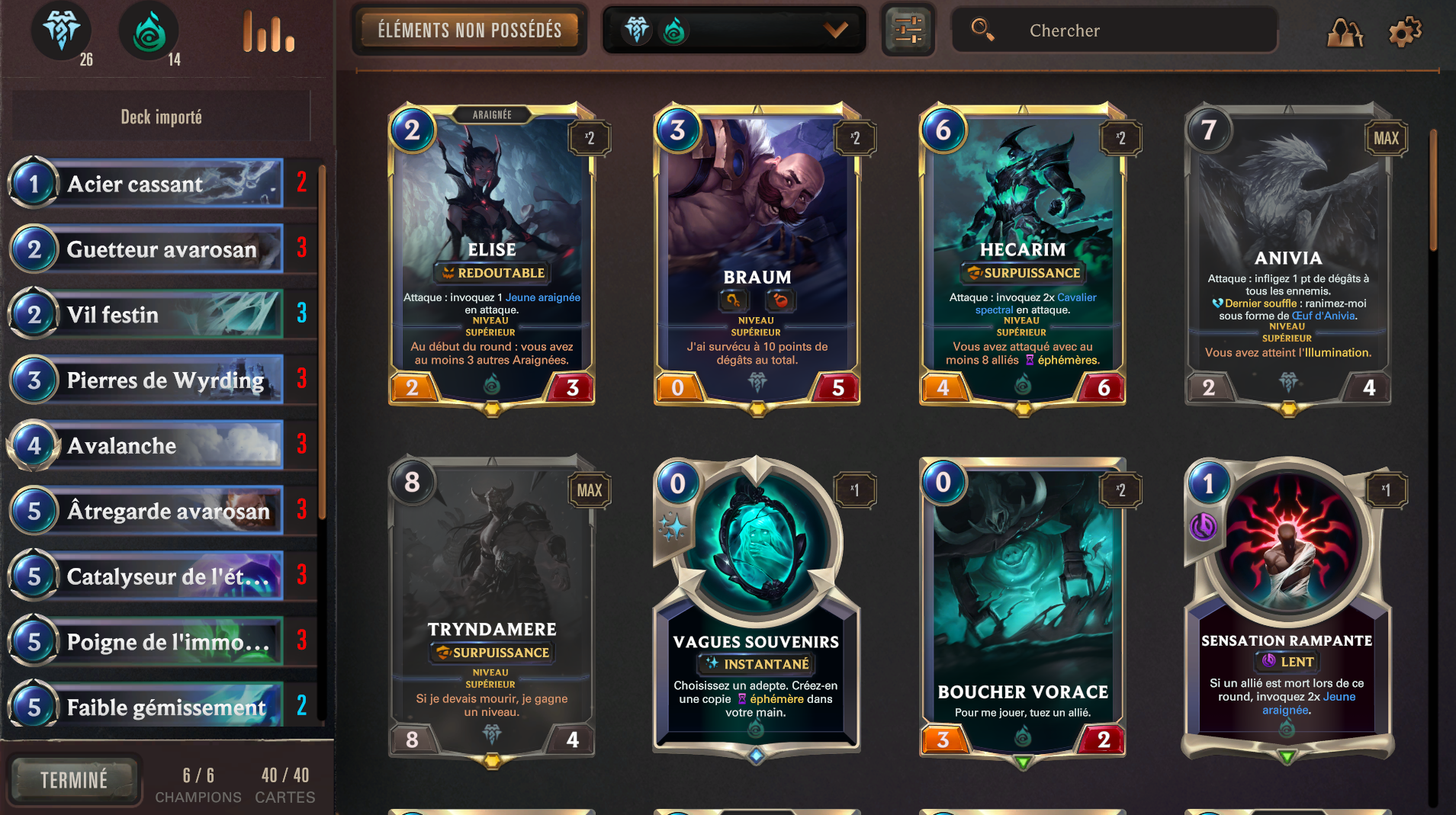 Veillez à ne pas avoir de nombres en rouge pour jouer votre deck
Vous savez maintenant tout sur les codes de decks et leur import en jeu. N'hésitez pas à partager vos créations avec vos amis ou la communauté et, si vous cherchez des inspirations de decks, on vous propose 5 decks à jouer pour ce début de bêta ouverte !