À quoi ressemble la région Piltover et Zaun dans Legends of Runeterra ? On fait le point sur le nouveau jeu de cartes par Riot Games !
Dans Legends of Runeterra, il existe 6 régions : Demacia, Freljord, Îles obscures, Ionia, Noxus et Piltover & Zaun. Chaque région a ses spécificités, ses cartes et 4 champions distincts, ce qui oblige les joueurs à tout connaître sur le bout des doigts. Quoi de mieux qu'un article pour vous présenter toutes les régions du jeu de cartes de Riot Games ?
Cet article va vous présenter la région Piltover et Zaun, avec ses champions Ezreal, Heimerdinger, Jinx et Teemo, sans oublier sa devise : Machination et chaos.
« Les champions de Piltover et Zaun utilisent leur grande intelligence pour prendre le dessus sur leurs adversaires, notamment grâce à une ingéniosité machiavélique et des technologies parfois un peu capricieuses.»
Riot Games
Les champions de Piltover et Zaun
Pour le moment, seuls quatre champions de Piltover et Zaun sont disponibles dans le jeu.
Les cartes de Piltover et Zaun
La région Piltover et Zauncompte 53 cartes sur 318 au total (dont 4 Champions).
Les screens ci-dessous proviennent du site Mobalytics.gg.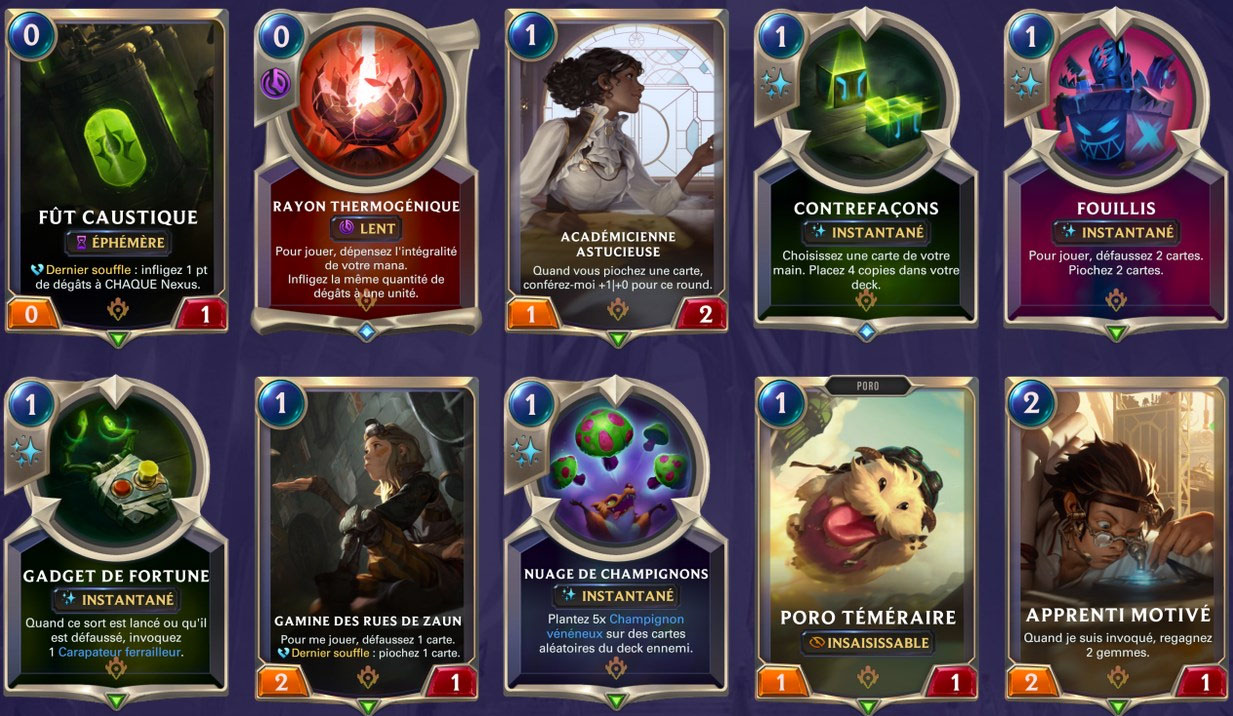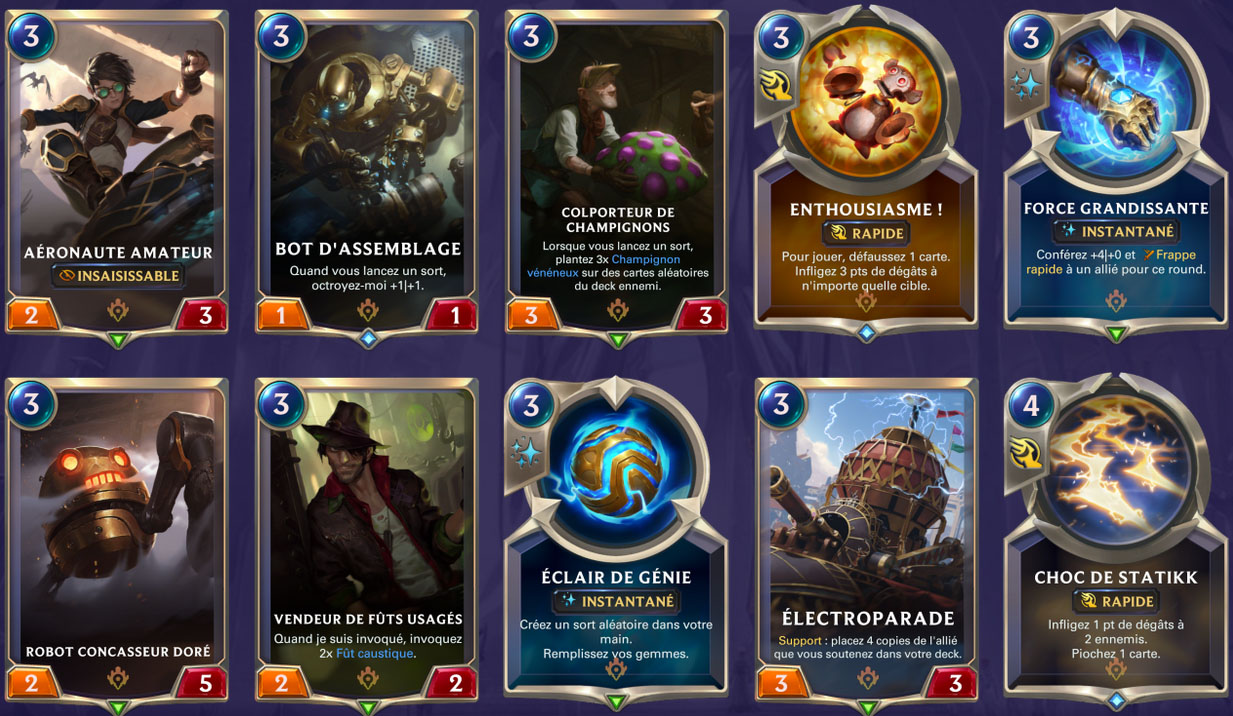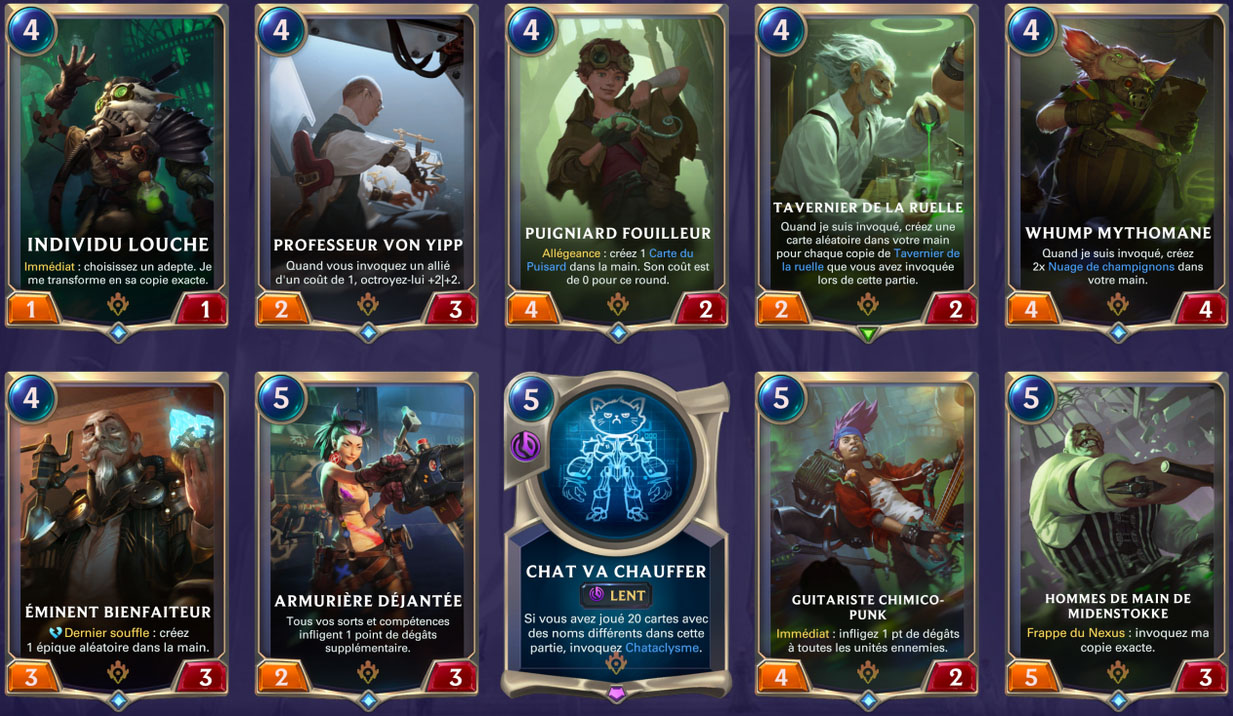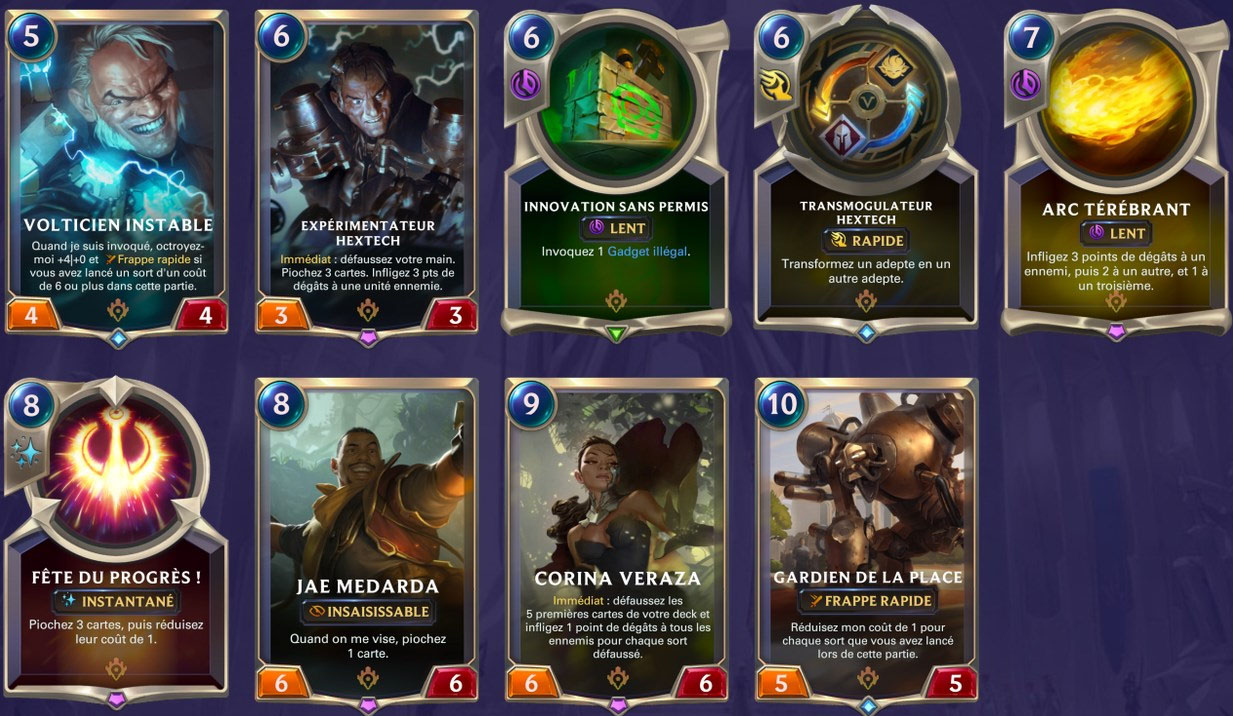 Les synergies de Piltover et Zaunavec les autres régions
Nous mettrons très prochainement à jour cette partie de l'article, une fois la beta commencée. En attendant, voilà ce que dit Riot Games des synergies.
| | |
| --- | --- |
| | Piltover et Zaun x Demacia : Demacia peut nourrir des réserves légitimes sur les méthodes de Piltover et Zaun, mais une fois que ses habitants auront goûté aux avantages technologiques que les deux cités jumelles proposent, peut-être réviseront-ils leur jugement. |
| | Piltover et Zaun x Freljord : Quelles ressources inexploitées se cachent sous les terres gelées du nord ? Peut-être devrez-vous combiner les éléments déchaînés de Freljord avec l'intelligence supérieure des habitants de Piltover and Zaun. |
| | Piltover et Zaun x Îles obscures : Les ravages qui ont anéanti les Îles obscures devraient servir de leçon à ceux qui pensent défier l'ordre naturel… ou d'inspiration. Est-ce que les Îles peuvent éclairer la frontière entre l'ordre et le chaos ? |
| | Piltover et Zaun x Ionia : Ionia cherche l'harmonie alors que Piltover et Zaun veulent juste repousser leurs limites. Est-ce qu'un équilibre est possible entre ces deux idéologies a priori opposées ? |
| | Piltover et Zaun x Noxus : Les troupes de Noxus sauront certainement comment mettre à profit le pouvoir impressionnant accessible à un scientifique. Ou à un génie fou… |
Les decks avec Piltover et Zaun dans LoR
À venir...