La nouvelle saison de Paris a débuté dans Mario Kart Tour ! Retrouvez toutes les nouveautés apportées par Nintendo pour la mise à jour.
Nous sommes le mercredi 6 novembre, il est 7 h et la toute nouvelle mise à jour de Mario Kart Tour est sortie ! Cette fois, Nintendo nous a préparé une saison à Paris, avoir New-York, Tokyo et Halloween. Qui dit Paris dit bien évidemment Tour Eiffel et Arc de Triomphe, mais pas que ! Pour l'occasion, l'éditeur propose une nouvelle course, trois nouveaux skins de pilote et, bien évidemment, de nouveaux défis !
Here are some of the tour gifts you can get from the Paris tour! This tour's featured gift is Diddy Kong, and #MarioKartTour Gold Pass subscribers also have the chance to get the Gold Train kart! Collect as many Grand Stars as you can to earn them all! pic.twitter.com/HhdlTIBpSI

— Mario Kart Tour (@mariokarttourEN) November 6, 2019
Nouveau circuit à Paris - Mario Kart Tour
A priori, il n'y a qu'un seul nouveau circuit avec cette mise à jour : Promenade à Paris. Comme son nom l'indique, vous allez visiter notre chère et tendre capitale française le temps d'un circuit.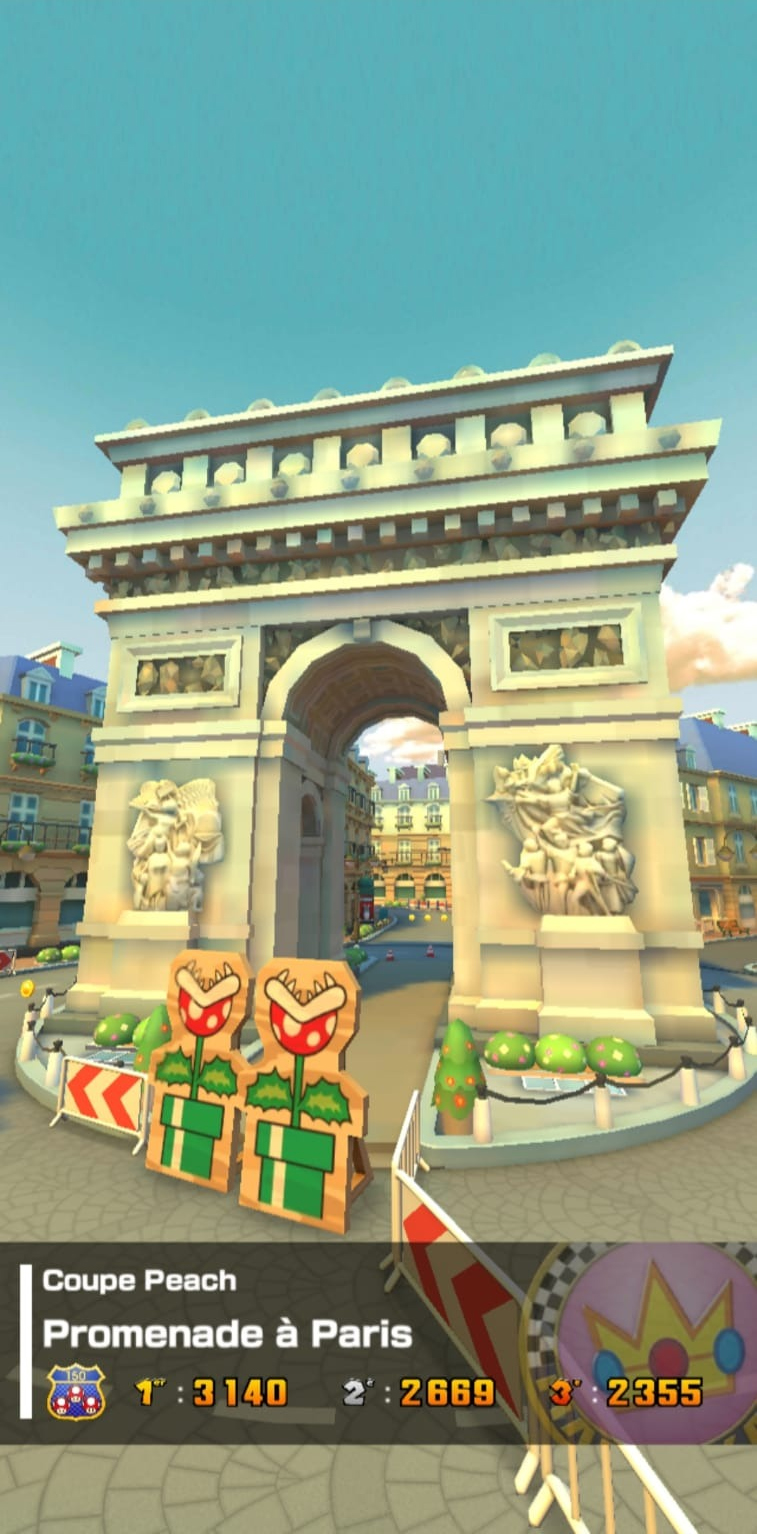 Nouveaux pilotes à Paris - Mario Kart Tour
Il y a donc trois pilotes qui arrivent avec Paris : Maskass (pâtissier), Peach (vacancière) et Toad (stand). Ce sont donc des skins de personnages déjà existant et non de nouveaux pilotes à proprement parler. Ces pilotes vont faire du bien au pool déjà existant car il y avait encore très peu de personnages avec le Canon à champis, la Boîte à pièce ou encore la Fleur boomerang.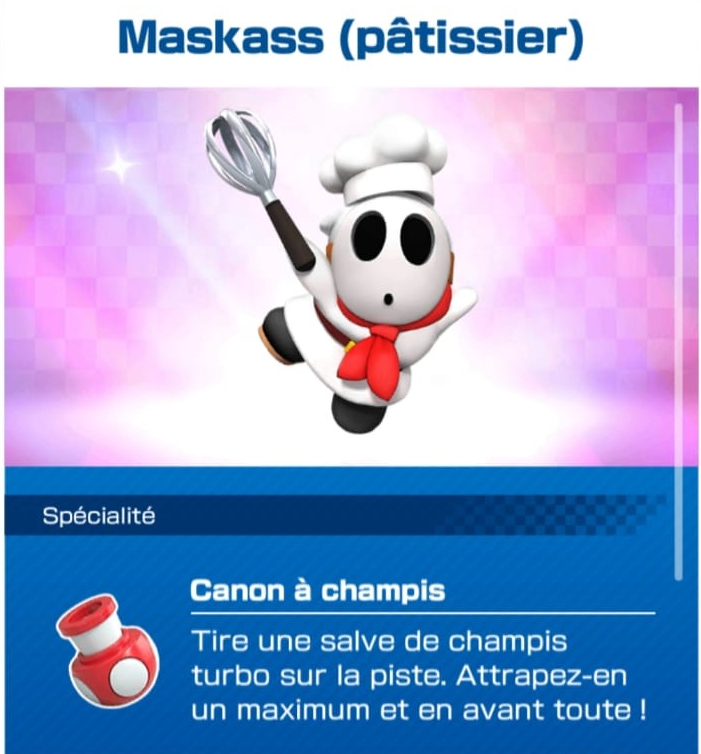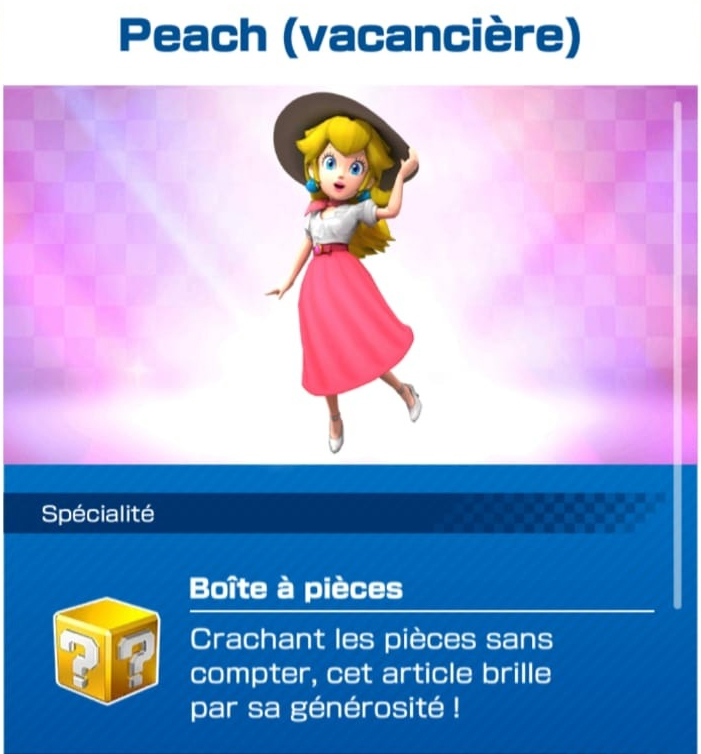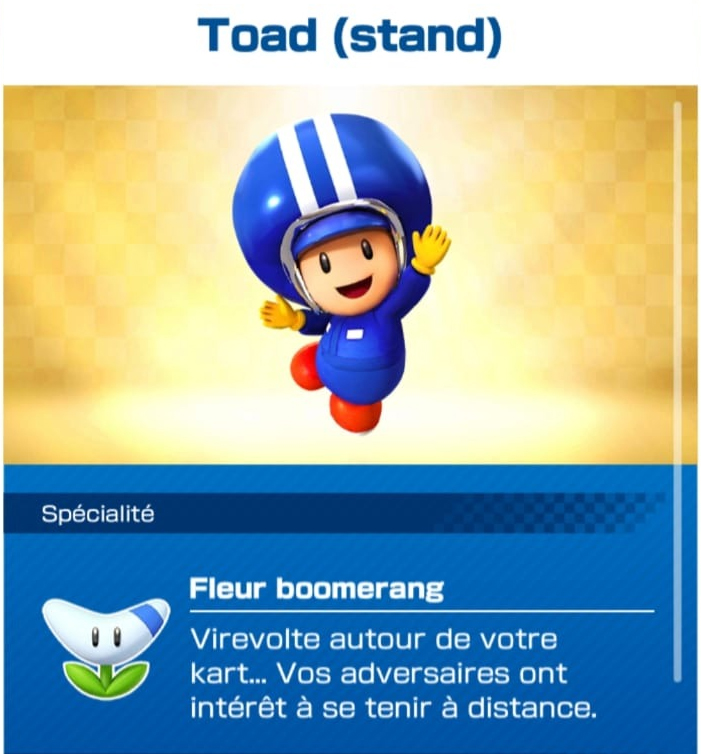 Maskass (pâtissier), Peach (vacancière) et Toad (stand) sont les nouveaux pilotes de la saison Paris
Nouveaux défis à Paris - Mario Kart Tour
Comme chaque mercredi, Nintendo propose de nouveaux défis aux joueurs. Cette semaine n'échappe donc pas à la règle puisque l'éditeur a apporte une toute nouvelle grille, que ce soit pour les personnes avec ou sans le pass or.
Vous pouvez retrouvez toutes les informations concernants les défis de la saison Paris sur un prochain article.
Si vous avez terminé toutes les courses, pensez à réaliser les différents défis proposés par Nintendo, cela vous permet d'avoir de chouettes récompenses. N'hésitez pas à consulter notre article dédié avec tous les défis du jeu et à vous aider en commentaires, vous êtes déjà très nombreux !