Riot Games a déposé la marque Valorant... Serait-ce lié au nom de Project A, son futur FPS ?
S'il y a bien quelque chose que les joueurs compétitifs attendent depuis plusieurs mois, c'est des infos sur Project A, le nouveau jeu type FPS de Riot Games. À la moindre information, la communauté est présente et commente les moindres faits et gestes. Cela a été vérifié lorsque des streameurs comme ZeratoR ou Alphacast ont donné leur avis sur le jeu après l'avoir testé. Mais depuis quelques jours, ce qui fait parler c'est « Valorant » une marque déposée par Riot Games. Cette marque déposée pourrait être le nom officiel du jeu Project A.
Pour le moment, rien n'a été confirmé par l'éditeur mais la rumeur commence a prendre de l'ampleur, surtout depuis qu'un compte Twitter du même nom a été créé.
? INTERESTING ?

Everything revolving around 'Project A' has referred to it as "Code name: Project A"

Riot Games has recently registered a trademark for the name 'VALORANT'

Could this be the official name of Project A? ? pic.twitter.com/h0Sfizj4JM

— VALORANT / Project A (@ProjectAOnline) February 24, 2020
Valorant, le nom derrière Project A ?
Cette information a été commentée par de nombreuses personnes sur Twitter avant d'être également relayée sur un compte Twitter « fan » de Project A. Il s'agit d'un compte communautaire relayant toutes les informations connues et/ou rumeurs autour du FPS. L'information du moment, c'est le nom derrière Project A. À en croire les rumeurs, il se pourrait que cela soit Valorant, en témoigne le dépôt visible à cette adresse (source en anglais).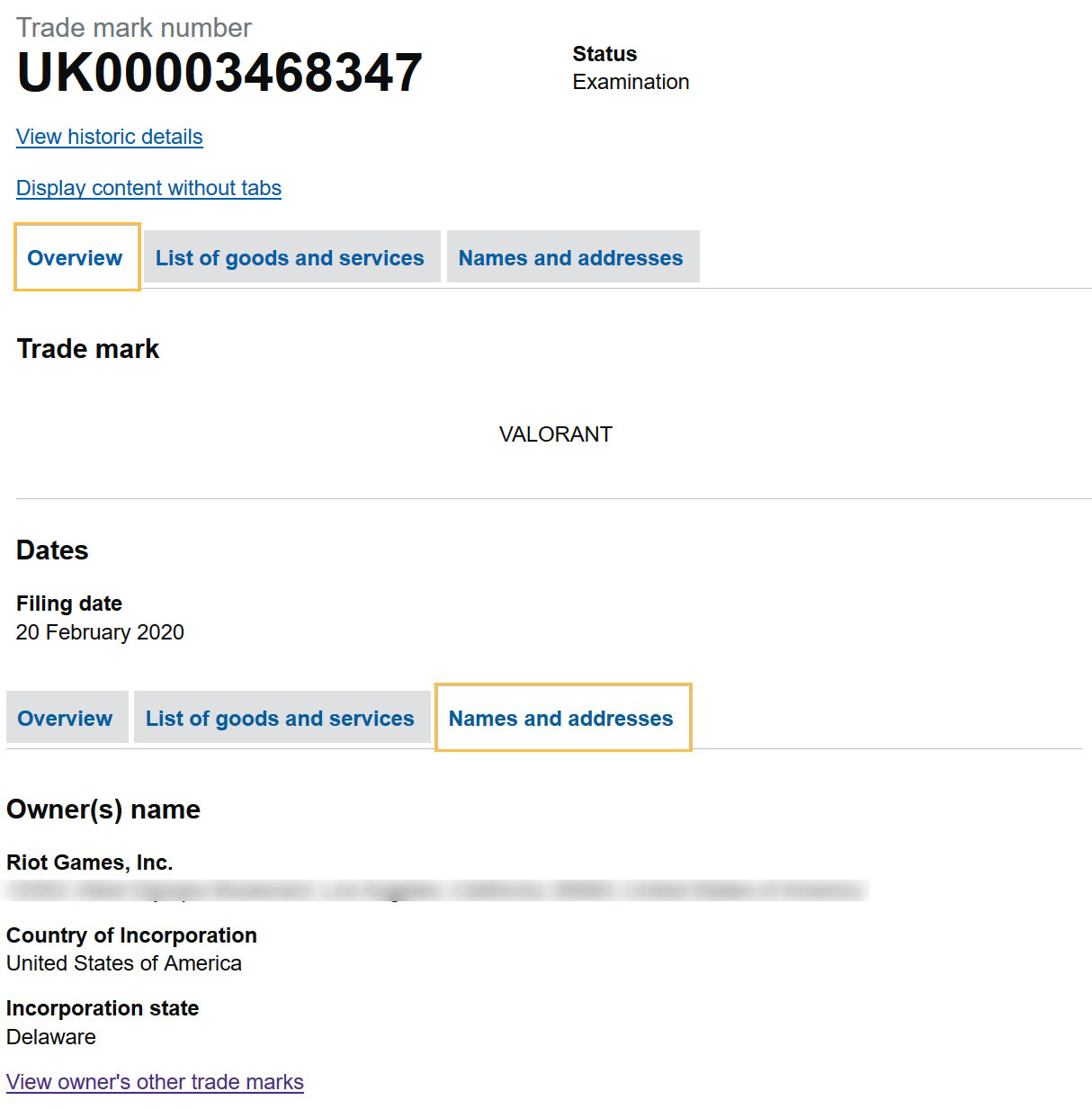 Screen du dépot de marque
Crédits : ProjectAOnline sur Twitter
Après avoir vu cette information, la communauté a décidé de fouiller un petit peu plus et est tombée sur un compte Twitter fraîchement créé : PlayVALORANT. Difficile à dire pour le moment s'il s'agit d'un compte officiel mais la DA utilisée pourrait faire penser à un teasing officiel de la part de Riot Games.
On vous tiendra bien évidemment au courant des prochaines infos concernant Project A. De nombreuses rumeurs pullulent sur Internet, faites attention aux fausses informations !