C'est sur le blog de Playstation que l'information a été révélée, la Playstation 5 sortira pour Noël 2020, avec deux nouvelles technologies.
C'était dans l'air et tout le monde l'attendait, Sony a enfin communiqué sur la prochaine console Playstation via le Président et PDG de Sony Interactive Entertainement (SIE), Jim Ryan.
On apprend ainsi que la prochaine console Playstation s'appellera bien Playstation 5 et disposera de nombreuses nouvelles technologies, dont une qui a été tout particulièrement mise en avant dans ce communiqué. De plus, une date a également été donnée et la PS5 sortira pour Noël 2020, Sony respecte ainsi son habitude de sortir ses consoles en fin d'année soit en novembre ou décembre.
Comme nous vous le disions, le communiqué a énormément parlé d'une nouvelle technologique qui sera implémentée dans les manettes qui accompagneront la console next-gen de Sony.
Dispositif haptique sur la PS5
Cette nouvelle technologie est le dispositif haptique, un dispositif qui rendra les sensations données par la manette de manière bien plus réelle. Il a été ainsi précisé qu'on sentira des retours bien différents des simples vibrations des précédentes manettes. Sony souhaite approfondir le sentiment d'immersion, et les joueurs auront des sensations bien différentes manette en main, entre leur voiture qui heurterait un mur ou un de leurs joueurs de foot qui ferait un tacle.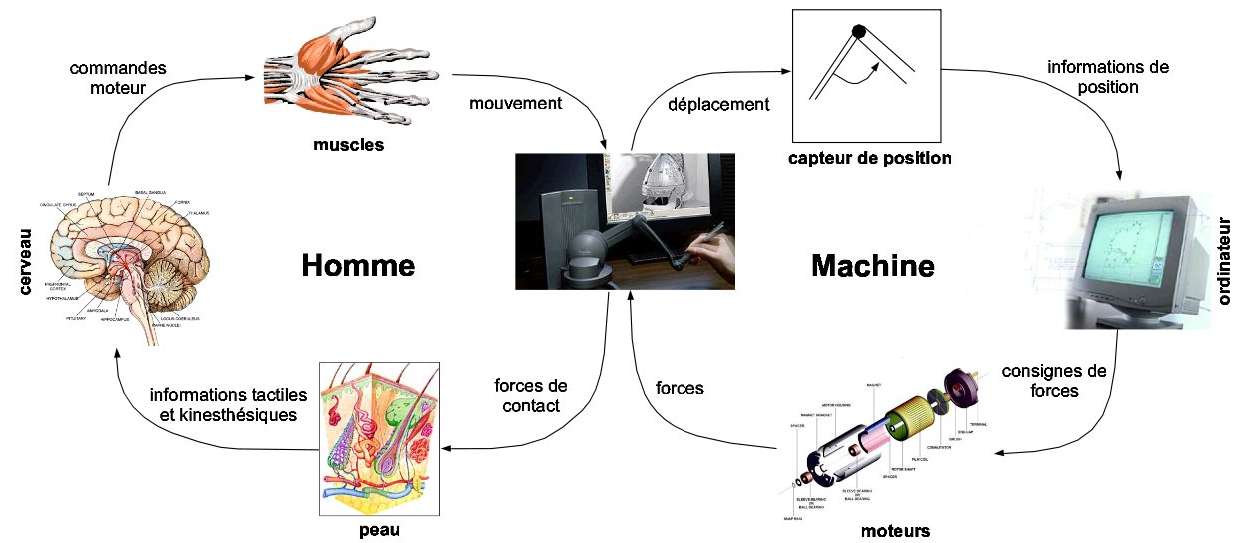 Schéma du fonctionnement de la technologie haptique (crédits : tornil)
Déclencheurs adaptatifs sur la PS5
Une deuxième innovation est aussi au rendez-vous et celle-ci est intitulée déclencheurs adaptatifs et qui a été incorporée dans les boutons de déclenchement (L2 / R2). Les développeurs pourront ainsi programmer la résistance des gâchettes de manière à ce que les joueurs ressentent la sensation tactile et la résistance lorsqu'on tirera avec un arc et des flèches ou celle du sentiment d'accélération d'un véhicule lorsqu'il fait du hors piste sur un terrain rocheux. En combinaison avec l'haptique, cela pourrait produire une expérience puissante qui simule mieux diverses actions.
Les développeurs et les différents studios ont déjà commencé à recevoir les premières versions du nouveau contrôleur et cette nouvelle manette devrait être plus lourde que celle de la Playstation 4 mais restera cependant plus légère que celle de la console de Microsoft, la Xbox One.
Le communiqué conclut en rappelant que la Playstation 4 continuera à recevoir de nombreux blockbusters comme par exemple Death Stranding, The Last of Us 2 et Ghost of Tsushima. Des jeux qui seront sans aucun doute portés sur la Playstation 5 le moment venu.