Bethesda vient d'annoncer l'arrivée prochaine du Coeur noir de Skyrim et Greymoor pour The Elder Scrolls Online.
Tandis que bon nombre de joueurs attendent avec impatience la sortie de The Elder Scrolls 6, dont la date de sortie est encore inconnue, Bethesda n'en oublie pas The Elder Scrolls Online le MMO qui se déroule dans le même univers. Après plusieurs extensions comme Morrowind, Summerset et Elsweyr, Bethesda annonce aujourd'hui le prochain contenu à être déployé sur The Elder Scrolls Online.
Le Coeur noir de Skyrim, nouvelle aventure pour TESO
Bientôt dix ans après la sortie du dernier épisode de The Elder Scrolls, Bethesda accorde finalement une extension spéciale à la célèbre région de Bordeciel, demeure des Nordiques. C'est lors d'une annonce en direct le 16 janvier que Bethesda a annoncé la venur prochaine du Coeur noir de Skyrim. Découpée en plusieurs phases de déploiement l'aventure commencera prochainement, en février précisement, avec l'arrivée d'un pack de donjons téléchargeable nommé Harrowstorm. L'aventure se poursuivra ensuite en mai avec le chapitre Greymoor, puis plus tard dans l'année avec deux chapitres que Bethesda annoncera plus tard. La troisième partie est ainsi prévue en août, tandis que la quatrième et dernière partie est annoncée pour le mois de novembre.
Vidéo de présentation du Coeur noir de Skyrim, la nouvelle aventure de The Elder Scrolls Online
Les joueurs devront ainsi combattre un mal ancestral et mystérieux qui menace les habitants de Bordeciel. Les aventuriers de Tamriel pourront également s'aventurer au coeur de la région des Nordiques et découvrir des lieux comme la ville de Solitude tels qu'ils étaient 1000 ans avant les événements de The Elder Scrolls V: Skyrim.
Greymoor et Harrowstorm, les prochaines mises à jour de TESO
Harrowstorm sera la première étape de l'aventure du Coeur noir de Skyrim. Dès février les joueurs pourront découvrir deux nouveaux donjons : Crève-Nève et le Sépulcre profane. Ce pack sera ensuite suivi du chapitre Greymoor le 18 mai sur PC et le 2 juin sur PS4 et Xbox One. Dans ce chapitre les joueurs feront face à des monstres au service d'un puissant Seigneur vampire. Greymoor apportera également de nombreuses nouveautés comme :
Une nouvelle zone à explorer : le Bordeciel occidental
Une ligne de quête principale développant l'aventure gothique du Cœur noir de Skyrim
Un fascinant nouveau système d'Antiquités
Une nouvelle épreuve pour 12 joueurs : l'Égide de Kyne
De nouveaux événements de monde : les Tempêtes faucheuses
De nouveaux antres, donjons publics et quêtes indépendantes
Une Mise à Jour et des améliorations de la qualité de vie comprenant notamment une refonte de la ligne de compétences des Vampires (gratuit pour tous les joueurs d'ESO).
(source : site officiel de The Elder Scrolls Online)
Il est d'ores et déjà possible de précommander le chapitre Greymoor sur PC et Xbox One via le site officiel de The Elder Scrolls Online. Les joueurs ayant précommandé le chapitre recevront ainsi des récompenses exclusives comme les Bijoux et Couronne de Jarl, le familier Mammouth de poche sacrificiel, des Cartes au trésor, une Caisse à Couronnes de découverte nocturne ainsi que des Parchemins d'Expérience. Les joueurs ayant précommandé en édition dématérialisée recevront directement en jeu le Destrier Brise-fort. À noter également que le jeu sera aussi disponible sur Stadia, Bethesda communiquera plus en détail à ce sujet dans les semaines à venir.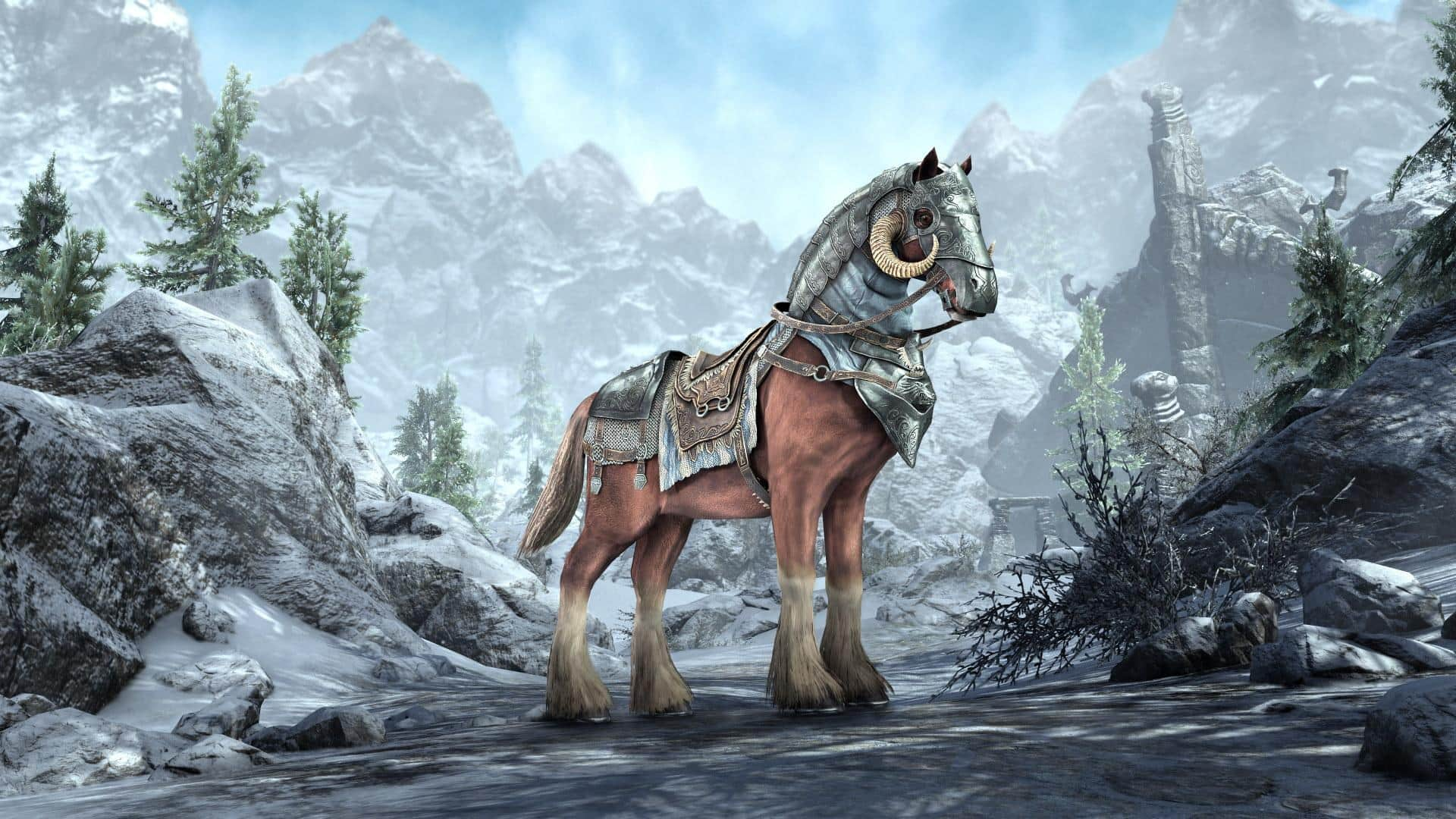 Le Destrier Brise-fort est un des bonus de précommande de l'édition dématérialisée