Séances ciné est une catégorie qui va permettre aux streamers Twitch de regarder en direct une série ou un film Amazon Prime avec leurs viewers !
En octobre 2019, certains streamers comme Travis Shreffler (source en anglais) ont reçu un mail indiquant que Twitch allait créer une nouvelle fonctionnalité sur la plateforme : permettre au diffuseur de regarder du contenu Prime Vidéo (Amazon) en direct avec ces viewers. Pour le moment, aucun streamer européen ne peut accéder à cette fonctionnalité mais on peut déjà voir la catégorie du nom de « Séances ciné » (Watch Parties en anglais)
Aux Etats-Unis par contre, certains streamers peuvent demander à Twitch de participer à la beta de Watch Parties et ainsi donner des retours sur les potentiels bugs. À noter que seuls les viewers avec Amazon Prime peuvent regarder un tel contenu.
? These are trying times, and the best way to get through them is to spend time with your friends, if even only virtually.

Through April, we're rolling out our Watch Parties beta, starting today with US Partners. Watch select Prime Video movies & shows with your community! pic.twitter.com/IKdlYoAxpH

— Twitch Support (@TwitchSupport) April 9, 2020
Mise à jour 9 avril : la feature arrive aux USA !
Le 25 mars, PhantomSFX a essayé Watch Parties en stream
Watch Parties ou Séances ciné, c'est quoi ?
Une nouvelle fonctionnalité permettant aux streamers de regarder une série ou un film de Prime Vidéo en direct avec leurs viewers (abonnés à Amazon Prime). Le streamer aura sur son tableau de bord la possibilité de « commencer une séance de ciné » en cliquant sur un bouton directement intégré au dashboard.
À ce moment, il choisit quelle série ou quel film de Prime Vidéo il souhaite regarder parmi la liste proposée sur Twitch et c'est parti !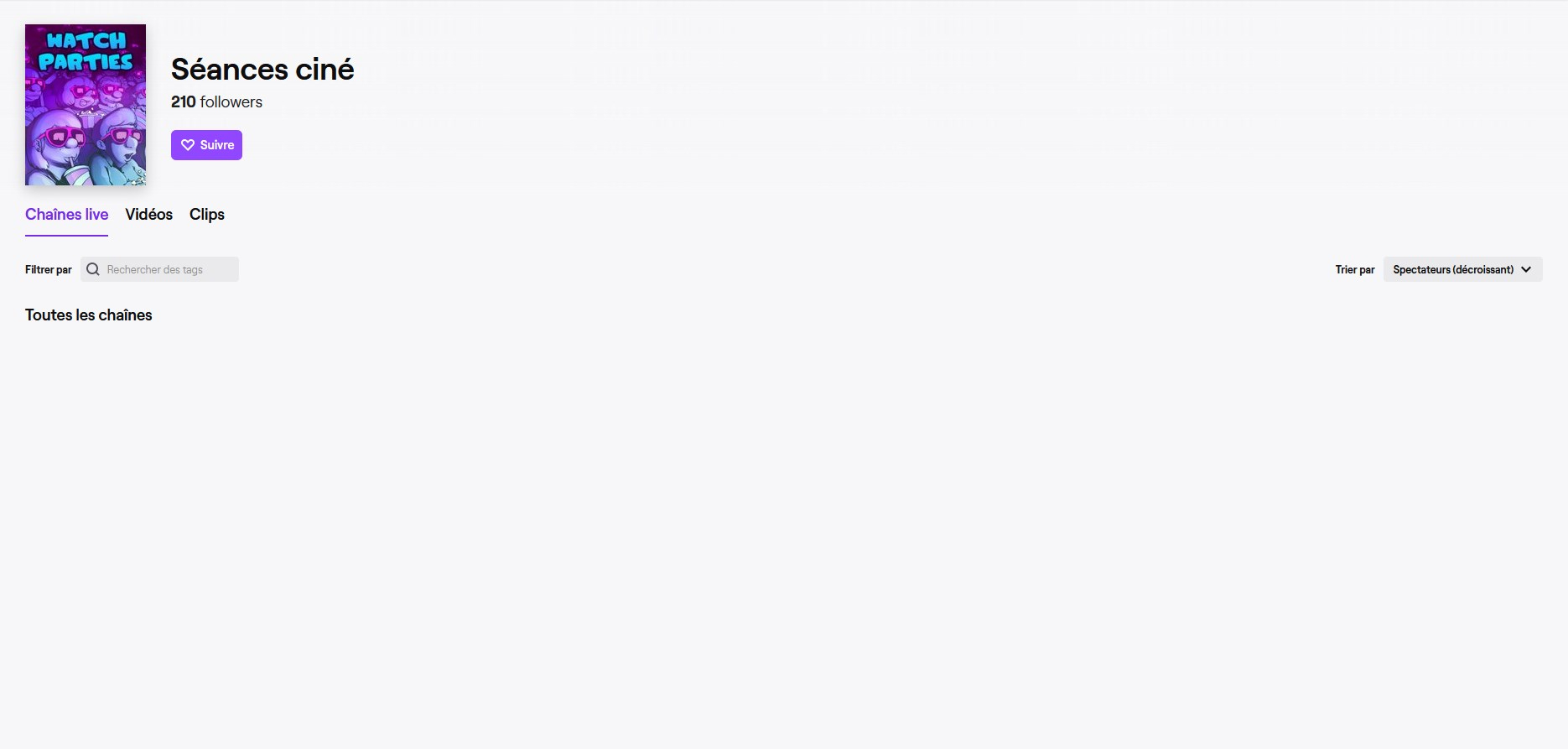 La catégorie existe mais impossible de l'utiliser en tant que streamer non-américain (Source)
Comment stream une Séances ciné ?
Pour le moment, ce n'est pas disponible en France. Seuls certains streamers des Etats-Unis peuvent accéder à cette nouveauté en s'inscrivant à ce qui s'apparente à une beta (source en anglais) ; tout le monde ne peut pas stream une séance ciné pour le moment.
Pourquoi peut-on regarder des séries ou films de Prime Vidéo et pas de Netflix avec Watch Parties ?
Puisque Amazon a racheté Twitch en 2014, le groupe crée des synergies entre ses différentes entreprises. Avec Amazon Prime, on pouvait d'ores et déjà s'abonner « gratuitement » à une chaîne Twitch et avoir des récompenses dans des jeux. Mais maintenant que Prime Vidéo, sa plateforme de film, séries, spectacles et documentaires commence à grossir, le géant américain va plus vite et ajoute une synergie supplémentaire entre Twitch et Amazon.
Tant que Netflix n'ai pas racheté par Amazon, difficile de voir la fonctionnalité arriver sur Twitch !