Un nouvel agent sortira bientôt et serait disponible avec l'acte comme l'a annoncé Riot SuperCakes.
VALORANT est disponible depuis déjà quelques semaines et le futur du jeu semble assuré. Afin de parler de l'avenir du FPS de Riot Games, Anna « Riot SuperCakes » Donlon, productrice exécutive de VALORANT a réalisé une vidéo explicative sur divers sujets. Parmi ceux-ci, elle est revenue notamment sur le système des actes et des épisodes et a teasé également le prochain agent.
Les explications sur les actes et les épisodes et le tease du nouvel Agent.
Quand sortirait le prochain Agent de VALORANT ?
Parmi les annonces faites lors de ce live, on a pu entrevoir la silhouette du prochain agent de VALORANT comme vous pouvez le voir ci-dessous.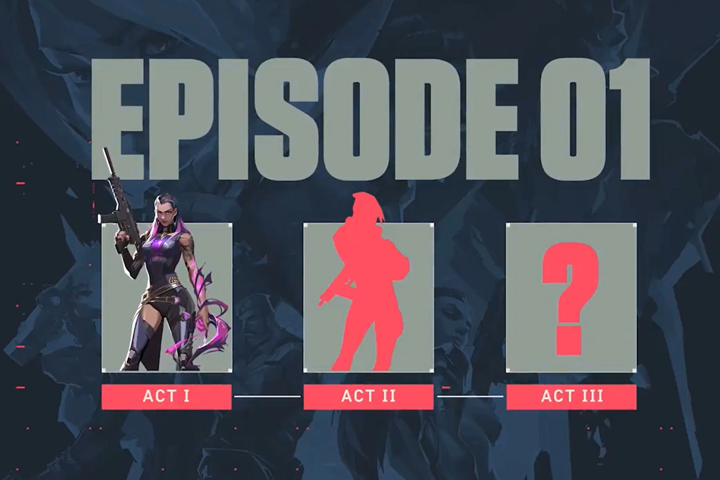 Comme précisé sur l'image, cet agent sera disponible avec l'acte 2 et pourrait donc sortir entre le 4 août et le 13 octobre si l'on en croit les informations données par Valorant Express sur son twitter.
HUGE UPDATE:

Recently found some files relating to season dates (acts) and when they will release!!!

Episode 1:
Act 1: 6/01/20 - 8/04/20
Act 2: 8/04/20 - 10/13/20
Act 3: 10/13/20 - 1/12/21

January 12 is when Act 3 ends, so I'm guessing we could see Episode 2 come then?

— Valorant Express - Valorant Leaks And News (@ValorantExpress) June 10, 2020
Pour rappel, selon les explications de la productrice exécutive, chaque acte durerait 2 mois et un épisode durerait donc 6 mois puisqu'ils sont composés de 3 actes et au début de chaque acte, un nouvel agent sera ajouté.
Nous aurons donc ici au total six agents qui seront ajoutés à VALORANT en un an ce qui fera un total de 16 personnages jouables lorsque le titre arrivera à son premier anniversaire le 2 juin 2021.
Nous vous tiendrons bien évidemment au courant lorsque nous aurons plus d'informations sur ce prochain agent qui n'a été que teasé pour le moment.