Wolcen: Lords of Mayhem est un hack n slash dont la sortie est prévue pour février. Retrouvez ici tout ce qu'il faut savoir sur le jeu.
Après l'annonce d'un Path of Exile 2 et de Diablo 4 en novembre dernier la communauté de joueurs semblent éprouver un certain regain d'intérêt pour le genre du hack'n'slash. En développement depuis quelques temps, c'est dans ce contexte que va sortir prochainement Wolcen: Lords of Mayhem, un nouveau jeu développé par les français de Wolcen Studios.
Une histoire en trois actes pour Wolcen: Lords of Mayhem
Wolcen: Lords of Mayhem présentera tout d'abord une histoire divisées en trois actes comme dans la plupart des hack'n'slash. Cette hisoire emportera donc les joueurs dans une univers sombre et immersif. Bien que la bande-annonce de la campagne reste assez mystérieuse, les développeurs du jeu assurent qu'à lui seul le premier acte sera l'affaire d'environ quatre heures de jeu.
Trailer de la campagne de Wolcen: Lords of Mayhem
Endgame, personnalisation et multijoueur sur Wolcen: Lords of Mayhem
Une fois la campagne complétée les joueurs pourront accéder avec tous leurs personnages au contenu endgame de Wolcen: Lords of Mayhem. Une fois dans cette partie du jeu les joueurs pourront participer à la construction de la ville de Stormfall en acceptant des projets. Ces projets enverront les joueurs récupérer des matériaux dans des donjons générés aléatoirement, avec ou sans modificateur. Plus le donjon sera effectué dans un mode de jeu difficile, plus les récompenses et les ressources remportées seront intéressantes.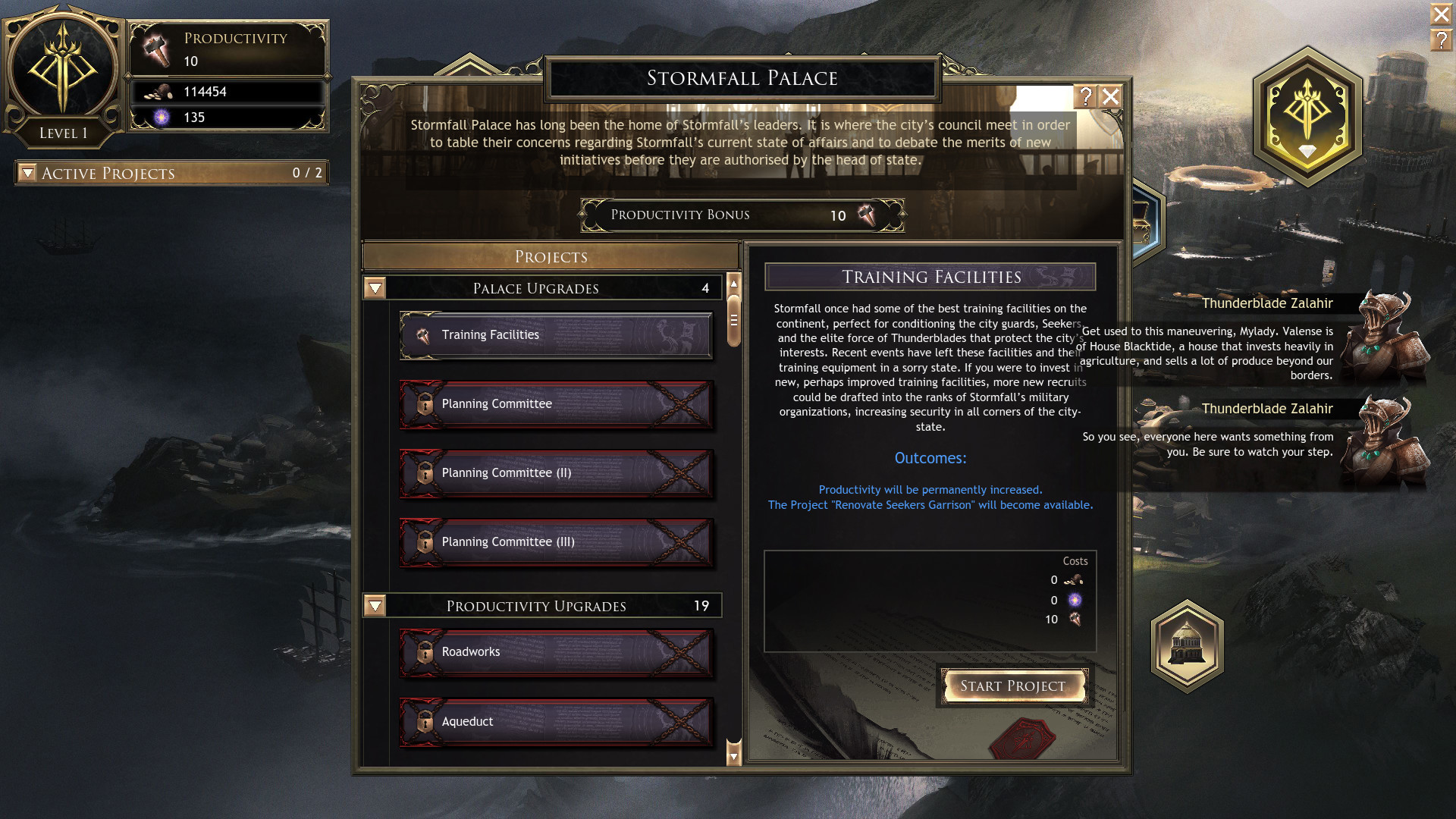 Les projets pour la ville de Stormfall constitueront le endgame de Wolcen: Lords of Mayhem
À l'image des autres jeux du même genre Wolcen: Lords of Mayhem proposera également aux joueurs de personnaliser leur personnage à différents niveaux. Il sera tout d'abord possible d'obtenir des pièces d'équipement de meilleure qualité pour gagner en puissance. De plus un système d'arbre de compétences rotatif sera présent dans le jeu pour permettre aux joueurs de développer différents styles de jeu.


Tous nos guides et builds sur Wolcen