Vous allez pouvoir jouer à World of Warcraft Classic ce soir. Mais à quelle heure a lieu le stress test et comment pouvez-vous y jouer ?
Depuis la BlizzCon 2017 et l'annonce de serveurs World of Warcraft dédiés à Classic, les fans attendent avec impatience la date du 27 août, sortie officielle de WoW Classic. Mais en attendant et pour surtout tester les serveurs, Blizzard a mis en place une multitude de tests à travers le monde. L'éditeur a appelé ça des « stress tests ». Au début, ces tests n'étaient disponibles qu'à une poignée de joueurs tirés au sort. Mais ce jeudi 8 août 2019, Blizzard tape fort et annonce que l'intégralité des abonnés à World of Warcraft y auront accès à partir de 20 h.
Petit rappel : ce soir, si vous êtes abonné au WoW actuel, vous pouvez tester WoW Classic ce soir à 20h, le jeu sera testable par tout le monde et la limite de niveau sera de 15. Préparez vous !

Je ne pense pas live ce stress test étant donné qu'il n'y aura rien de nouveau pic.twitter.com/MmsaGzR9yH

— ZeratoR (@ZeratoRSC2) August 8, 2019
Jouez à WoW Classic dès 20 h
Tous les abonnés à World of Warcraft vont avoir l'opportunité de jouer à WoW Classic ce jeudi 8 août à partir de 20 h, heure française.
Pour y jouer, rien de plus simple. Dirigez-vous vers l'application Blizzard et installer World of Warcraft Classic.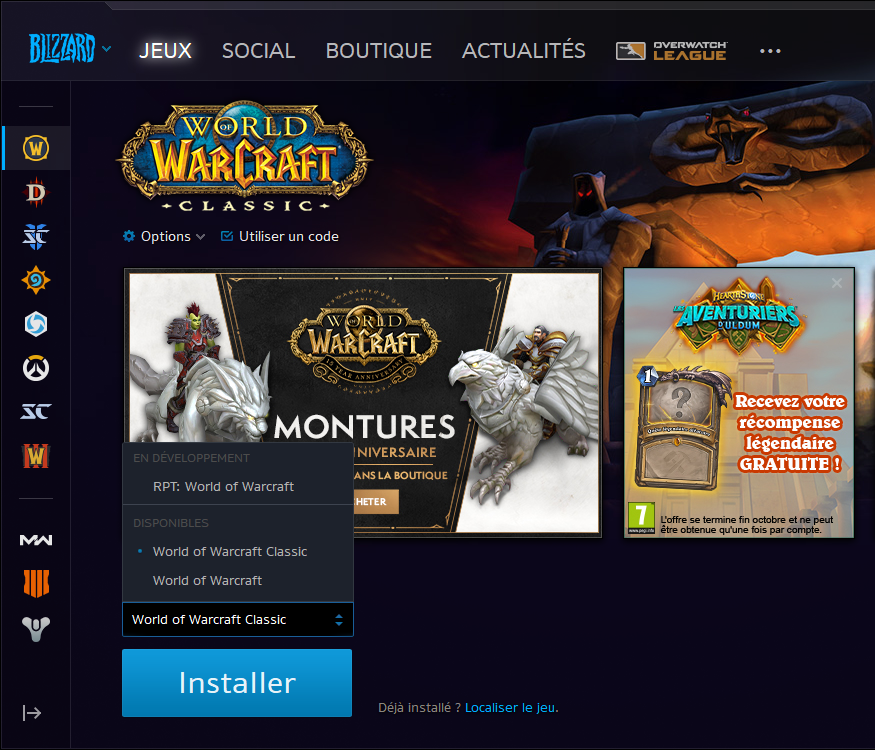 Que peut-on faire sur un stress test de WoW Classic ?
Vous allez pouvoir créer un personnage et le jouer jusqu'au niveau 15. Passé ce niveau, vous devrez en utiliser un nouveau. Explorez les anciennes zones, jouez les classes comme avant, bref, vous pourrez tout de même jouer à Classic comme si vous y étiez ! Une fois la phase de tests terminée, il faudra attendre le 27 août pour la sortie officielle des serveurs.
Si vous hésitez entre l'Alliance et la Horde, un soigneur, un DPS ou un tank ou si vous souhaitez tout simplement en savoir plus sur World of Warcraft Classic, on vous conseille de regarder notre portail dédié !