La sortie de World of Warcraft Classic se rapproche à grand pas, il est désormais possible de se connecter au serveur afin de réserver son pseudo. Toutes les informations dans cet article.
World of Warcraft Classic est grandement attendu par les joueurs. Depuis le 13 août il est possible de se connecter sur les serveurs de jeu afin de réserver son pseudo. Faites vite car quelqu'un pourrait s'emparer de votre nom ; vous pouvez en réserver jusqu'à trois.
Créer son personnage et réserver son pseudo sur Classic
Cette réservation permet de choisir notamment le ou les Royaumes de votre ou vos personnages. Pour les serveurs francophones, vous aurez le choix entre Auberdine (PvE) et Sulfuron (PvP).
Blizzard a cependant donné plus de précision quand aux restrictions de création :
- Si vous choissisez un serveur PvP vous ne pourrez pas avoir des personnages dans les deux factions (tout vos personnages seront soit Alliance, soit Horde sur ce serveur).
- Après le 27 août (date de sortie de WoW classic) vous serez limité à 10 personnages par serveur et 50 personnages tous serveurs cumulés. Cette limitation n'affecte en rien le nombre de vos personnages de la version BFA de WoW.
- Les personnages créés durant la bêta ou pendant les stress tests ne seront plus disponibles à la sortie du jeu.
-Vous pouvez réserver jusqu'à 3 personnages sur tous les serveurs disponibles.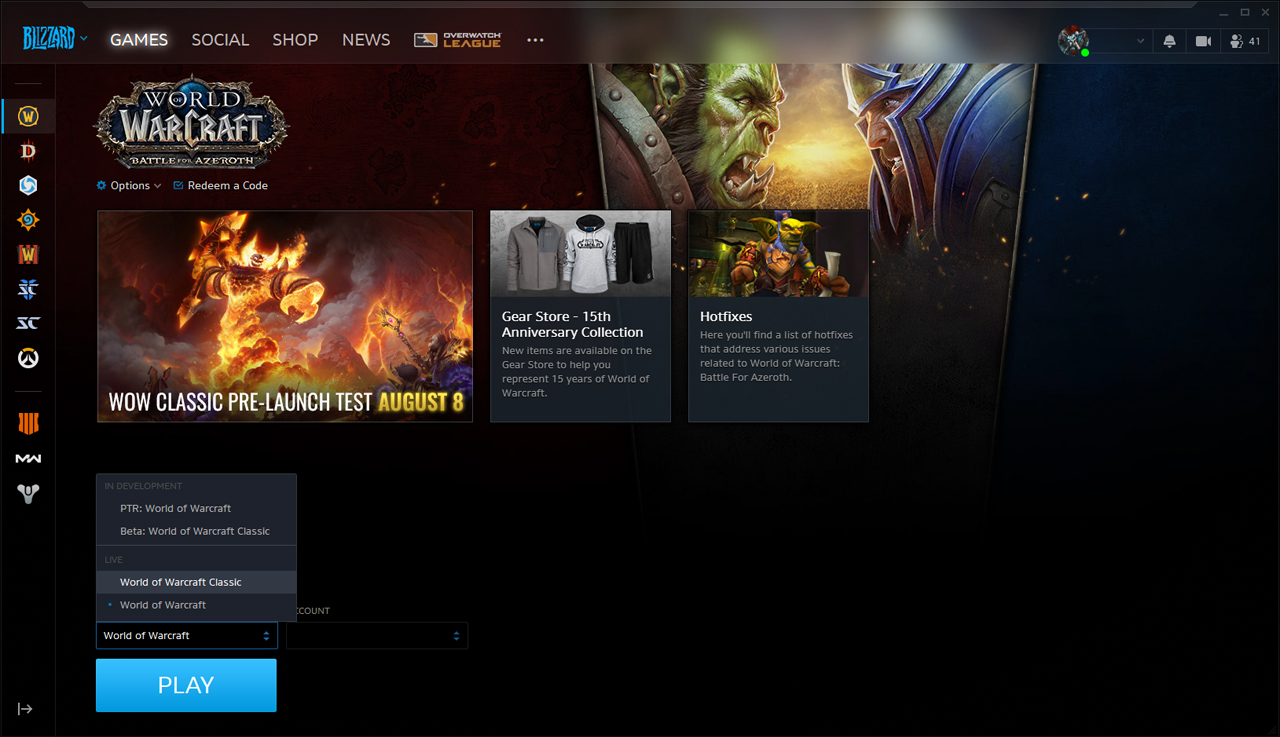 Vous pouvez accéder à la version de WoW Classic en cliquant sur le menu déroulant au-dessus du bouton JOUER sur la page WoW du launcher Battle.Net. Il vous faudra juste cliquer sur la deuxième ligne en partant du bas nommé « World of Warcraft Classic ».
World of Warcraft Classic sera disponible le 27 août 2019 à toute personne ayant du temps de jeu ou un abonnement à la version BFA du MMO.