À quelle heure sort le prépatch 9.0.1 de World of Warcraft: Shadowlands ? Blizzard a procédé à une maintenance qui a impacté l'état des serveurs.
Après de longues semaines, voire mois d'attente, le patch 9.0.1 de World of Warcraft: Shadowlands arrive enfin sur les serveurs européens. Les joueurs vont donc pouvoir découvrir les nouveautés de ce patch comme les modifications des classes ou encore le nouveau système de leveling.
Blizzard a toutefois publié les heures de la maintenance, période pendant laquelle les joueurs ne pourront pas accéder au jeu.
Quel est l'état des serveurs pour la maintenance du prépatch de Shadowlands sur World of Warcraft ?
Depuis peu les joueurs ont un message affiché sur l'écran de sélection des personnages dans World of Warcraft indiquant une maintenant le mercredi 14 octobre entre 7h et 15h (heure française). Pour rappel « heure CEST » signifie Central European Standard Time, soit le fuseau horaire de la France, Belgique et la Suisse. Durant cette maintenance le jeu sera inaccessible. Après la mise à jour le jeu sera de nouveau accessible pour tous les joueurs.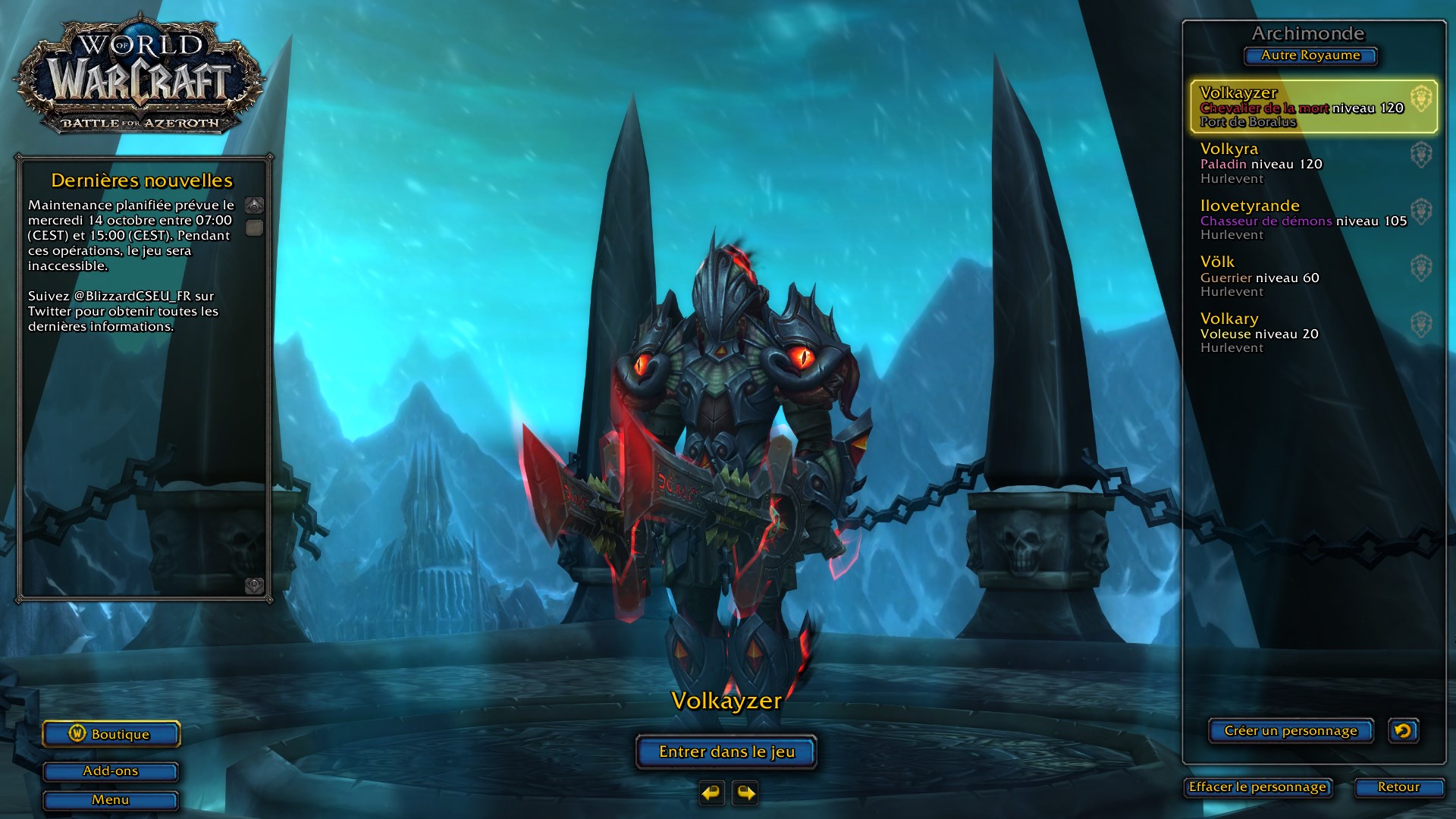 Les joueurs ont eu un avertissement sur l'état des serveurs la veille du prépatch
Cependant à l'heure de la publication de cet article (10h le 14 octobre 2020), le prépatch 9.0.1 est disponible sur World of Warcraft après une mise à jour de 2Go. Toutefois étant donné l'opération de maintenance prévue par Blizzard les joueurs ne doivent pas s'inquiéter si jamais ils ne peuvent pas accéder au jeu.
Pour ne rien rater de l'actualité de World of Warcraft: Shadowlands n'oubliez pas de consulter notre portail dédié au jeu de Blizzard.