Programme, résultats et classement... Tout ce qu'il faut savoir de la Summer Season de l'AWC de World of Warcraft !
Après une Spring Season qui avait vu Method Black s'imposer largement en Europe et Cloud9 en Amérique du Nord et aux Spring Finals, l'Arena World Championship (AWC) de World of Warcraft revient pour la Summer Season. La compétition suivra le même format que la Spring Season : le tournoi européen le vendredi, les américains le samedi et la rencontre entre les deux régions le dimanche. Il sera également possible de suivre l'Open Bracket du mercredi, les matchs qui permettent de désigner le top 8 pour la coupe du week-end, sur la chaîne Twitch de GCDTV.
Suivez l'AWC chaque week-end sur la chaîne Twitch de World of Warcraft
La Summer Season s'étendra du 12 juin au 4 août avec une pause de deux semaines entre le 24 juin et le 9 juillet. Les Summer Finals se tiendront pour leur part le 21 septembre. Tous les tournois débuteront les vendredis, samedis et dimanches soir à 19h (heure de Paris).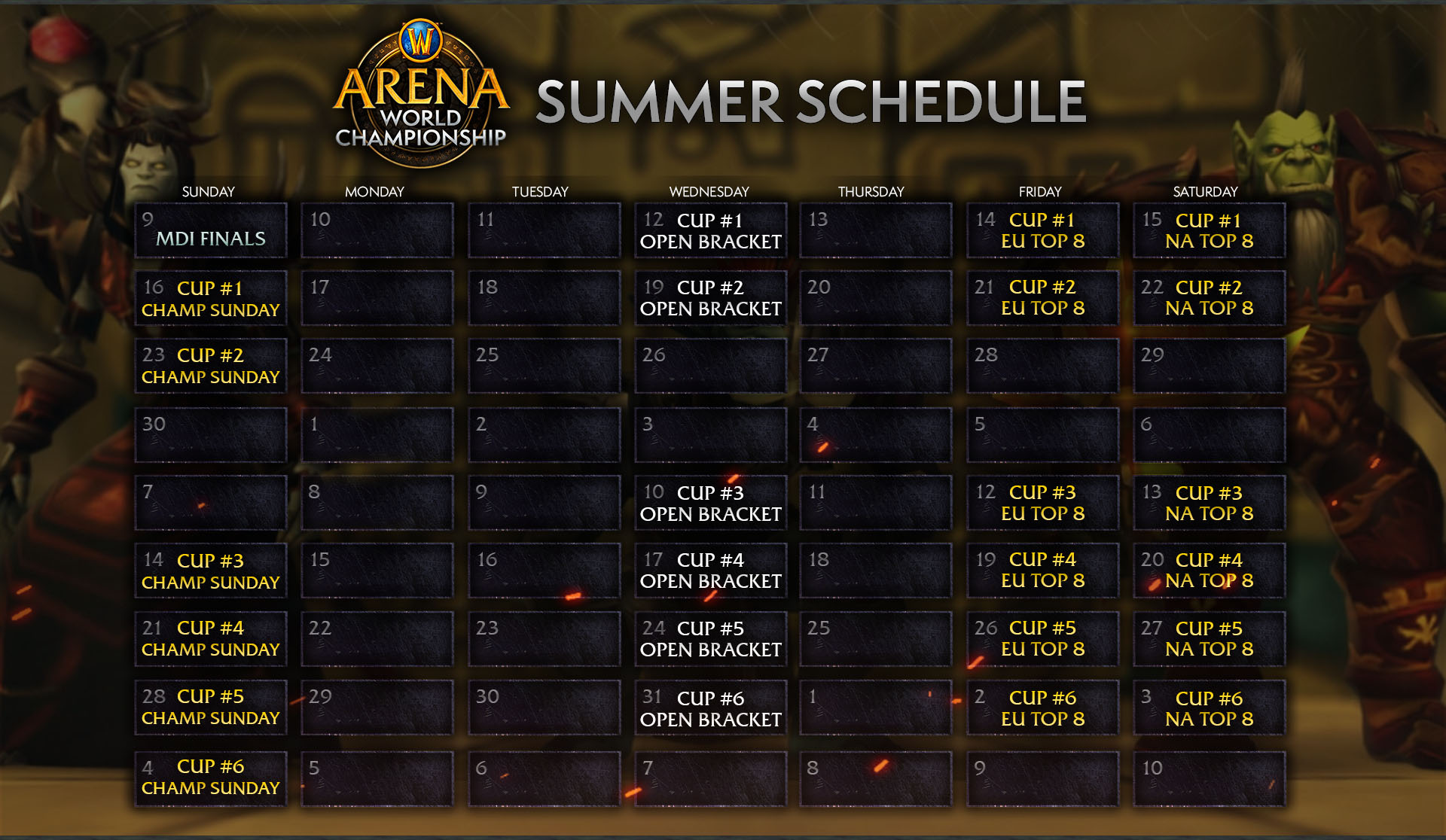 Le calendrier complet de la saison d'été de l'AWC
Équipes et résultats
Europe
| | | |
| --- | --- | --- |
| Place | Équipe | Points |
| 1 | Method Black | 700 |
| 2 | Diabolus | 460 |
| 3 | Change My Mind | 380 |
| 4 | Wildcard Gaming | 360 |
| 5 | Zizon | 300 |
Amérique du Nord
| | | |
| --- | --- | --- |
| Place | Équipe | Points |
| 1 | M2KC | 500 |
| 2 | Cloud9 | 480 |
| 3 | Method Orange | 440 |
| 4 | The Boys | 440 |
| 5 | The Move | 400 |