Le programme de parrainage d'un ami fera bientôt son retour sur World of Warcraft.
Mis en pause par Blizzard au début du mois de juin le programme « Parrainez un ami » va faire son retour sur World of Wacraft dans les mois à venir comme l'annoncent les développeurs sur le site officiel du jeu. Cette nouvelle version présentera néanmoins quelques différences et nouveautés.
Parrainer un ami, c'est quoi sur WoW ?
Ce nouveau programme reprendra tout d'abord les grandes lignes de la précédente version du programme. Les joueurs pourront ainsi téléporter leurs amis grâce au sort « Invocation d'ami à ami » (avec un temps de recharge de 30min). Mais surtout les joueurs bénéficieront toujours d'un bonus de 50% d'expérience lorsqu'ils sont dans le même groupe.
Bien que ces bases ne changent pas Blizzard a apporté quelques nouveautés concernant la montée en niveau avec un ami. Une fonction de synchronisation de groupe fera ainsi son apparition. Elle permettra non seulement d'être dans la même phase qu'un ami mais aussi de rejouer une quête si un des membres du groupe l'a déjà faite. Les récompenses de ces quêtes pourront alors être obtenues à nouveau mais seulement une fois par jour. Mais la nouveauté principale de cette fonction est la possibilité d'accompagner un ami grâce à un personnage déjà existant. Les joueurs pourront même faire des donjons et autres instances ensemble en réduisant leur niveau à l'image des donjons des Marcheurs du temps. Toutefois les joueurs dont le niveau est réduit perdront temporairement les techniques et autres pouvoirs azéritiques qui nécéssitent un niveau suppérieur.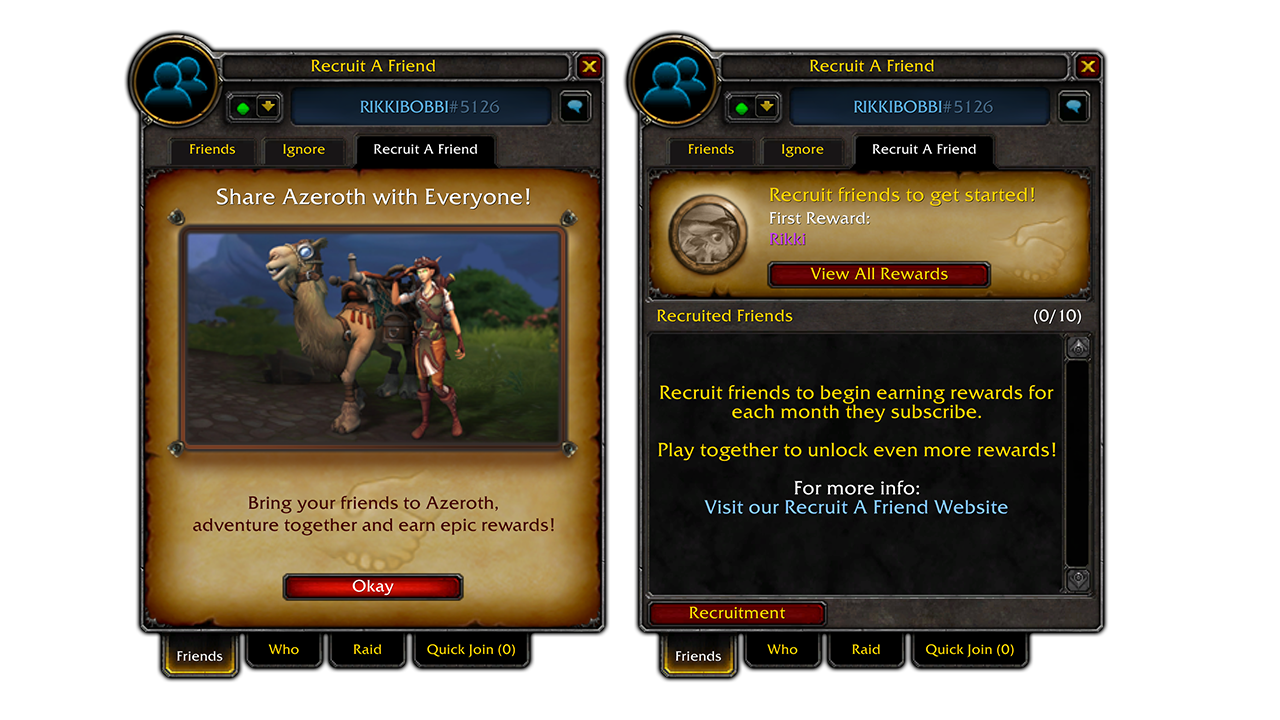 Le programme « Parrainez un ami » se présente avec une nouvelle interface
Ces nouveautés s'accompagnent également d'une nouvelle interface de parrainage grâce à laquelle les joueurs pourront voir s'ils sont proches ou non d'obtenir une récompense mais aussi de voir si leurs amis achètent du temps de jeu. Grâce à cette interface le joueur parrain pourra générer un lien de parrainage à envoyer à 4 amis, pour recruter d'autres amis un nouveau lien sera généré tous les 30 jours.
Pourquoi parrainer un ami sur WoW ?
Le nouveau programme « Parrainez un ami » propose ainsi de parrainer jusqu'à 10 amis ! Les récompenses étant attribuées en fonction du nombre de mois de jeu achetés par les joueurs parrainés, un ami qui achète par exemple 3 mois de jeu rapportera autant de récompenses que 3 amis qui ajoutent chacun un mois. À noter également que les joueurs pouvant être parrainés sont ceux qui n'ont jamais joué à World of Warcraft ou bien qui n'ont pas joué depuis 2 ans. La liste des récompenses disponibles s'étale ainsi sur 12 mois.
| | | | |
| --- | --- | --- | --- |
| 1 mois | Rikki | 7 mois | Tabard d'explorateur renommé |
| 2 mois | Temps de jeu | 8 mois | Temps de jeu |
| 3 mois | Marcheur des dunes d'explorateur | 9 mois | Gyrocoptère de safari d'explorateur |
| 4 mois | « Explorateur/exploratrice renommé(e) » | 10 mois | Sac à dos d'explorateur renommé |
| 5 mois | Temps de jeu | 11 mois | Temps de jeu |
| 6 mois | Enchantement Sables piquants | 12 mois | Costume d'explorateur renommé |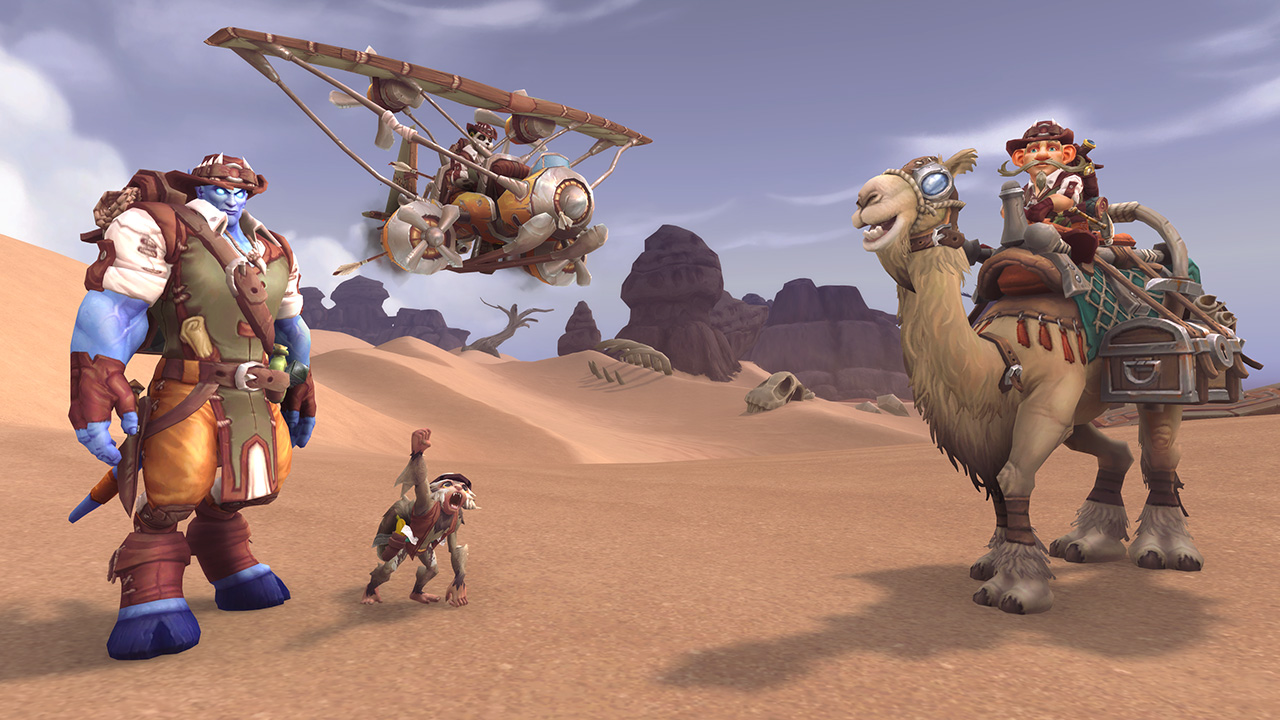 Aperçu des récompenses (montures, mascottes, etc) obtenues grâce au programme « Parrainez un ami »
Au delà des 12 mois les joueurs parrains obtiendront de nouveau du temps de jeu tous les 3 mois. Ce temps de jeu pourra servir non seulement pour WoW Classic mais aussi pour Battle for Azeroth. En revanche les récompenses comme les montures, tabards ou autres ne seront disponibles que sur l'extension en cours.