Une vidéo est sortie sur la chaîne officielle WoW. Elle récapitule le contenu à venir du patch 8.3 de World of Warcraft. Passons en détails sur les différents éléments présentés.
À moins d'un mois de la Blizzcon 2019, Blizzard a sorti une vidéo dévoilant la majeure partie du patch 8.3. Présenteé par Ion Hazzikostas, elle annonce un nouveau raid, de nouvelle races alliés, des armures ancestrales, des nouveautés pour les sites d'invasions et enfin les refontes.
Cette mise à jour est nommée « Les visions de N'Zoth » ; nous allons pouvoir enfin voir un Dieu Très Ancien en action et en pleine puissance de ses pouvoirs !
Nouveau Raid : Ny'alotha la cité en éveil
La cité des DTA sera le cœur de la bataille finale de l'extension. On y retrouve quelques têtes connues comme Irion (qui a succombé aux murmures), Ilgynoth Azshara, qui ne semble pas être un boss du raid mais qui sera présente enchaînée dans une salle et bien entendu, le boss final, N'Zoth lui-même.
Quelques images du raid de Ny'alotha, la cité en éveil
Mécagnomes et Vulpérins, nouvelles races alliées
Deux nouvelles races alliées font leurs apparitions : les Mécagnomes et les Vulpérins, respectivement pour l'Alliance et la Horde. Pour les obtenir il vous faudra en plus d'avoir fini les diverses suites de quêtes d'histoire ainsi qu'être exalté auprès de leurs factions respectives.
Nouvelles Armures Ancestrales
Après la refonte graphique que les deux races ont subi, il est temps pour les Worgens et les Gobelins d'avoir leurs propres Armures Ancestrales.
| | |
| --- | --- |
| | |
| Armure Ancestrale Gobeline | Armure Ancestrale Worgen |
Les assauts
Ces assauts auront lieu à des points clés de la défense d'Azeroth car on y trouve des complexes des Titans. On y retrouve Uldum et Val de l'Eternel Printemps (qui sera désormais complètement lavé de toute trace des Shas hors des assauts)
| | |
| --- | --- |
| | |
| Assaut sur Uldum | Asaut sur le Val de l'éternel printemps |
Les Visions Horrifiques
Manifestation des capacités de N'Zoth à vous plonger dans un cauchemar éveillé, il s'agit d'un contenu PVE de 1 à 5 joueurs se déroulant dans une version alternative d'Orgrimmar ou Hurlevent. Ces versions des capitales nous montreront l'état dans laquelle elles seront si vous échouez à arrêter N'Zoth.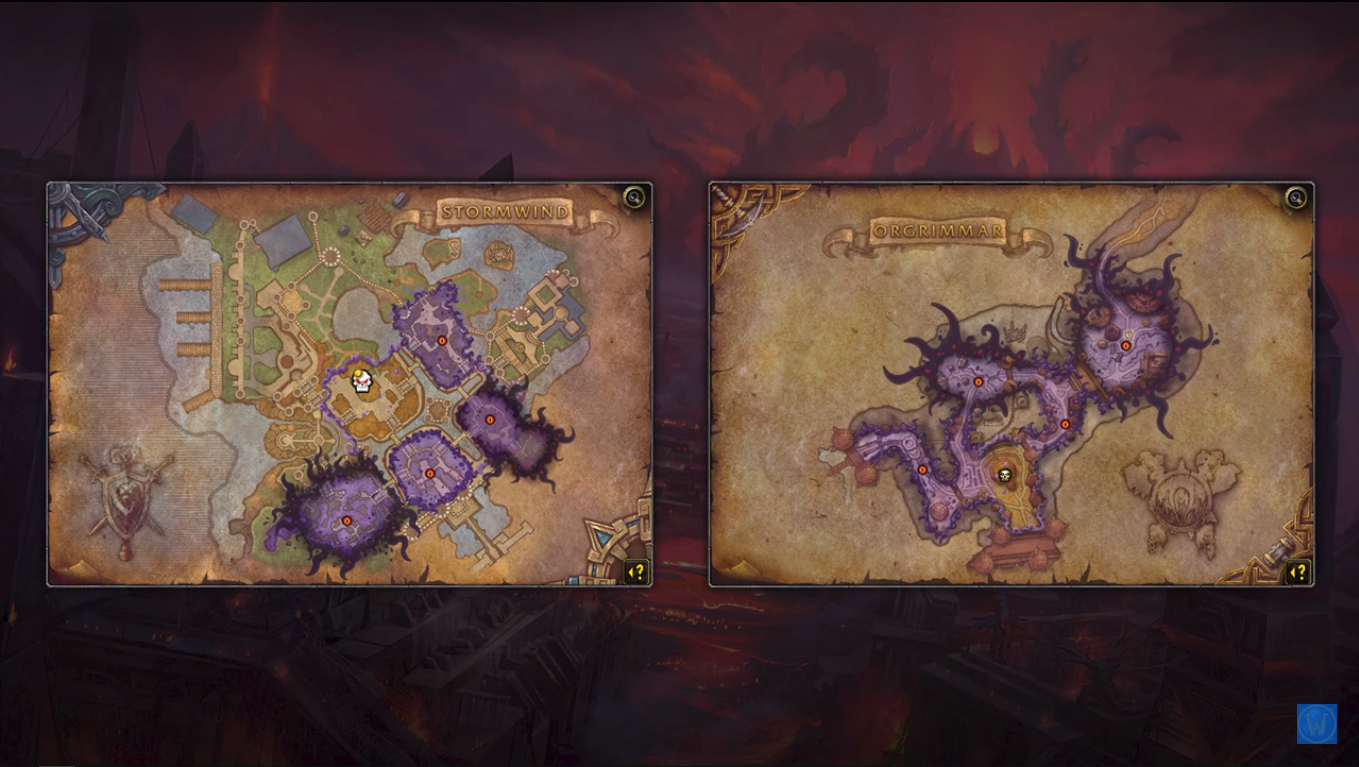 Visiblement, il s'agirait d'un combat contre la montre pour la survie. En effet, plus le temps passé dans l'instance est long, plus votre santé mentale sera affectée et pourra apporter des effets néfastes, allant de problèmes de mécaniques de votre personnage aux mutations physiques.
Parallèlement à ces instances, il vous faudra travailler avec Irion afin de forger une cape légendaire (basé un peu sur le système de Mist of Pandaria), vous protégeant des agressions mentales de N'Zoth et ses suivants. Cela vous permettra de vous aventurer plus profondément dans les Visions Horrifiques, et donc de débloquer de meilleures récompenses. Cette cape sera visiblement aussi utile durant les différents points de rencontre avec le DTA ou ses sbires.

De plus, vous pourrez récolter des fragments de pouvoir durant ces instances. Ces fragments seront à amener à Magni et D.A.M.E afin de les analyser pour vous donner de nouveau moyen de défenses contre N'Zoth.

Les autres infos en vrac
En plus de la cape, de nouvelles récompenses d'équipements apparaissent. Des nouveaux niveaux et des nouvelles essences pour le cœur d'Azeroth seront disponibles. Ainsi vous pourrez bénéficier d'un passif supplémentaire avec votre cœur d'Azeroth.
Une refonte de l'hôtel des ventes est prévue pour ce patch.
Le front de guerre de Sombrivage se verra doter lui aussi d'un mode héroïque.
Le patch 8.3 sera donc un patch très riche en contenu. De plus, cette annonce met fin à toute spéculation sur les possibles suites de Battle For Azeroth. A noter que le PTR permet déjà de tester une majeure partie du contenu détaillé ici.