La nouvelle extension de World of Warcraft, Shadowlands, annoncée à la Blizzcon, aura 5 nouvelles zones dont l'Antre, accessible seulement pour les joueurs de niveau maximum. Et, au centre de celle-ci, Tourment, la tour des Damnés, un nouveau type d'instance.
Vous réviez d'un défi seul ou à plusieurs au niveau maximum ? D'une zone HL réellement complexe et différente de ce que l'on connait ? Si le cas, l'Antre pourrait bien vous offrir tout ça voir bien plus... Retrouvez toutes les informations sur Shadowlands, la future extension de World of Warcraft !
Mais l'Antre ne sera pas le seul défi, Torghast, la tour des damnés, offrira aux joueurs un tout nouveau type de défi. Après son annonce lors de la BlizzCon, Blizzard apporte aujourd'hui des précisions sur cette nouvelle instance.
La zone de l'Antre dans WoW Shadowlands
L'Antre sera donc la zone pour les joueurs niveau maximum (60, étant donné que les niveaux vont baisser). C'est une zone particulièrement ardue qui ne contient pas d'auberge. Chaque action que vous ferez dans cette zone (dont mourir) attirera l'attention du Geôlier qui voudra mettre un terme à votre visite. Il appelera des chasseurs de tête, augmentera le rayon d'aggro des monstres de la zone... Dans l'Antre, vous devrez être rapide et ne pas trop mourir.
Tourment, la Tour des Damnés dans WoW Shadowlands
Au centre de l'Antre se trouve la Tour des Damnés, un nouveau type d'instance qui amène le rogue like à l'univers de World of Warcraft. Accessible de 1 à 5 joueurs, cette instance non-chronométrée change à chaque fois que vous faites une nouvelle tentative. Plus vous avancerez dans les étages de la Tour, plus la difficulté sera relevée et plus vous trouverez des objets et amélioration pour rendre votre tentative actuelle plus facile. Certains objets et certaines améliorations se cumulent et créent des combos très intéressants et destructeurs. De plus, en montant dans la Tour, vous collecterez différentes ressources qui vous permetrrons de créer votre propre équipement légendaire.
Les pouvoirs d'anima seront donc des compétences temporaires présentes pour permettre aux joueurs de progresser dans les niveaux les plus compliqués de la tour. Ces pouvoir pourront se retrouver dans les recoins de Torghast ou bien sur les adversaires. Un système de monnaie sera également présent. Cette monnaie, les fantasmes, pourra être récupérée sur les monstres, grâce aux pouvoirs d'anima ou en détruisant des objets. Au cours du donjon les joueurs recontreront ainsi des vendeurs auprès desquels ils pourront échanger leur monnaie contre des améliorations (pouvoirs d'anima ou consommables) pour relever le défi de la tour des damnés. Des objectifs bonus seront également présents à certains étages et permetteront de gagner d'avantage d'orbes d'anima. Un élément de l'interface permettra de consulter non seulement combien de monnaie a été accumulée mais aussi quels pouvoirs d'anima ont été achetés.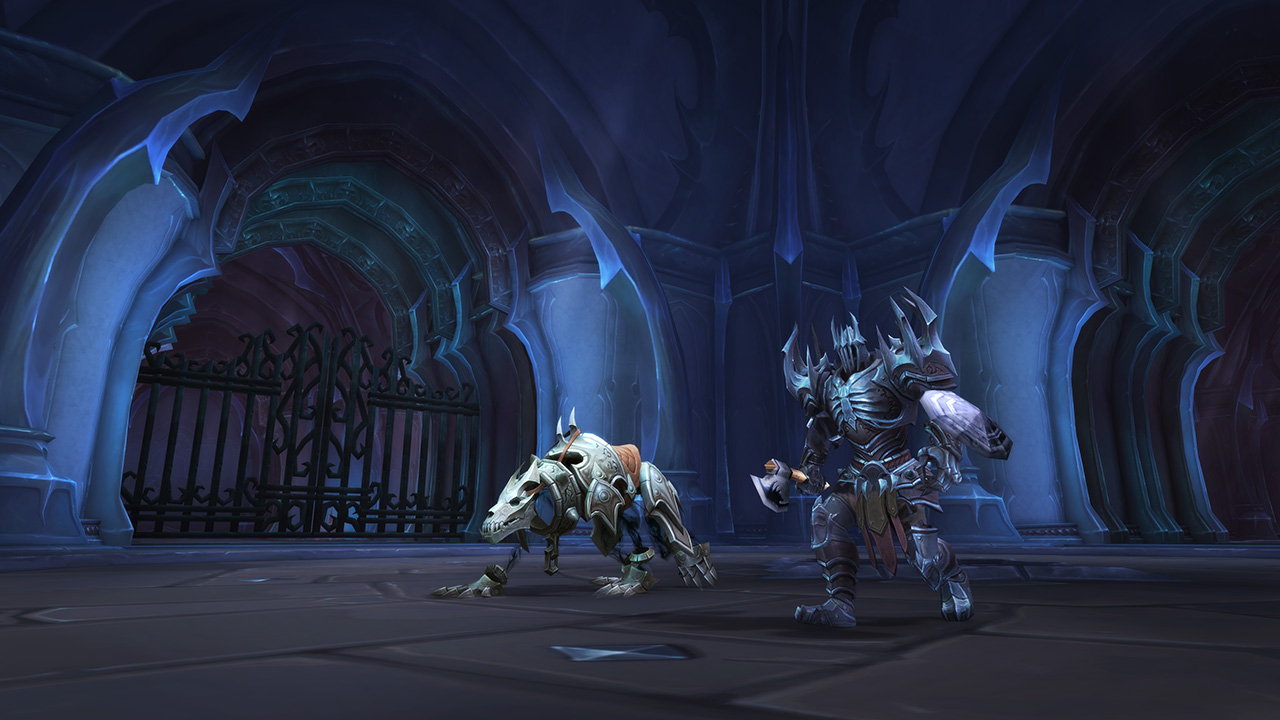 Tourment, la tour des damnés sera une instance particulière accessible de 1 à 5 joueurs dans Shadowlands
Dans Tourment le temps ne sera pas l'ennemi mais la mort le sera. Au bout d'un certain nombre de morts les joueurs s'attireront l'attention du Naphtrémens. Cette créature apparaîtra à l'entrée du niveau et se dirigera vers la fin en 30 secondes. S'il aperçoit des joueurs il se mettra alors à les poursuivre pour les tuer. Le défi de Tourment se terminera alors s'il tue tous les joueurs ou atteint la fin. Les joueurs pourront toutefois s'échapper de l'étage en cours et continuer comme si de rien n'était. Bien qu'il ne soit pas possible de le tuer, il semblerait qu'il soit possible de le ralentir. Le nombre de morts autorisées sera calculé en fonction du nombre de joueurs dans la tour des damnés comme le souligne wowhead :
En solo : 3 morts
Deux joueurs : 5 morts
Trois joueurs : 7 morts
Quatre joueurs : 9 morts
Cinq joueurs : 11 morts
En explorant la tour des damnés les joueurs auront peut-être la chance de tomber sur un coffre légendaire. Celui-ci contiendra des composants spéciaux qui permettra de forger des équipements uniques auprès d'un PNJ.
Notons cependant qu'il ne s'agit là que des premières phases de test et que des changements sont toujours possibles. Pour ne rien rater de l'actualité de World of Warcraft et de Shadowlands n'hésitez pas à consulter notre portail dédié.


Toutes les infos sur WoW Shadowlands