Le Discord des secrets de World of Warcraft a découvert comment obtenir la mascotte Félicia. On vous explique ici comment l'obtenir.
Dans un monde aussi vaste qu'Azeroth il n'est pas étonnant de voir des secrets être découverts régulièrement. Les membres d'un serveur Discord spécialisés dans la découverte des secrets de World of Warcraft ont enfin percé à jour un mystérieuse énigme à Karazhan, permettant l'obtention d'une mascotte du nom de Félicia.
Retrouvez ici un guide pour savoir comment obtenir la mascotte secrète Félicia dans World of Warcraft.
Comment obtenir la mascotte secrète Félicia dans World of Warcraft ?
Suite à la découverte du Discord WoW Secret Finding, wowhead a relayé l'information sur la solution pour obtenir cette mascotte secrète ajoutée au patch 8.2.5 de Battle for Azeroth. Pour rendre le processus plus facile il est conseillé d'utiliser un addon indiquant les coordonnées comme TomTom par exemple. Les coordonnées seront indiquées entre parenthèses. Pour obtenir Félicia, la mascotte chat, il faudra suivre les étapes suivantes.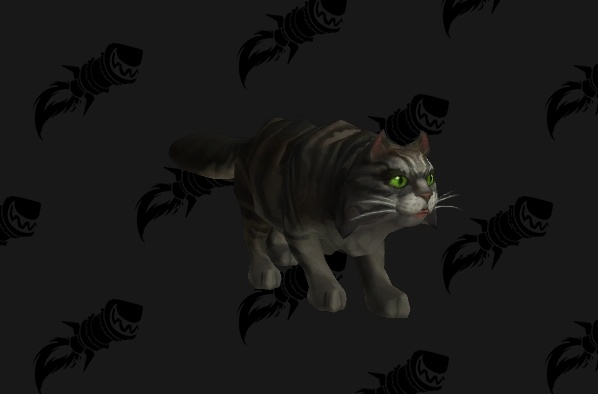 Trouver Amara Lunétoile à Orneval
Pour lancer la recherche de Félicia il faudra tout d'abord aller s'adresser à Amara Lunétoile, une elfe de la nuit fantôme qui se situe à Orneval en Kalimdor (17.29 49.39). Le PNJ proposera alors une option de dialogue sur laquelle il faudra cliquer.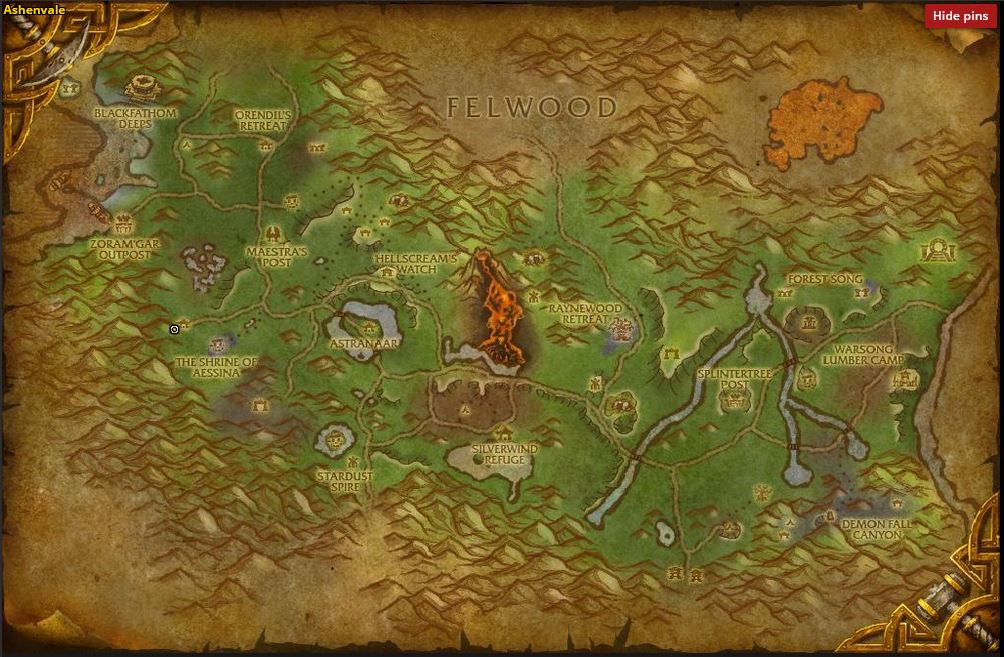 Amara Lunétoile se trouve à l'ouest d'Orneval
(crédits image : wowhead)
Trouver la dame aux chats et le bol de croquettes dans la Forêt d'Elwynn
Les joueurs devront ensuite se rendre dans la Forêt d'Elwynn, dans les Royaumes de l'Est cette fois, et trouver la Dame aux chats (Donni Anthania, 44.2, 53.4). Une fois dans la maison il faudra cliquer sur l'assiette dans un coin de la pièce pour lancer la suite de la quête.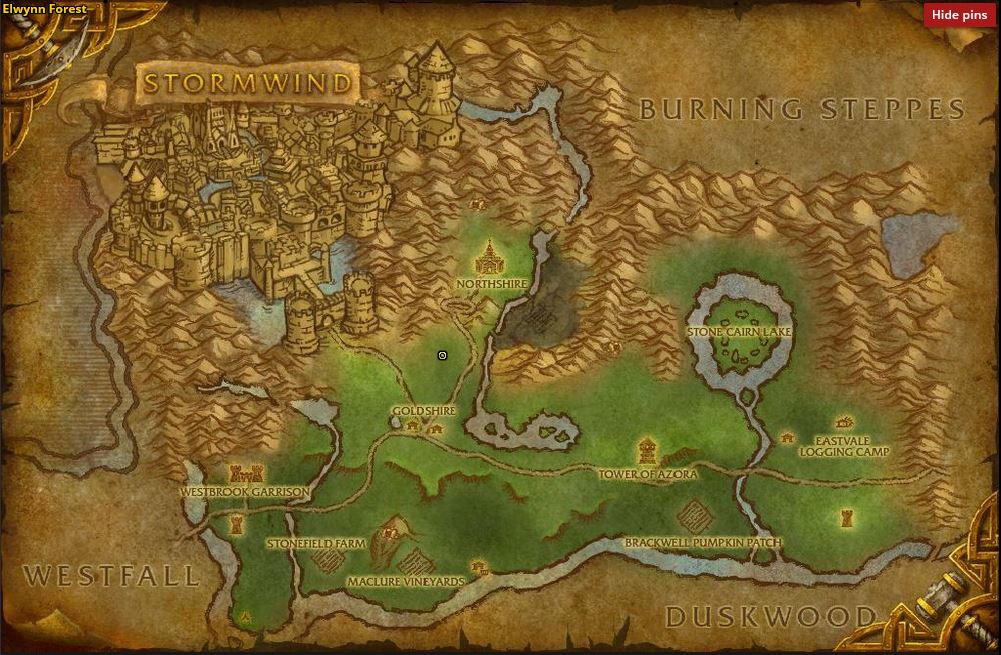 La dame aux chats se trouve dans la Forêt d'Elwynn dans les Royaumes de l'Est
(crédits image : wowhead)
Mais ce n'est pas tout car les membres du Discord WoW Secrets ont trouvé que la disposition des croquettes sur le sol indiquaient la direction de Karazhan. C'est donc dans le donjon de Legion que se trouvera la suite et la fin du mystère.
Se rendre à Karazhan et attirer Félicia avec de la nourriture
Une fois dans le donjon les joueurs devront avancer et se rendre à l'événement de l'Opéra. Attention à ne pas terminer l'événement trop vite pour ne pas le faire bugger. Les joueurs pourront alors apercevoir deux lots de croquettes dans la salle.
Il faudra ensuite ramasser différents aliments répartis dans le donjon pour pouvoir attirer Félicia. Ces derniers se trouvent sur ou autour des tables dans le donjon et sont présents dans l'inventaire pendant 5min une fois récupérés. Il faudra ansi récupérer les éléments suivants.
x2 Pilon juteux
x2 Morceaux de poisson
x2 Steak persillé
x1 Côte badigeonnée
x1 Bouchée à la viande
Retrouvez ci-dessous le chemin le plus optimal à parcourir pour récupérer ces aliments dans le donjon.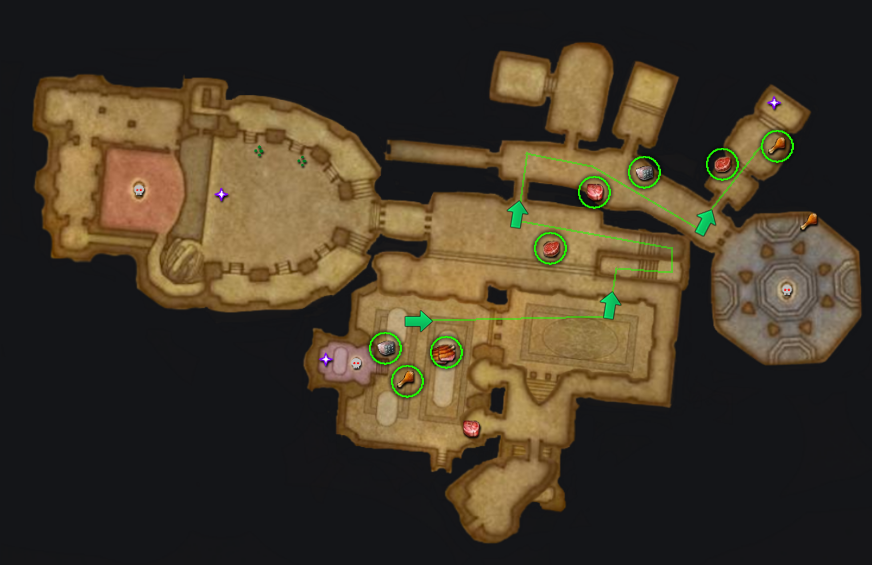 (crédits image : wowhead)
Une fois tous les aliments récupérés il faudra retourner dans la salle de l'Opéra et les disposer de la façon suivante sur le sol.
(crédits image : wowhead)
Cela fera alors apparaît Félicia dans un coin de la salle qui se mettra à miauler. Pour plus de facilité à la voir utiliser la commande « /target Félicia ». Il suffira alors de s'en approcher et de cliquer dessus pour obtenir la mascotte de combat !