Avec les 15 ans de World of Warcraft, Blizzard a décidé de permettre aux joueurs d'obtenir des montures exclusives.
Après une BlizzCon 2019 chargée en émotions qui a vu notamment l'annonce de la prochaine extension de World of Warcraft, Shadowlands, mais aussi de Diablo 4 et Overwatch 2, l'événement des 15 ans du célèbre MMORPG de Blizzard a débuté ce 6 novembre. Parmi les récompenses de cet anniversaire on retrouve ainsi une mascotte, le mini Nefarian, mais aussi des montures bien plus imposantes. Pour rappel l'événement durera jusqu'au 8 janvier 2020 (8h).
Comment avoir la monture Brise-monde d'obsidienne sur WoW ?
Directement inspirée de l'extension Cataclysm et de son grand méchant Aile-de-mort, le Brise-monde d'obsidienne demandera toutefois un peu d'investissement pour être obtenu par les joueurs. Une fois connecté sur World of Warcraft les joueurs devront récupérer une lettre dans leur boîte aux lettres. Dans ce colis offert par Blizzard, outre la mascotte mini Nefarian, un objet permettant de débuter une quête s'y trouve.
Cette quête demandera alors aux joueurs de se rendre aux Grottes du temps pour parler à Chromie. Une fois la tâche accomplie les joueurs se retrouveront dans une file d'attente pour affronter 9 boss emblématiques de World of Warcraft. Défaire ces boss issus des extensions Burning Crusade, Wrath of the Lich King et Cataclysm, accordera non seulement le haut-fait Souvenirs de cristal mais aussi la monture Brise-monde d'obsidienne.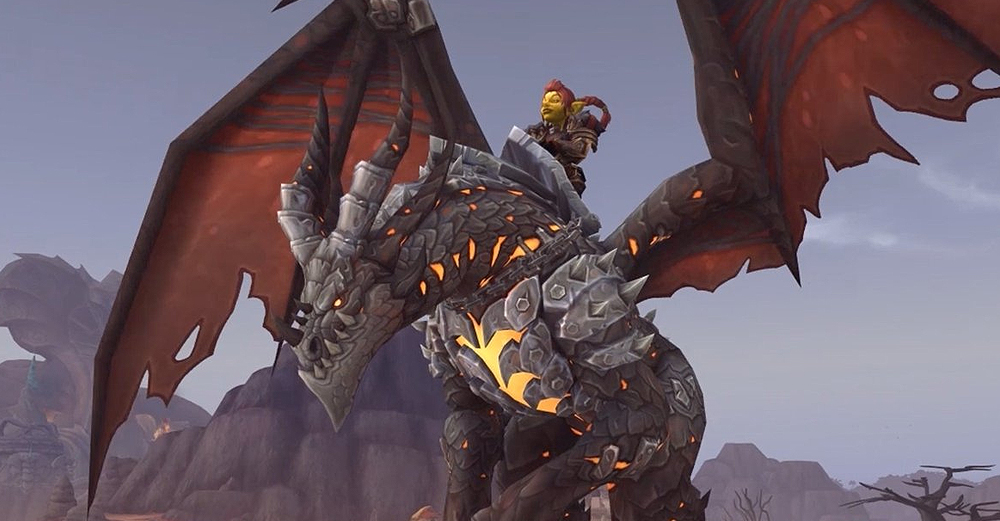 La monture Brise-monde d'obsidienne est directement inpirée d'Aile-de-mort (source : wowhead)
Les montures de la Vallée d'Alterac
Le Brise-monde d'obsidienne n'est toutefois pas la seule monture qu'il est possible d'obtenir lors de l'événement des 15 ans de World of Warcraft. Récupérer 200 Insigne distordu dans le temps dans la version originelle de la Vallée d'Alterac donnera aux joueurs les montures Bélier de combat foudrepique ou Grogneur loup-de-givre en plus du haut-fait Vallée d'Alterac d'antan.
Les montures obtenables dans la Vallée d'Alterac (source : wowhead)