Avec le patch 8.3 Blizzard introduit de nombreuses nouveautés dans World of Warcraft, notamment la cape légendaire de Ashjra'kamas, objet essentiel de cette mise à jour.
Le patch 8.3 de World of Warcraft va apporter de nombreuses nouveautés au jeu, notamment avec les Visions horrifiques, les objets corrompus et bien sûr le nouveau raid de Ny'alotha, la Cité en éveil. Mais ce n'est pas tout car Blizzard va également introduire Ashjra'kamas, voile de détermination, une cape légendaire que les joueurs devront récupérer à la sortie du patch et pourront ensuite l'améliorer.
Ashjra'kamas, voile de détermination, cape légendaire du patch 8.3
Ashjra'kamas, voile de détermination sera un des éléments essentiels de cette nouvelle mise à jour de World of Warcraft. Avec l'aide d'Irion, le fils d'Aile de mort, les joueurs pourront récupérer cette cape qui permettra notamment de rester plus longuement dans les Visions horrifiques en résistant à la perte de santé mentale liée à la présence de N'Zoth. Cette cape permettra également de résister à la corruption de certains objets et sera améliorable grâce aux Noyaux maléfiques.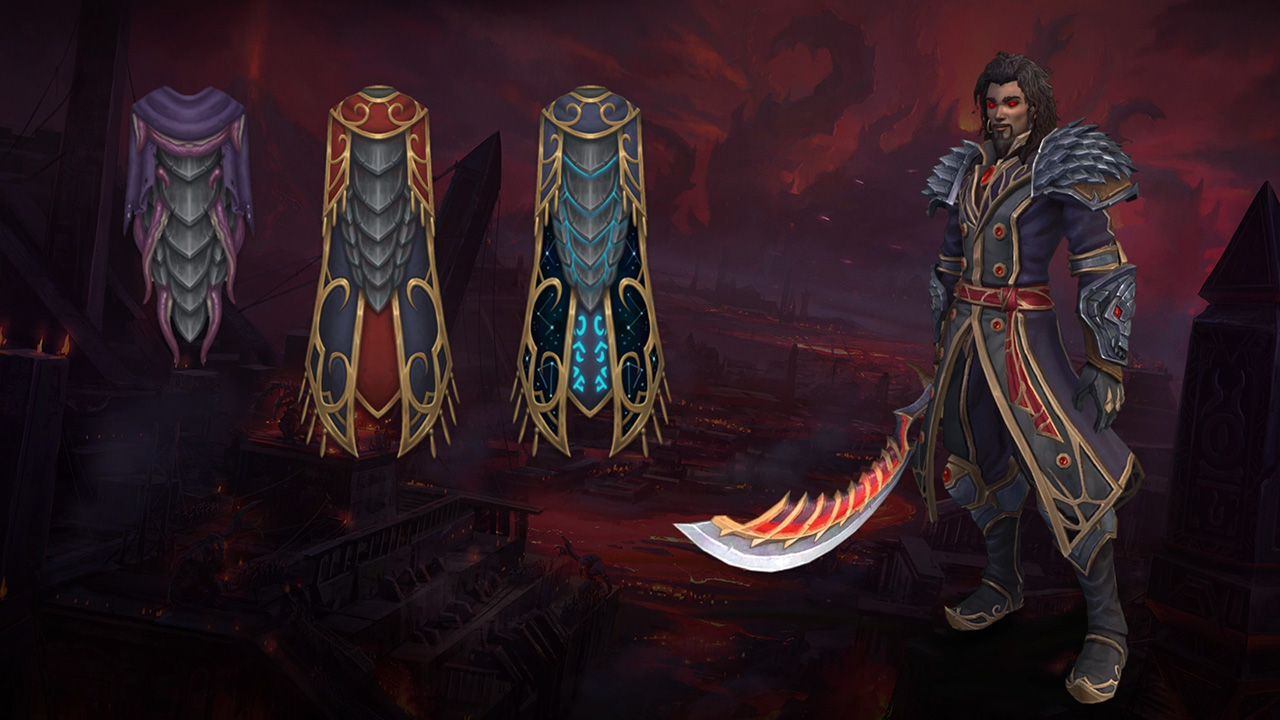 Ashjra'kamas, voile de détermination, sera la nouvelle, et seule, cape du patch 8.3
Pour obtenir cette cape les joueurs devront accepter la quête « Un conseiller malvenu » (Alliance) ou « Le retour du prince noir » (Horde) et accomplir la suite de quêtes. Au rang 1 la cape sera un objet de niveau 470. Retrouvez ci-dessous les effets passifs et actifs accordés par Ashjra'kamas, voile de détermination. Le rang maximal sera de 15. L'augmentation de ces rangs aura également pour effet de changer l'apparence de la cape aux rangs 6, 12 et 15 comme montré sur l'image ci-dessus.
| | |
| --- | --- |
| Rang de la cape légendaire | Effet |
| Rang 6 | Capacité à activer dissipant tous les effets de la corruption de N'Zoth, et immunisant le porteur à ces effets pendant 6 secondes (3 minutes de temps de recharge). |
| Rang 12 | Renforcement draconique : confère à vos sorts et techniques une chance d'améliorer de manière conséquente votre caractéristique principale. |
| Rang 15 | Les joueurs peuvent commencer à collecter des Noyaux Maléfiques, qui augmentent leur résistance à la corruption de 3, jusqu'à un maximum de 125 |
À noter également que cette cape sera la seule cape obtenable durant ce patch, aucune cape ne sera disponible via les coffres de Mythique +, de PvP ou du raid Ny'alotha, la Cité en éveil. Pour l'améliorer les joueurs devront donc passer beaucoup de temps dans les Visions horrifiques de Hurlevent our Orgrimmar.