Avec l'arrivée du patch 8.3 Blizzard introduit les objets corrompus dans World of Warcraft. Retrouvez ici tout ce qu'il faut savoir sur ce nouveau système.
Prévu pour le 15 janvier 2020 en Europe, le patch 8.3 va apporter bon nombre de nouveautés sur World of Warcraft. Parmi ces nouveautés les joueurs pourront désormais s'équiper avec des objets corrompus par N'Zoth, le Dieu Très Ancien. Ces nouveaux objets posséderont certaines particularités et seront un élément essentiel à prendre en compte lors de l'optimisation d'un personnage.
Objets corrompus, nouveauté du patch 8.3 de World of Warcraft
Le système de corruption des objets remplacera le « Forgé par les Titans » et ne sera applicable que sur les objets de la saison 4 et de Ny'alotha, la Cité en éveil. Le principe est assez simple : les objets corrompus possèdent des caratéristiques ou effets bonus mais augmente la corruption du personnage. Les effets peuvent être passifs, des procs ou des effets uniques. Des armes peuvent également être corrompues. La corruption se présente en plusieurs niveaux et entraîne divers effets négatifs et debuffs qui deviennent de plus en plus importants plus la corruption du personnage augmente. Il sera donc essentiel de peser le pour et le contre des objets pour savoir si le risque vaut la récompense.
| | | |
| --- | --- | --- |
| Niveau de corruption | Effet négatif | Commentaires |
| Tier 0 : Premier objet corrompu équipé | Grasping Tendrils | - |
| Tier 1 : 20 de corruption | Eye of Corruption | La portée et les dégâts de l'oeil augmentent avec la corruption. |
| Tier 2 : 40 de corruption | Grand Delusions | La vitesse de la Thing From Beyond augmente avec la corruption. |
| Tier 3 : 60 de corruption | Cascading Disaster | - |
| Tier 4 : 80 de corruption | Inevitable Doom | Le débuff augmente avec la corruption. |
(source : wowhead)
À noter également que la corruption aura un effet visuel sur le personnage. Un joueur à 20 de corruption ne ressemblera pas tout à fait à un joueur à 80 de corruption.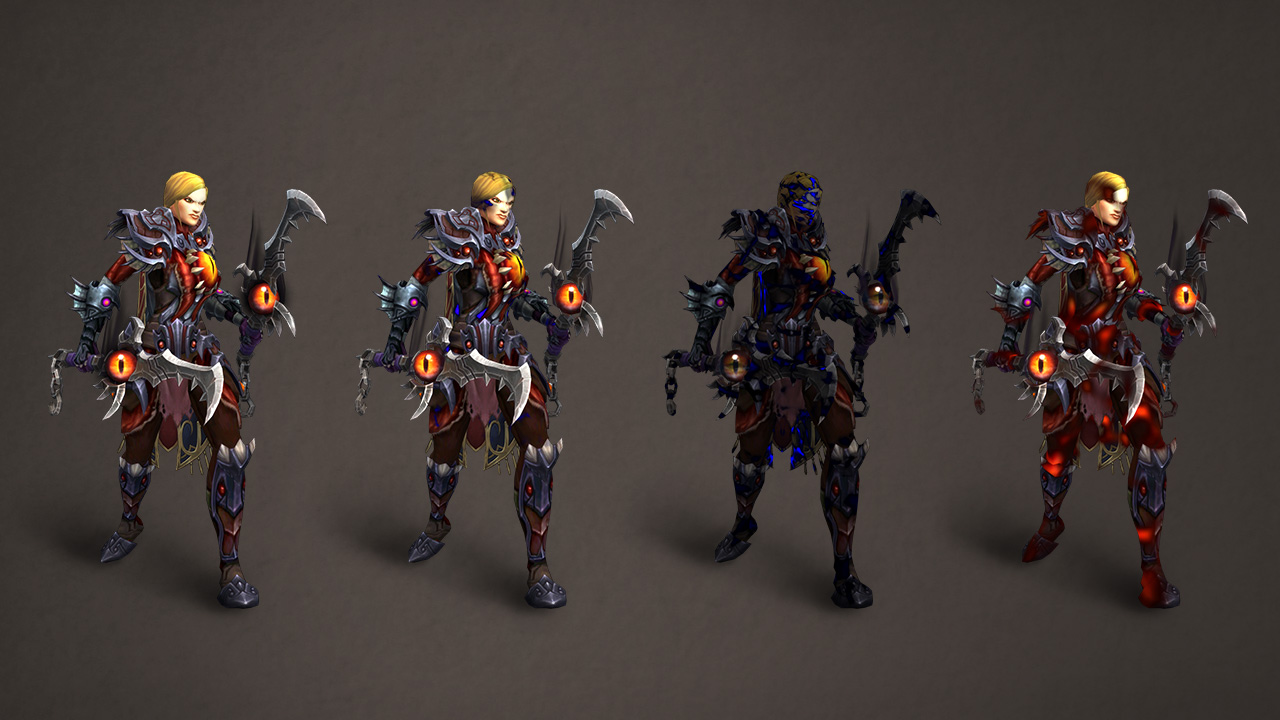 La corruption des objets aura un effet visuel sur le personnage joué
Purifier un objet corrompu avec la Purification Titanesque
Toutefois si jamais un des objets corrompus présente des statistiques intéressantes mais une combinaison effet/corruption sans intérêt il est possible de retirer la corruption d'un objet sans le détruire. Pour cela les joueurs devront tout d'abord commencer la suite de quête du patch 8.3 et compléter l'assault de N'Zoth sur Uldum, ce qui permettra d'obtenir un premier objet corrompu mais aussi de débloquer une quête. Cette quête enverra les joueurs auprès de D.A.M.E dans la forge du Coeur d'Azeroth et déverouillera ainsi la Purification Titanesque.
Purifier un objet retirera sa corruption mais aussi son effet positif, attention donc à ne pas prendre cette décision à la légère. Utiliser cette fonctionnalité coûtera 5 Corrupted Mementos qui s'obtiennent dans les Visions horrifiques.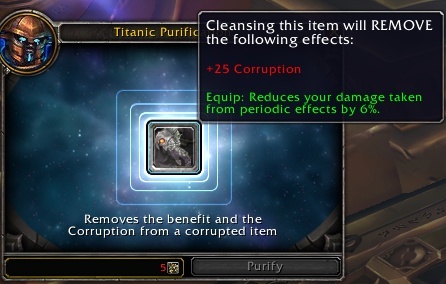 La Purification Titanesque permettra de supprimer la corruption mais aussi le bonus
d'un objet corrompu (crédits image : wowhead)
À noter également qu'une autre statistique sera introduite dans le jeu pour réduire les effets de la corruption sur les joueurs. La Résistance à la corruption sera ainsi à soustraire du total de corruption pour obtenir le véritable niveau de corruption d'un personnage. À ce jour le seul moyen d'obtenir cette statistique est via la cape légendaire Ashjra'kamas, dont la résistance à la corruption augmentera avec les rangs. Équiper une des essences du patch 8.3 sera également un moyen d'augmenter sa résistance à la corruption.