Ny'alotha, la cité éveillée est le nouveau raid de World of Warcraft et il comporte pas moins de 12 nouveaux boss. Retrouvez ici la stratégie pour vaincre Prophète Skitra.
Avec la sortie du patch 8.3, Les Visions de N'Zoth, c'est le tout dernier raid de Battle for Azeroth qui ouvre ses portes aux joueurs de World of Warcraft. Ceux qui souhaitent entrer dans Ny'alotha la cité éveillée devront toutefois faire face à 12 boss redoutables dont Prophète Skitra. Retrouvez ici la stratégie et toutes les informations pour en venir à bout.
Note : Ce guide est tiré de tests et du journal de donjon du ptr, tout est sujet à changement.
Prophète Skitra, stratégie pour Ny'alotha la cité éveillée
Le combat contre Skitra se déroule avec un enchaînement de deux phases. Tout les 20% de points de vie en moins, le boss lance sa phase 2.
Phase 1 : Le prophète
Tankez le boss vers le centre de la salle. Le boss va lancer en boucle Shadow Shock sur sa cible principale et 2 autres joueurs aléatoirement. Les soigneurs doivent simplement faire attention, si un joueur subit plusieurs applications de ce debuff il sera très vulnérable. Un tank peut lui supporter 6 charges de ce débuff sans trop de problèmes. Faites juste attention à ce qu'il soit assez haut en point de vie lors du Shred Psyche. Ce sort ciblera un joueur qui, après 5 secondes, explose, inflige des dégâts au raid et fait apparaître un add. La cible doit s'éloigner le plus vite possible du raid, raid qui devra ensuite se concentrer sur l'add laissé après l'explosion car ce dernier inflige constamment des dégâts aux joueurs. Les tanks peuvent déplacer le boss sur l'add pour profiter du cleave.
La dernière mécanique de la phase 1 sont les Images of Absolution. Ce sont des fantômes, apparaissant contre la paroie de la salle et avançant vers l'autre paroie. En entrant en contact avec les joueurs, ils infligent énormément de dégâts. De plus, pendant les 30 premières secondes de leur vie, ils sont immunisés aux dégâts. Utilisez les sorts comme les mass-root des druides ou les anneaux de paix des moines pour contrôler les images et créer des espaces sécurisés pour le raid. Au bout de 30 secondes, tuez les images qui sont trop proches du raid - leurs points de vie sont assez bas, ce n'est plus une menace si vous ne courrez pas dedans.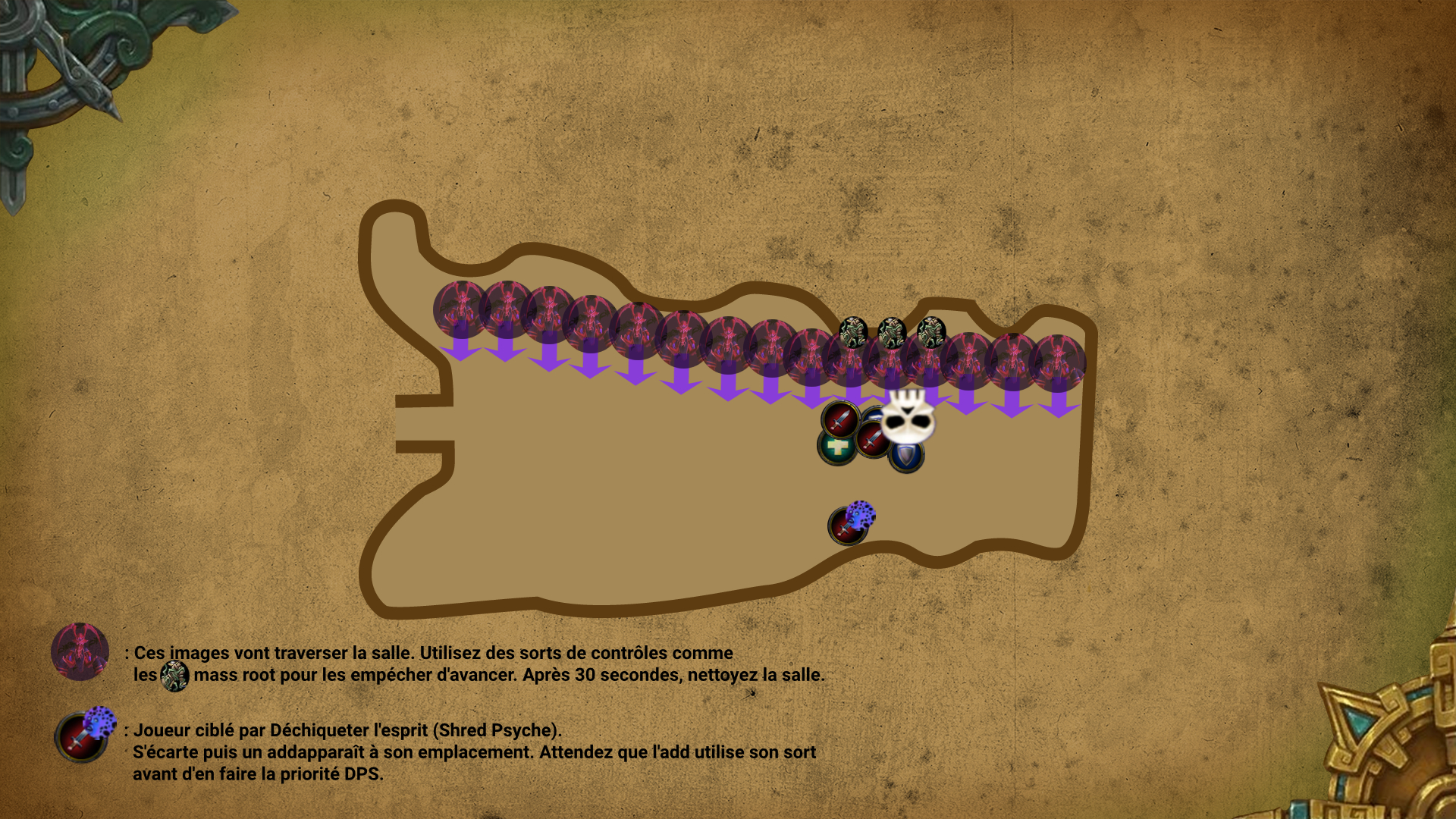 La p1 ne contient pas beaucoup de sort mais il faudra vraiment faire attention à la position de l'add
À 80% / 60 % / 40 % / 20 % le boss passe en phase 2.
Phase 2 : Projetions Illusoires
Skitra va créer un grand nombre d'illusion et se cacher parmi-elles. Tuer une illusion et non Skitra infligera beaucoup de dégâts aux raids. De plus, les Illusions vont lancer en boucle des traits d'ombre aux joueurs et les dégâts de ces traits d'ombre vont augmenter de 4% toutes les 5 secondes.
Pour trouver le boss, une moitié du raid subira Clouded Mind et l'autre moitié Twisted Mind. Les joueurs affectés par Clouded Mind verrons une moitié des illusions, ceux affectés par Twisted Mind l'autre moitié. Le boss sera la seule illusion que les deux groupes peuvent voir, donc la seule illusion en commun. Communiquez entre vous pour savoir laquelle est la bonne et la détruire vite. Dès le pop, le raid leader place des signes proche des illusions pour rapidement les identifier. Il demande ensuite à un joueur du débuff opposé à côté de quelle signe il y a une illusion. Le signe appelé sera l'illusion à frapper.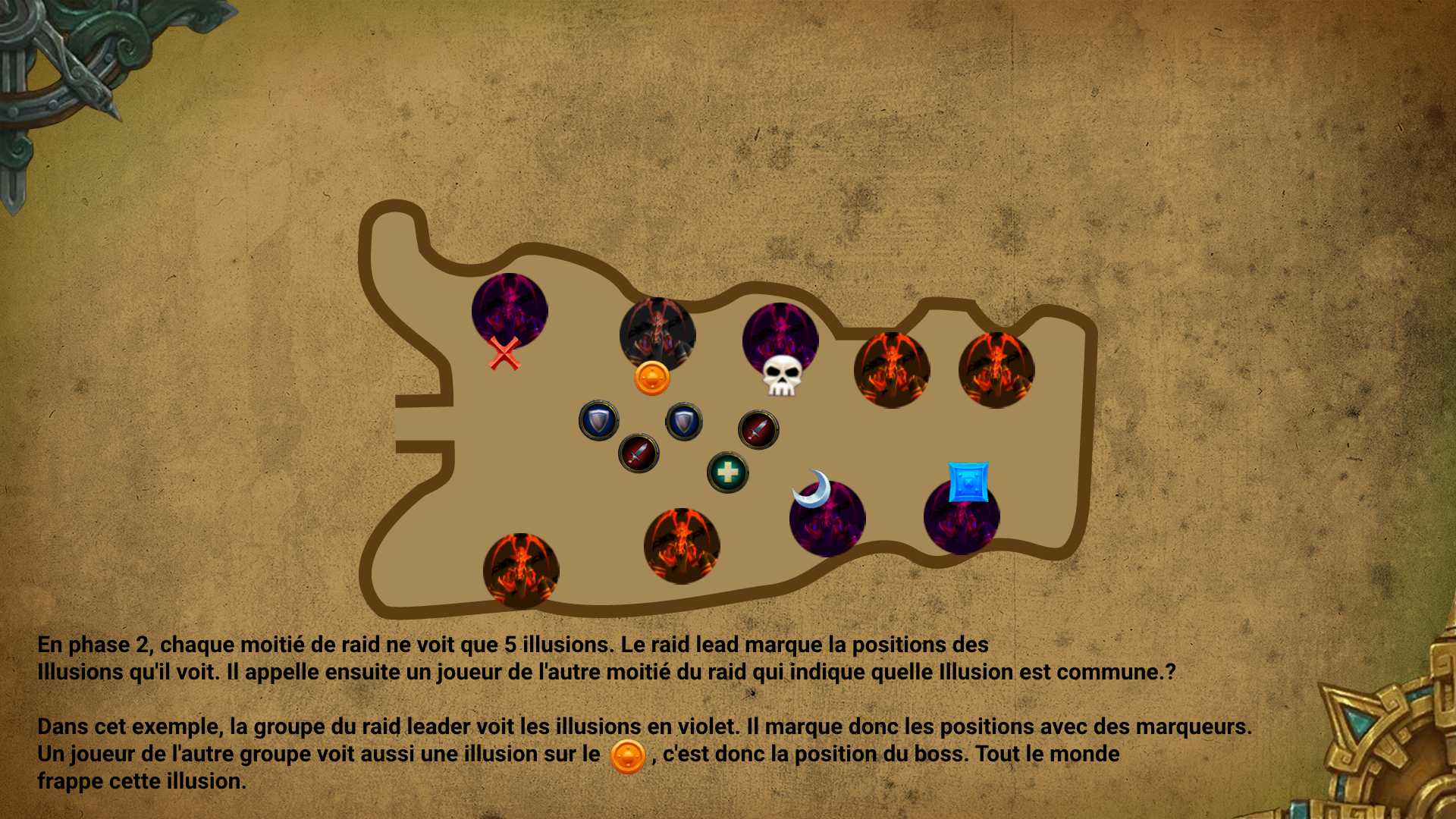 Cette image est un exemple de situation. La position des illusions changera.
Quand l'Illusion est mort, la phase 2 s'arrête et on passe en phase 1 de nouveau.