Avec l'arrivée de Call of Duty: Black Ops Cold War Activision et Treyarch ont choisi d'introduire un nouveau système de Prestige.
Le terme Prestige est sans doute familier de nombreux joueurs de la franchise, pourtant pour Call of Duty: Black Ops Cold War Activision et Treyarch on voulu innover en proposant un nouveau système.
Dans un post sur le site officiel d'Activision les développeurs ont ainsi dévoilé le nouveau système de Prestige qui sera disponible sur Call of Duty: Black Ops Cold War.
Le Prestige dans Call of Duty: Black Ops Cold War, comment le système fonctionne ?
Depuis le lancement du jeu les joueurs peuvent gagner des Military Ranks allant jusqu'à 55 et qui leur permettent de débloquer toutes les armes, atouts, jokers etc. Une fois ces niveaux passés les joueurs entrent dans la phase de Prestige et garderont tout le contenu débloqué précedemment. 100 niveaux seront alors disponibles pour gagner trois Prestige ainsi qu'un plan d'arme au niveau 50.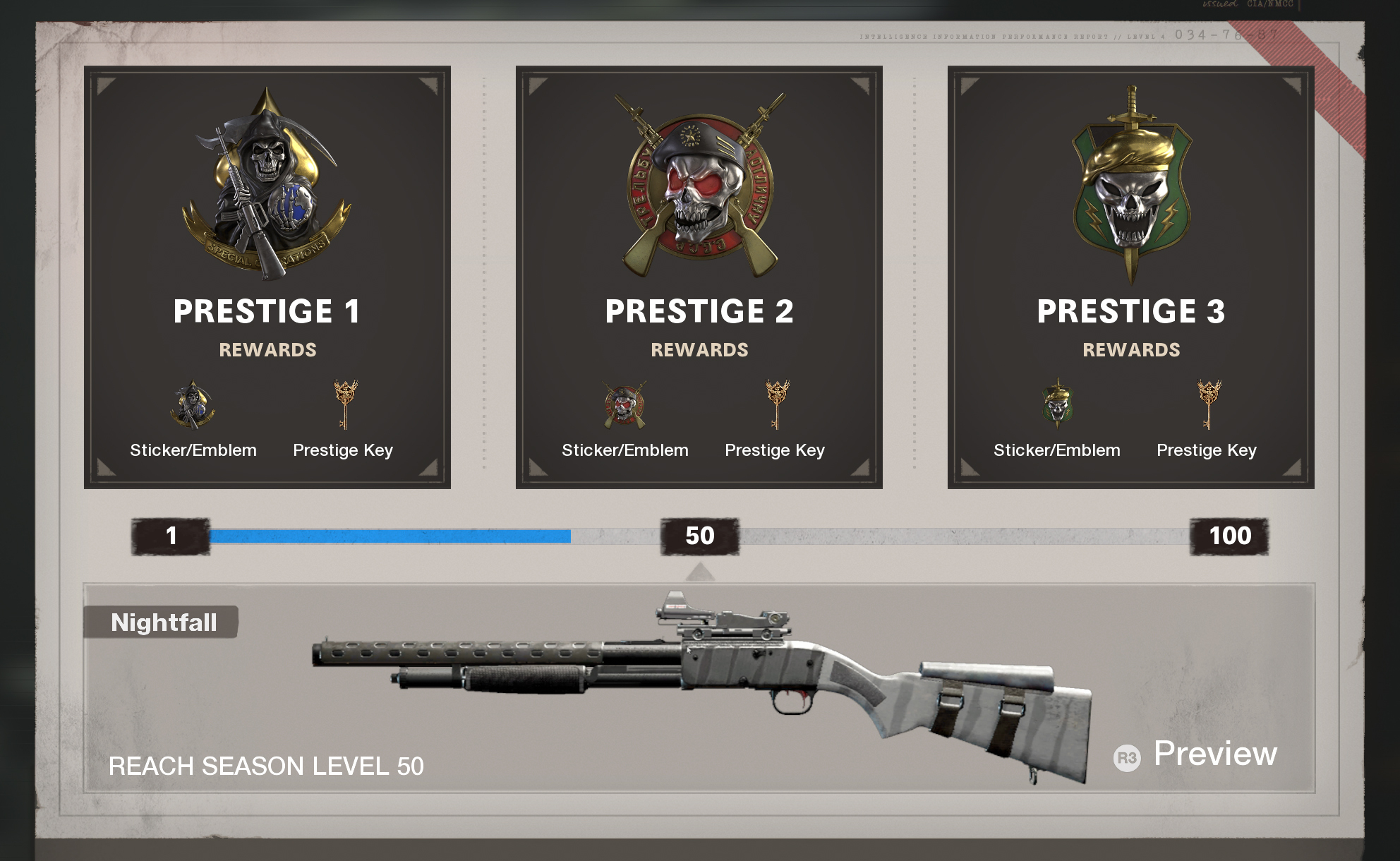 La pré-saison permettra d'obtenir jusqu'à trois Prestige répartis sur 100 niveaux
Avec le lancement de la saison 1 en décembre les joueurs auront la possibilité de gagner quatre nouveaux Prestige en allant jusqu'au niveau 200 et ainsi gagner le rang de Prestige Master. Un plan d'arme sera bien évidemment disponible au niveau 50. Par la suite chaque saison permettra de gravir jusqu'à quatre nouveaux Prestige pour un total de plus de 25 au cours de toutes les saisons du Call of Duty Black Ops Cold War. Chaque saison permettra ainsi de gagner le titre de Prestige Master en gravissant les 200 niveaux.
Toutefois pour ceux qui n'auraient pas assez avec 200 niveaux, Activision a déclaré qu'il serait possible de parcourir jusqu'à 1000 niveaux par saison.
Pour rappel les joueurs auront également la possibilité de gravir des niveaux de Prestige en jouant à Warzone et Call of Duty: Modern Warfare.