Voici notre prédiction pour l'Equipe de l'année 2018 (TOTY) pour FIFA19 sur FUT. Parmi les 55 nominés, nous vous présentons les 11 joueurs que nous estimons être les plus méritants de la saison.
Mise à jour du 07/01 : Le onze a été officiellement dévoilé par EA, vous pouvez retrouver la composition complète de l'Equipe de l'année 2018 ici.
---
EA vient d'annoncer les 55 nominés pour la Team of the Year 2018 (voir la liste complète des joueurs sélectionnés), l'Equipe de l'année sur FUT. Si le onze officiel sera dévoilé le 7 janvier par EA, voici notre prédiction pour la formation de cette année.
Quelles informations à prendre en compte
La TOTY est une célébration de la saison écoulée afin de mettre en avant les joueurs ayant réussi les meilleures performances durant l'année 2018. La Coupe du monde et la Champions Leagues auront donc un impact important sur cette sélection, tout comme les succès au sein des championnats majeurs.
C'est pourquoi il est très probable de voir plusieurs joueurs de l'Equipe de France ainsi que de nombreux joueurs du Real Madrid et des grands clubs européens. En outre, puisque le vote est partiellement réalisé par des influenceurs et membres de la communauté, il est important de miser sur des joueurs populaires bien que leurs résultats ne soient pas à la hauteur de leur réputation (on pourrait par exemple citer Messi dans cette catégorie).
Enfin, toutes les précédentes TOTY ont utilisé une formation en 4-3-3, c'est pourquoi nous avons repris ce schéma stratégique pour notre prédiction.
Notre sélection pour l'Equipe de l'année 2018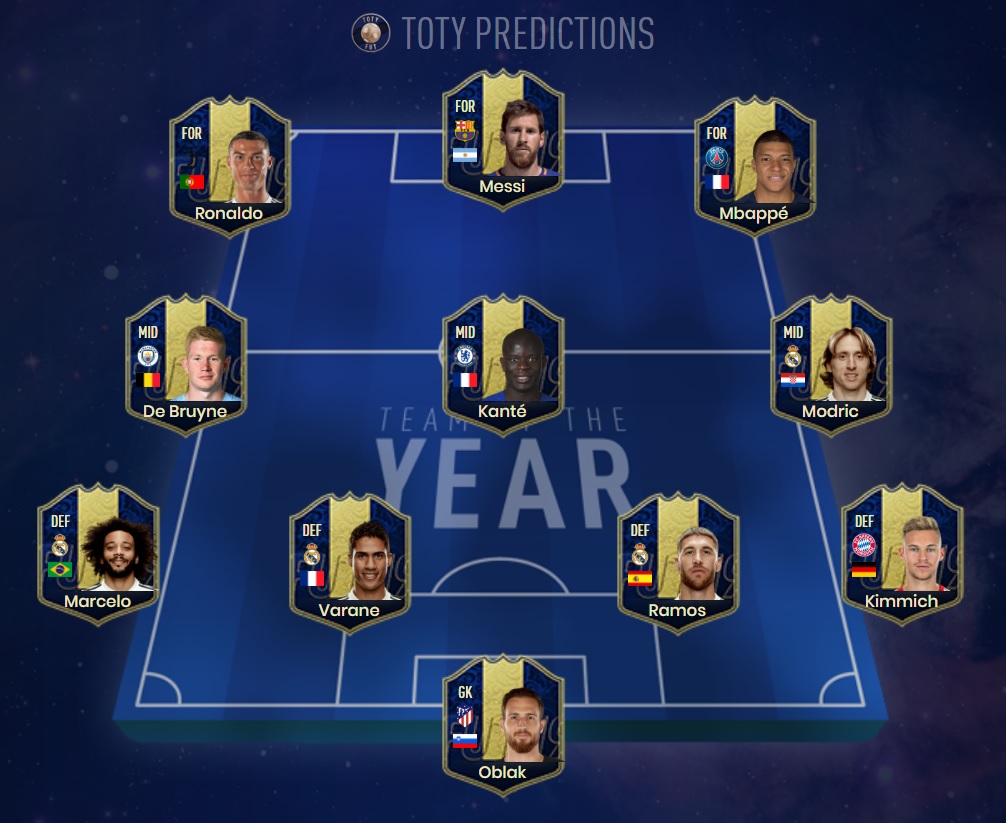 Notre onze TOTY 2018 (réalisé via le créateur FUTBIN)
Quelques notes concernant notre équipe :
→ Oblak est sûrement le choix le plus controversé de notre onze puisque De Gea est le favori pour une partie de la communauté malgré des performances bien en deçà du gardien de l'Atlético Madrid.
→ En défense, nous avons opté pour respecter les positions avec des joueurs sur les ailes plutôt que d'utiliser 4 défenseurs centraux. C'est pourquoi Marcelo et Kimmich ont été sélectionnés ici bien qu'il soit probable que le onze de fin ne respecte pas les positions.
→ Messi prend la place d'un Salah ou Hazard purement pour une question de popularité plus que pour les performances de 2018.
Rendez-vous donc lundi 7 janvier pour découvrir la composition de l'Equipe de l'année 2018 FUT en espérant voir au moins 3 français parmi ce prestigieux onze de départ.

Toutes les solutions des DCE actifs (Live)
Tous nos guides sur FIFA 19 et FUT